Last Sunday, most of us tuned it to watch the Super Bowl. And many of us tuned in more for the commercials and entertainment than for the actual game (who cares about another Patriots championship anyway? YAWN!).
One of the more interesting developments of the evening was one I wasn't expecting: The most interesting Super Bowl commercial had nothing to do with selling products.
It was 84 Lumber's "Mother/Daughter" spot–and it was focused squarely on helping 84 Lumber hire and recruit prospective employees.
That's right: A Super Bowl ad that promoted a company's EMPLOYER BRAND.
I can't remember ever seeing that before.
Here's the second (longer) spot:
And, here's the "Entire Journey":
The spots point at a landing page where prospective candidates can see the video above and research and company a bit by visiting the brand's social channels and checking out their Glassdoor page.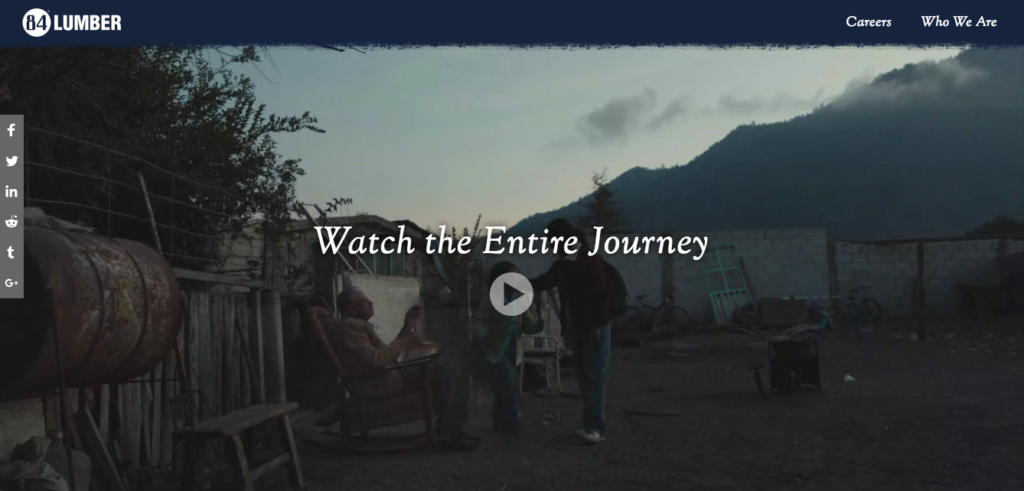 Prospective employees can even fill out a quick form to request a recruiter contact them and help them identify the right opportunity at 84 Lumber.
Interesting, right? But, it makes complete sense when you consider 84 Lumber is opening 20 new stores in 2017 and hiring "hundreds" of new employees (according to this USA Today story).
So, that Employer Brand angle is interesting enough. But then it got really intriguing when the (expected) backlash came.
Since the ad obviously toed political lines with its storyline (a mother/daughter looking to immigrate to what appears to be the U.S.) and powerful visuals ("the wall"), people were bound to be upset–on both sides.
And, that's just what 84 Lumber saw.
They saw what I'm guessing were expected comments about illegal immigrants working for them:
They saw the requisite comments about immigration policy: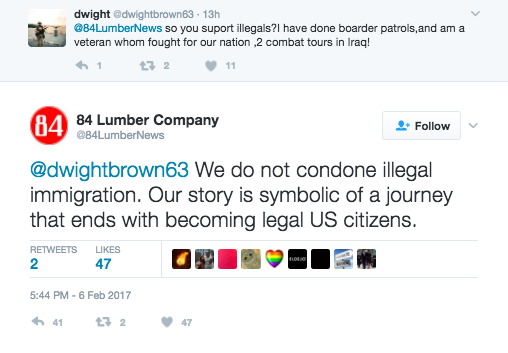 They even saw some pretty negative comments about people who refused to do business with them as a result of the spot: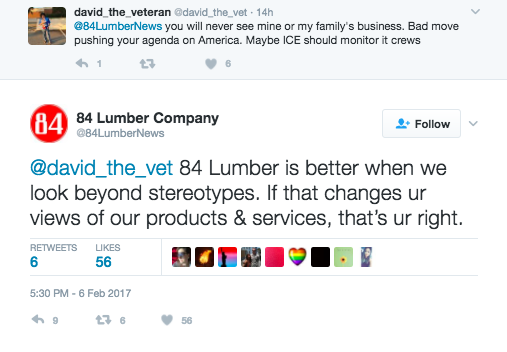 Overall, I thought 84 Lumber handled this blowback fairly well. They responded in a timely manner (lots of replies on Super Bowl Sunday). They responded with consistent language. And, they responded to a lot of negative remarks other companies simply don't have the stomach to handle. I tend to think they should be applauded for that (political affiliations aside).
Then, it got really interesting when it became public that 84 Lumber CEO, Maggie Hardy Magerko, was a Trump supporter. That added a political component to this story that already had a big dose of it.
Again, 84 Lumber responded–with this right at the top of their Twitter account: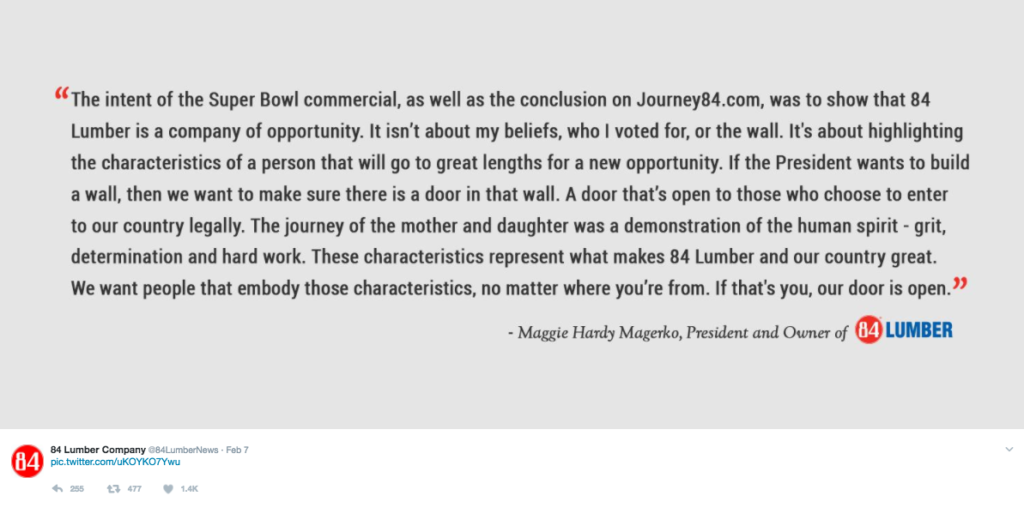 Overall, really interesting case study from a couple different angles:
Employer brand focus — I think this was indicative of what you're going to see more of in the year ahead: More brands investing more heavily in "employer brand marketing" as a complement to traditional recruiting efforts. This is a burgeoning sector of social media marketing right now–and I think you're going to see many more companies investing in it this year as the need to recruit the best and brightest in different industries increases.
Social crisis management with a political twist — Obviously, this is a very hot topic right now: How companies communicate/market and navigate the dangerous political waters. In this instance, 84 Lumber took a pretty strong stance. And, they stood by that stance when the heat was turned up. Again, politics aside, that should be applauded. I actually wish we saw more of that in corporate America. Who knows? Maybe we will, given how high the stakes have become.