Living in Minnesota, I feel compelled to write about Super Bowl-related topics this week. After all, I'll probably be north of 75 the next time the Big Game comes to our state!
Last weekend, we visited Super Bowl LIVE on Nicollet Avenue downtown Minneapolis. I've been following along online all week to see what brands are up to. And, just yesterday, I snuck over to the Mall of America over lunch to check our more activations and see "Radio Row."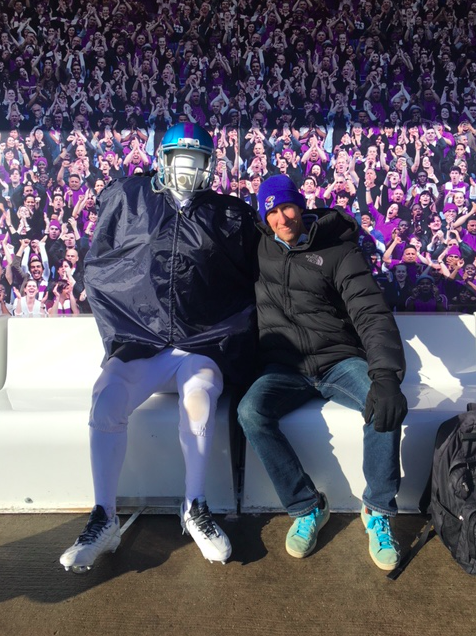 In general, I've been more interested in the social tactics, given that's the focus of my work. And, I've seen a lot of "stuff" over the internet airwaves. But, to me, three tactics and companies have jumped out as winners:
Surly — Welcome to Minnesota: A Primer
I wrote about this fabulous piece of content marketing yesterday. Probably the best social media tactic I've seen this week. Smart. Well written. And brilliantly devised in a way that targets Minnesotans, as well as the out-of-towners who are descending on our city.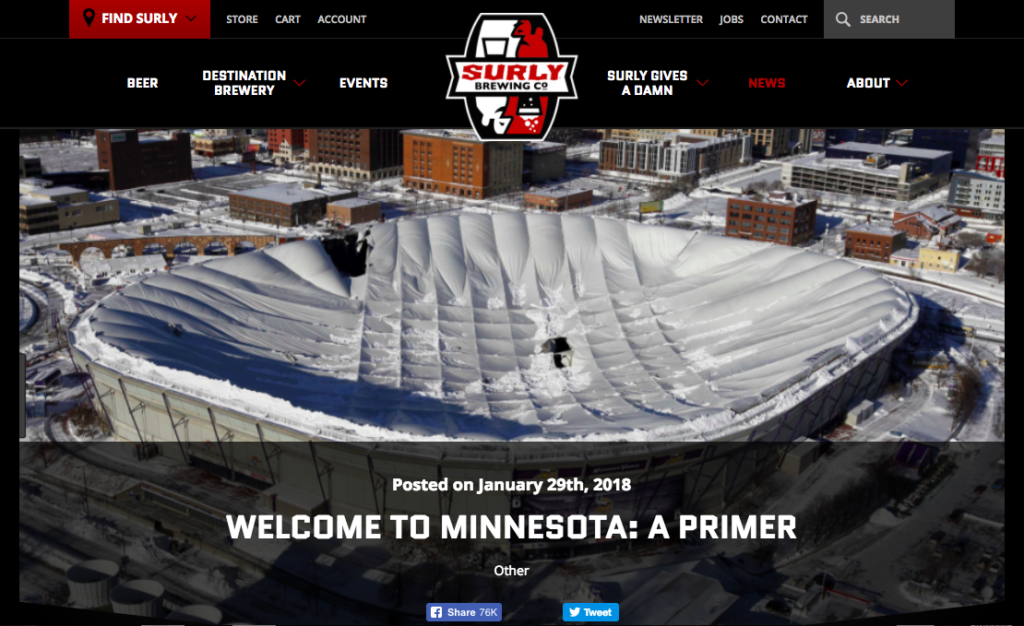 U.S. Bank – #NiceOff campaign on Twitter
How does a bank activate its brand during the biggest sporting week of the year? With a #NiceOff on Twitter, of course! The idea: Simple–to tweet at other Minnesota-based brands and challenge them to tweet about our "Minnesota Nice" behavior and how we aim to help those coming to Minneapolis/St. Paul over the next few days. Here's U.S. Bank's tweet that got things started on Wednesday:
With so many visitors to our home state this week, let's show everyone what Minnesota is all about. #MnNice #NiceOff

— U.S. Bank (@usbank) January 30, 2018
From there, a slew of brands from Target to Sun Country to Caribou Coffee got involved and kept the Twitter thread going. You can view much of it here in this Twitter Moment:
Minnesota brands one-up each other with… niceness?
Now, does this do more to sell more U.S. Bank checking accounts or loans? Probably not. But, I thought it was a creative approach to a common challenge for many brands sponsoring the Big Game this week. Well done, USB team.
Best Buy — Facebook Live with the Minnesota Vikings' Stefon Diggs
Celebrity activations were a big thing this week. But, you didn't see too many brands truly "activate" the celeb like Best Buy did with its Facebook Live with Stefon Diggs. In fact, I saw Diggs at the Ford Truck booth at Super Bowl LIVE on Saturday night, and it appeared the only thing he was doing was taking pics with fans. Now, Best Buy didn't really do anything all that innovative. But, asking Diggs to participate in a four-minute interview with the Best Buy team in their huge booth at the Mall of America was simple, yet brilliant. And, the execution was even better. Shane Kitzman did an outstanding job of emcee'ing (a job that's much tougher than it looks), and I thought Best Buy did a great job of not pushing product too much on the broadcast. Proof that sometimes it's not as much about the "big idea" as it is about the execution.
Caribou Coffee – User-Generated Content/Best of the North Cups
This wasn't truly a Super Bowl activation (Caribou unveiled the new cups last week), but I think it definitely counts, as the intent was surely to allow the new cup sleeves to pervade social media during Super Bowl week. And, that's exactly what's happened. Just go check your Instagram feed. Take a peek at the #cariboucoffee hash tag, for example, and you'll see it's littered with those red-and-black checkered sleeves.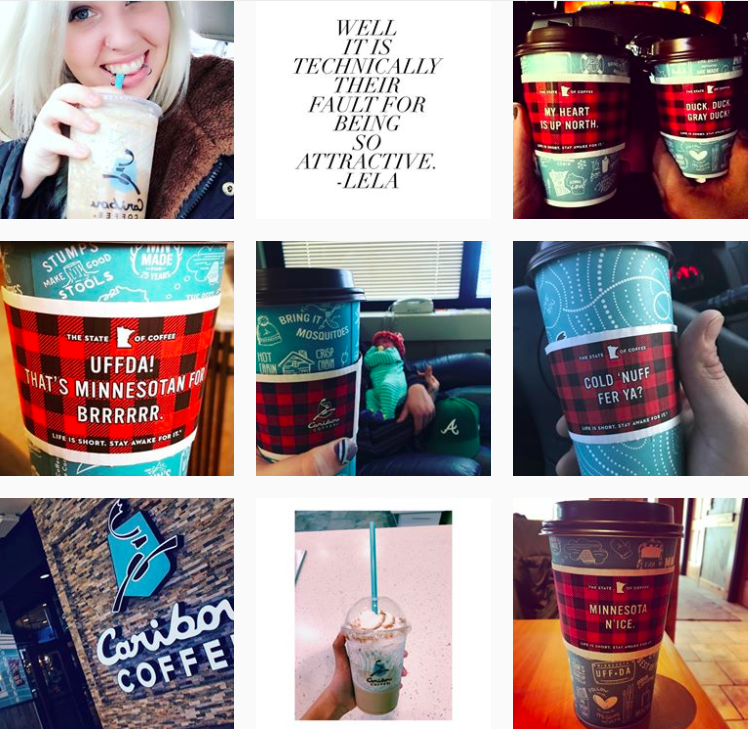 Plus, I love how Caribou is actively responding to a ton of folks on Twitter who are posting pics of the new sleeves. In fact, we're seeing a lot of people loving the Gray Duck sleeve, in particular.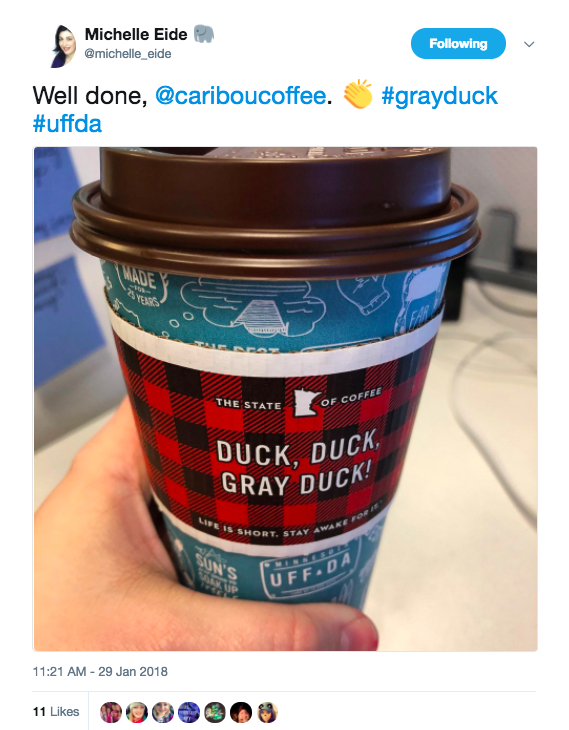 This is another one that falls in the "simple, but brilliant" category. From the design of the sleeves (uniquely Minnesotan) to the sayings, I thought Caribou nailed it from the perspective of creating something everyone would want to share online during the biggest sporting event of the year. Kudos, Caribou.