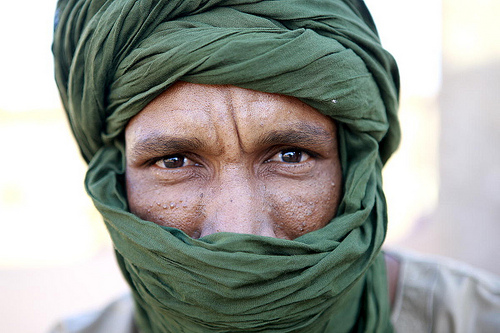 I don't get pitched all that much. But, I probably get a handful of pitches or inquiries a week through this blog. And, as I've said a number of times before, most of those pitches could use a little work and/or thought.
But a little over a month ago, I got a pitch from friend and fellow blogger, Shonali Burke that was one of the better pitches I've received to date. I often focus on pitches that have missed the mark or ways we can improve in the blogger outreach arena. But, today, I'd like to take some time and talk about a campaign that got it right (at least so far). And, because one of the best parts of Shonali's outreach was the ongoing and follow-up work, I wanted to highlight her approach in phases:
Phase One: The initial pitch
Below is the initial email from Shonali (in generic form). I've highlighted my comments in red below.
I was wondering if you'd be interested in helping me out with a campaign. I recently started working with USA for UNHCR (the UN Refugee Agency, and I abbreviate them as U4U), the US-based nonprofit fundraising arm of Geneva-based UNHCR.
Towards the end of last year, they launched a campaign called the "Blue Key" campaign, and developed a micro-site around it. Essentially, this site is aimed at driving awareness of the international refugee crisis – more than 43 million forcibly displaced people worldwide, 17 million are under the age of 18… heartbreaking stats, I could go on and on – and support for the 6,000+ UNHCR staffers worldwide who work with these refugees. (Well done–Inside of the first two paragraphs I know why she's sending me this note.)
The main "ask" of the site is to get people to sign up for their own blue key – a very nice pendant or pin in the shape of the blue key – as a sign of support. The key itself costs just $5, and there is an option for folks to donate as well, but like I said, that's optional (the site still needs some updates, which we're working on).
We are reaching out to a select group of folks we know (or think, if we don't know them, based on our research) have the right mix of interest in causes and are engaged online, and asking them to become "Champions" for the duration of the campaign. The sign-up drive will officially kick off on May 9, and our goal then, for the next six weeks (building up to World Refugee Day on June 20), is to secure 6,000 sign-ups, through our combined efforts, for a key.
I'm hoping you'll agree to be a Champion. (Perfect–Shonali lays out the reasons why they approached me [but at the same time, makes me feel a bit "special"] and talks about the goals of the campaign so I understand what they're trying to do. I also like the fact that Shonali owned up to the fact that they weren't sure if some bloggers would be interested, but "thought" they knew based on their research. Just the mere fact that she wrote that sentence [and given what I know about Shonali] makes me believe she did her research on the front end)
If "yes," our main ask is to publish a blog post about the campaign, encouraging people to get keys and share the information, sometime during the six weeks starting May 9. We'll get you any information you need in advance, whether they're statistics, quotes, etc., as well as the relevant links, and so on. We're also going to start collecting Champion bios & photos, so that we can highlight them on the Blue Key blog, and then we'll work with you to ensure your post is cross-posted to the Blue Key blog as well. (Nice–Shonali does a great job here of laying out expectations and timing [we'd like you to post any time in the six-week duration after May 9] and stating that she will be a resource for bloggers who might need information to round out their post)
That's pretty much it in terms of the main ask. Obviously, we'd love for you to share the campaign in any way you can and think appropriate, whether on Facebook, Twitter, etc., or anything else you think of/are comfortable with.
We also want to draw on the collective wisdom of our Champions through the drive. To that end, we've set up a secret Facebook group, to which we'll add you, if you're agreeable, so that we can all chat easily, share ideas, etc., through the course of the campaign; and we'll pass those ideas along to U4U. It will be easier to keep all the Champions updated as well. (Interesting–Shonali suggests using Facebook Groups to keep the group together and engaged after the initial pitch [and as a key and efficient way for her to communicate with the group, too]. From a blogger perspective, this is attractive as it's a nice way for me to get to know other bloggers a bit better in a more private setting).
Will you sign on? I know how busy you are, so promise to make it as easy for you to publish the post, etc. Your support would mean a great deal to us, so I'm really keeping my fingers crossed. (Close–Shonali wraps by making it personal. Since I'm guessing Shonali knew most of the bloggers she was reaching out to, this was really smart. Tough to say "no" to a friend asking you to make a difference for a cause that friend believes in–even if that cause is a client.)
Thanks so much, and I hope to hear from you soon,
Shonali
Phase Two: Keeping bloggers engaged
As mentioned above, Shonali used a private Facebook Group to keep the group of bloggers engaged after the initial pitch. Shonali uses the group to announce post schedules, promote champion posts, and give bloggers updates on the #bluekey campaign. She's really done a great job of managing the community, highlighting the bloggers and answering questions in real time. So impressed with Shonali's creative use of this tool for this campaign. I would attach a screen grab but since it's a secret group and the campaign isn't complete, I didn't think it would be appropriate.
Phase Three: The Follow-Up
The following is another note from Shonali several weeks after the initial outreach in May. My notes and comments are again highlighted in red.
Hi Champions!
I hope you had a great weekend and have a fab week ahead. I'd posted this in the Facebook Group, but just in case it is helpful via email, wanted to send you to again – you may not even need it, but if you do, it's a few notes on today's #bluekey tweetathon. Many thanks to all who have volunteered their time, and even if you can't stop by for a great length of time, we'd love to see you, even for a little bit. I should be on from 9 am – 9 pm ET (!), and not checking email too frequently, but please do ping/DM me if something comes up.
And THANK YOU for everything! (In first two paragraphs Shonali has given me an update on the campaign and thanked me profusely for my participation. Result: I'll most likely keep reading. She's also reinforcing a message she's already shared on the Facebook group, so she's sure to catch those [ahem-me] who haven't been keeping up with the group as much as they would like.)
Since some of you have asked, here's a rough guide for anyone who needs it for the tweetathon.
Make sure you're following @UNRefugeeAgency and @tkhf – the latter is the Twitter handle for the Khaled Hosseini Foundation. Roya Hosseini, who's married to Khaled, tweets for them and is joining the tweetathon from 1-2 pm ET – so even if you're going in and out of Twitter, it would be AWESOME if you can try to be on for a bit during that time.
If you're not familiar with Twitter chats, I like to use Tweetgrid (some people like Tweetchat) to follow/participate. Tweetgrid.com – login via the button you'll see (it'll direct you to Twitter's OAuth), and then open up any grid – I usually start with 1×3. For this one I might switch to 1×4, so that I can have columns for my own @ stream, @UNRefugeeAgency, @tkhf and #bluekey (definitely keep @UNRefugeeAgency & #bluekey as 2 of your columns). Also plug in the hashtag in the hashtag box you'll see near the tweet box, and then when you send a tweet, it will be automagically included. And then just use those columns to follow along & participate.
For the 1-2 pm bit, we'll follow a more "typical" Twitter chat format, where @UNRefugeeAgency will send questions to @tkhf and Roya will answer. For the rest, we just want to talk a LOT about the Blue Key campaign and intersperse with the CTA of getting a key.

(Great basic tips here to accomodate all bloggers–some of which may not be familiar with Twitter chats)
Some resources/ideas for the "freewheeling" part of the chat:
I think it would be neat to pull from the "publishing schedule" doc in the Facebook group to point to other Champions' posts
Every few tweets, tag a few folks & ask them to join/get a key (if the latter, with the "get the key" link below)
@pralison is writing a "twivel" about the #bluekey – pretty interesting – check it out!
See what other cool things people are tweeting about #bluekey, including @UNRefugeeAgency & @tkhf & share.

(notice how Shonali is working to highlight the champions posts here; and how she's calling out other folks and driving the bloggers to that post–@pralison. Mostly, I just like that she's giving bloggers content ideas–without pushing her client's organization too much)
A few sample tweets (all 140-character tested!):
For just $5, your #bluekey could help @UNRefugeeAgency save a life. Get your key today: http://ow.ly/5d4VC (note to Champions: this first link is the "Get a Key" link, which is the most important for us to push out consistently)
Did you know that there are more than 43 million refugees worldwide?http://ow.ly/5d54i Your $5 #bluekey could open a new door for them.
"Kite Runner" author Khaled Hosseini says "anyone can be a refugee"http://ow.ly/5d59P Your $5 #bluekey could help change that. Get it today!

(and finally, a few sample tweets–standard practice, but always a good idea. Make it easy for folks who don't have a lot of free time. This close is indicative of the entire email–providing me with ideas and a little advice on how to navigate and contribute to the tweetathon.)
Results
I wanted to wrap by sharing a few results so far from the campaign to date (specifically around the tweetathon Monday). While the overall results aren't quite in yet, the I think the following demonstrates the value of a well-thought out blogger outreach campaign–and more importantly, the value of continuing to engage those bloggers beyond the initial pitch (note that Shonali didn't mention the tweetathon in the initial pitch). Per Shonali's update to the champions yesterday:
– 1,524 tweets using the #bluekey hashtag during the tweetathon Monday, June 13.
– 258 people contributed to #bluekey over the course of the day.
– Almost half the number of keys purchased last week came as a result of the tweetathon.
Finally, please consider purchasing a Blue Key pin (only $5) and supporting people that are seeking refuge from war and persecution around the world.
Note: Photo courtesy of United Nations via FlickR Creative Commons.