Sure, the Target Instagram account has more than 500,00 followers.
And yeah, the Nature Valley account is still one of my favorites with all its outdoorsy pics from the western U.S.
Even the Minnesota Zoo's account is tremendous with all its uber-adorable furry friends.
But, the best "corporate" (OK, so it's not really a "corporate" account, but bear with me) Instagram account from Minnesota is one you probably HAVEN'T heard of (especially if you're from outside Minnesota): Explore Minnesota.
They may not have the most followers (OK, so they have 11,200 followers, but it's nowhere near the big boys), but I think they've done a really nice job with what they have over the last year or so.
Remember, when you work for an organization that's not really selling a "product", but instead a "concept", it's tougher than you might think. I've had a couple clients in recent years (Bike Walk Move, the new Green Line) that fall into this bucket.
Yeah, Explore Minnesota has the advantage of a concept that lends itself incredibly well to outstanding visuals. But, that doesn't always translate into success.
You still need creative ideas.
And you still need to execute well.
I think Explore Minnesota has done both–with just a few caveats.
Here's what I see Explore MN excelling:
What they do well: Top Pics of the Week series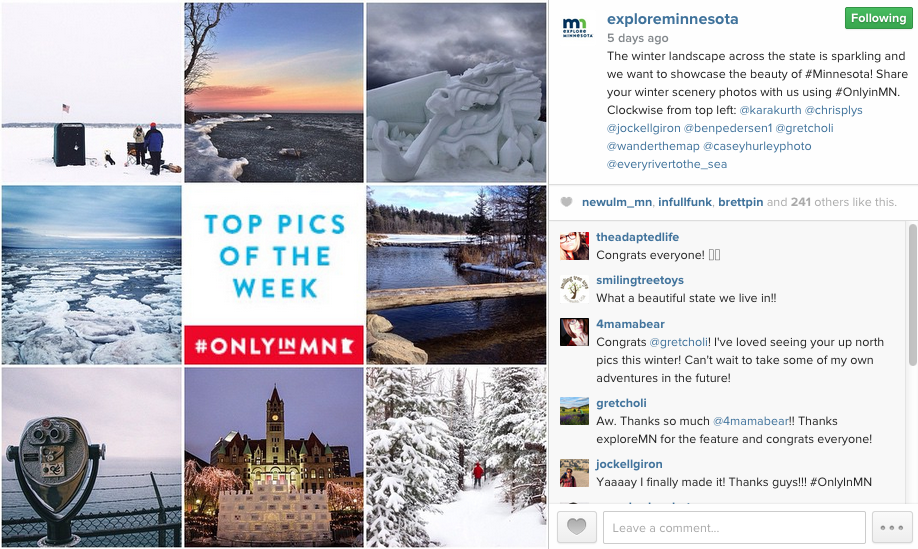 Love what Explore MN has done with this series, slowly building a community of Minnesota-based photographers (and fans) on Instagram. They're simply curating the best shots featuring the #onlyinmn hash tag from the week. Simple, but brilliant (and effective in terms of engagement).
But, take it one step further…
I can't help but wonder what else they use do with these IGers whose pics they feature each week. What about using them to lead their fairly frequent Insta Meetups? What if they were somehow designated as official MN Instagrammer tour guides? Could they feature them in their advertising? Just feels like there's a bigger opportunity here to wrap these folks up and put them on an even bigger pedestal.
What they do well: Driving to specific Minnesota destinations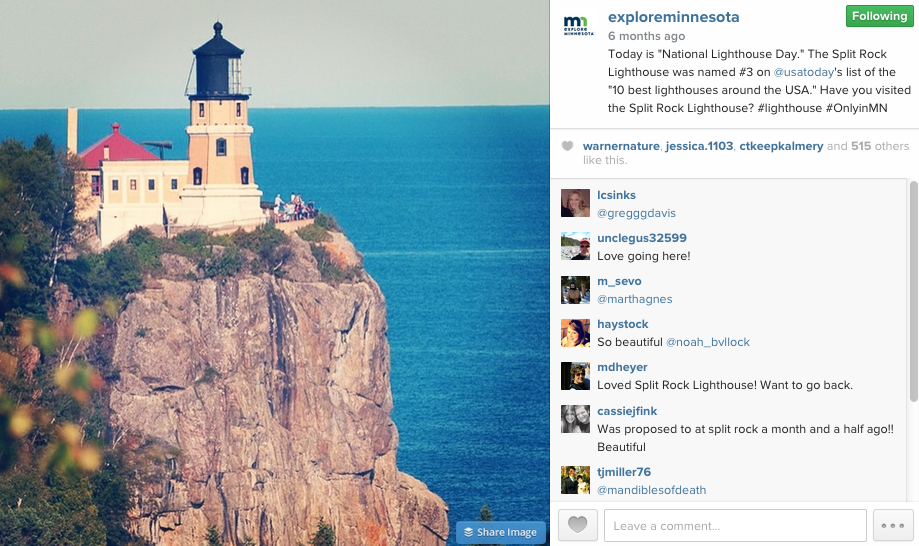 In the feed, you see a lot of pics of the best Minnesota spots and locations. Lots of Duluth pics. LOTS of North Shore photos. Pics from Twin Cities landmarks (James J Hill House recently). And some pics from other Minnesota hot spots (Winona and the Mississippi River valley were popular in the fall). Obviously, this is one of the big reasons they started and continue to use the account.
But, take it one step further…
One thing I don't see a lot of in the feed–FOOD! I mean, I know the focus is on exploring Minnesota locations, landscapes and landmarks. But, what about Minnesota FOOD? Isn't that a big part of what makes us unique? What about spots like Fitgers in Duluth? Bloedow's Bakery in Winona, or WA Frost in St. Paul? Aren't these restaurants, bakeries and bars a big part of the Minnesota experience? I'd feature them a bit more.
What they do well: Using regrams to unlock Minnesota pride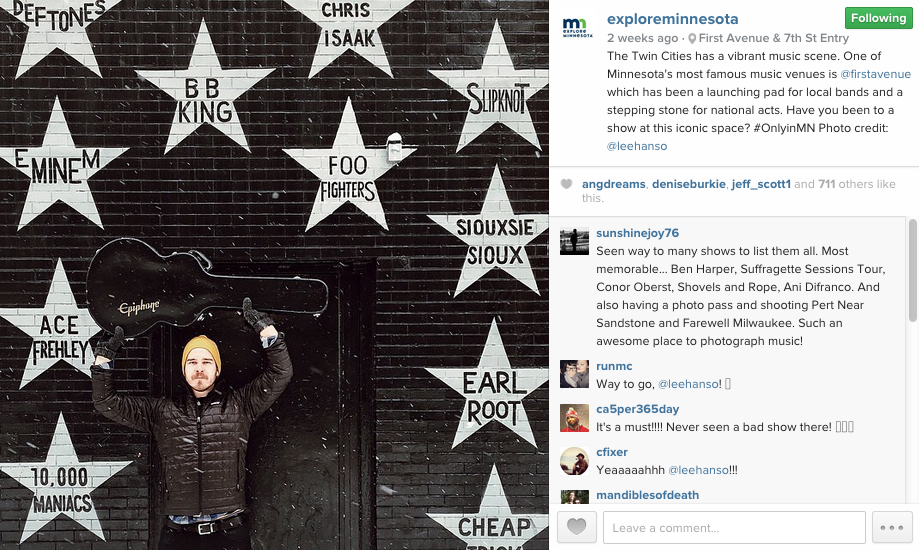 One of the beautiful things about this account is that they literally would not have to produce a single pic if they didn't want to. Why? Because there is a LEGION of Minnstagrammers that are taking great shots for them! So, all Explore Minnesota has to do is simply regram and credit the IGers of these great shots and voila–instant pics! Great way to recognize these IGers from across the state, and more importantly, to build that Minnesota pride. Go look at one of these posts where they regram a shot–it's FULL of congratulatory notes from folks all over the state to the original IGer.
But, take it one step further…
Explore MN does such a nice job here. However, I'd probably regram #onlyinmn pics even more, if it was me. Such a great way to build that pride. And it's that pride that's driving likes, comments and awareness, which is obviously what they're after. I'd also find a way to really thank these IGers for their pics and time. Who knows–maybe Explore MN is already doing this. I'd like to think they are. But, I'd set up some kind of system where I'd send IGers a postcard (using a tool like Postagram) with their pic and a signed and personal "thank you" from the Executive Director (or Communications Director). Just a nice, little personal touch that I bet would go a LONG way.
What they do well: Using influencers to help tell the Minnesota story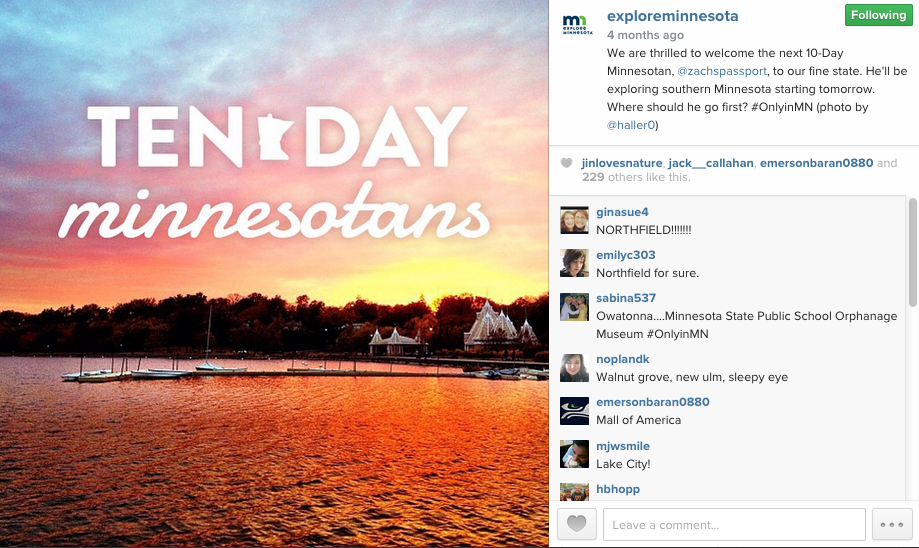 Some of you might remember this from last summer/fall. Explore MN asked a variety of influential IGers to document their Minnesota experience as they explored different geographic areas of the state. The "Ten Day Minnesotans" idea. Great idea, right? Turning over the IG keys to influencers isn't really a new strategy, but in this case, I thought it made a lot of sense. It was fun to see their perspective on our great state. And, I think that came through in the pics.
But, take it one step further…
However, I'm not so sure they really needed to engage all these big-time IG influencers for this campaign. I mean, I know they're after reach and engagement here. I also know they probably wanted out-of-state influencers as a way to draw people in from across the country. I get it. But, I also assume they had to pay these people a hefty sum to do it. Instead, why not mix in at least one of the great IGers we have right here in MN? I mean, just looking at the feed, we have a ton of those, right? Why not ask Minnesotans like Eric Wheeler, Kyle Matteson and Robert Burmaster (just a few I know and follow) to document THEIR Minnesota? Again, it's all about building on that MN pride. Loved this idea though.