For those of us living in Minneapolis this week, it's kind of a marketer's dream. There are "brand activations" everywhere. I took my family downtown Minneapolis last weekend to check out Super Bowl LIVE and you couldn't go 10 feet without seeing some sort of brand logo or signage.
Yep, we're in the belly of the proverbial marketing beast this week. The biggest of the biggest brands are here: Ford, Verizon and Pepsi come to mind right off the top, but the full list of brands involved with the Super Bowl is obviously very long and impressive.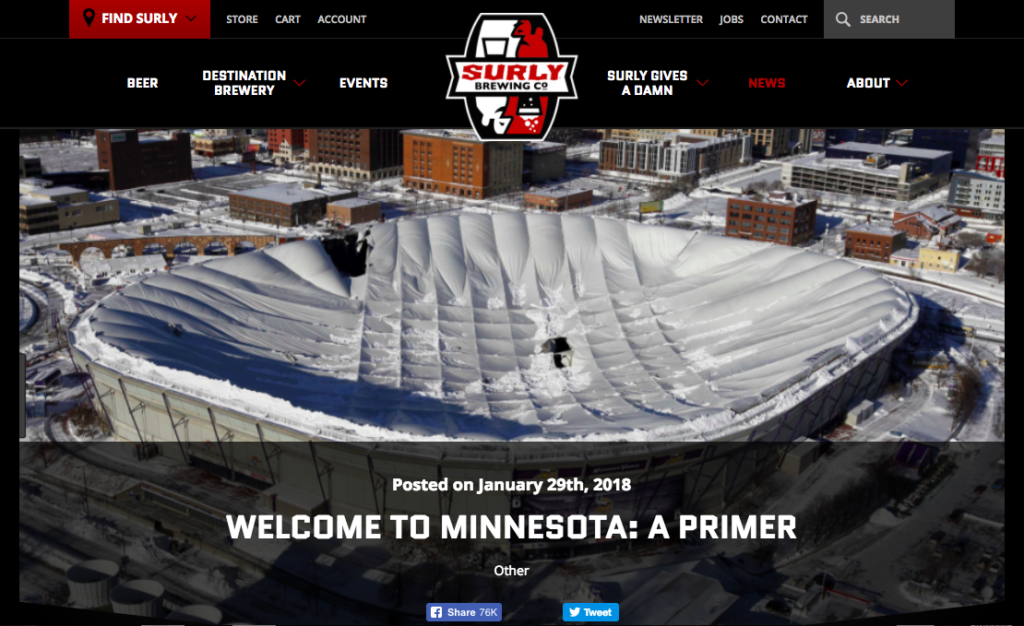 So, it surprised the hell out of me when one of the best digital and content marketing tactics I've seen so far during the Super Bowl came from one of the smaller companies in the grand scale of Super Bowl marketers: Surly Brewing.
If you live in the Twin Cities, you certainly know about Surly by now. Over the years, they've proven to be savvy marketers (see: long-running relationship with well-known local artist, Adam Turman). But, this most recent content marketing example puts them in a different class.
Surly posted this "blog post" (I guess that's what we'll call it for now) on their site earlier this week:
http://surlybrewing.com/news/welcome-minnesota-primer/
If you read the whole thing without spitting your coffee up, you're stronger than me. I LOVE this piece of content marketing from Surly–for so many reasons.
But, let's list them out anyway:
It's actually HELPFUL!
Isn't this pretty much an agreed-upon best practice? Yet, we don't see it practiced often enough by brands. Surly hit the home run here. It's right in the title. "Welcome to Minnesota: A Primer." It's designed to give newcomers and visitors to the state an idea of what to expect during their visit–and a few places to visit. Sure, it's primary motivation seems to be humor, but it's also helpful in a number of ways.
It hooks you with humor but sells you in the end
The post doesn't mention a damn thing about Surly until two-thirds of the way down. That's completely by design, of course. It leads with a pretty good dose of humor. And, it closes with another "sell"–info about Surly events and where to find beers around town. But, it's all about how the post is constructed. Lead with your hook–and subtely sell in small doses toward the tail-end.
It takes genuine risks
This is a big one–and significant because you just don't see too many bigger brands take the kind of risks you see in this post. Right off the bat, Surly takes a shot at Minneapolis ("Please enjoy Nicollet Mall. It took us 12 years to finish the thing."). Brilliant–as, it captures exactly what everyone has been thinking here over the last few years, but what few brands (and people, really) would be willing to say publicly.
It plays wonderfully on Minnesota myths
What I like most about this post is how it captures all the Minnesota myths spectacularly well. These are all the items people on the east/west coasts think about when they think about Minnesota: the weather, hot dish, Prince, our accent. Even though it's probably not widely known, I LOVED the "ope" item–that is such a Minnesotan thing. But, that's what's smart about this post–it truly captures our spirit and what it's like to be a Minnesotan.
It's actually targeting Minnesotans
This is the true genius of this piece of content marketing. Sure, it's positioned to target out-of-towners who are visiting Minneapolis/St. Paul this week. But, really, it's targeting Minnesotans. I mean, look at how they set it up. The first line/joke is something only Minnesotans would get/understand–same for the skyways line and Choppers line. I'm guessing this was purposeful–and they probably did it because they KNEW it would resonate with Minnesotans and they'd share it liberally (which has definitely happened–according to the blog post, it's been shared 76,000 times already and you can see the stats on its tweet this week below).
Welcome to Minnesota. Our new football stadium is built on top of our old football stadium. It used to deflate when it snowed. It snowed a lot. https://t.co/mwypIItbmt pic.twitter.com/WhbV4FOzIZ

— surlybrewing (@surlybrewing) January 29, 2018