2019 was an interesting year for me professionally. It definitely had its ups and downs. At one point in the year I was working with just two clients–the fewest I've worked with in almost 10 years!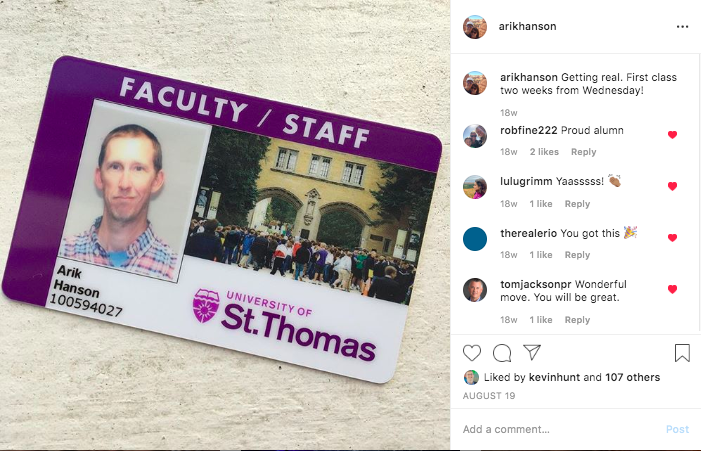 On the other hand, I started teaching at the University of St. Thomas–somewhat of a life-long dream of mine.
I worked with four new clients.
And, I celebrated 10 years working with my Sleep Number client–even I will admit that's an astounding accomplishment and I am forever grateful to all my friends at Sleep Number (including a few of which are no longer there).
Overall, 2019 was another great year. I met so many fantastic people. Continued my Talking Points blog (now the longest-running PR blog in Minnesota). Continued the Talking Points Podcast with Kevin Hunt (the longest-running PR and corp comms podcast in Minnesota). And the Mastermind Group I lead now has 30+ members!
Much like we recap our year as a family by creating holiday calendars for our extended families, I thought it best to recap 2019 professionally by listing out some of my biggest milestones:
Life-long dream unlocked: In July, I learned I would be teaching my first class at a major university. And, not just any university, but one I have been wanting to teach at for some time: The University of St. Thomas. A huge thank you to Aaron Zaslofsky for introducing me to Professor Bruce Moorehouse, who made my dream possible in 2019. It didn't suck to hear my first round of students say "it was the best class I've had at UST so far" either!
Anniversaries galore! I hit a number of milestones in 2019 including celebrating 10 years as an independent consultant! I also celebrated five years of podcasting at the Talking Points Podcast and 10 years with my Sleep Number client!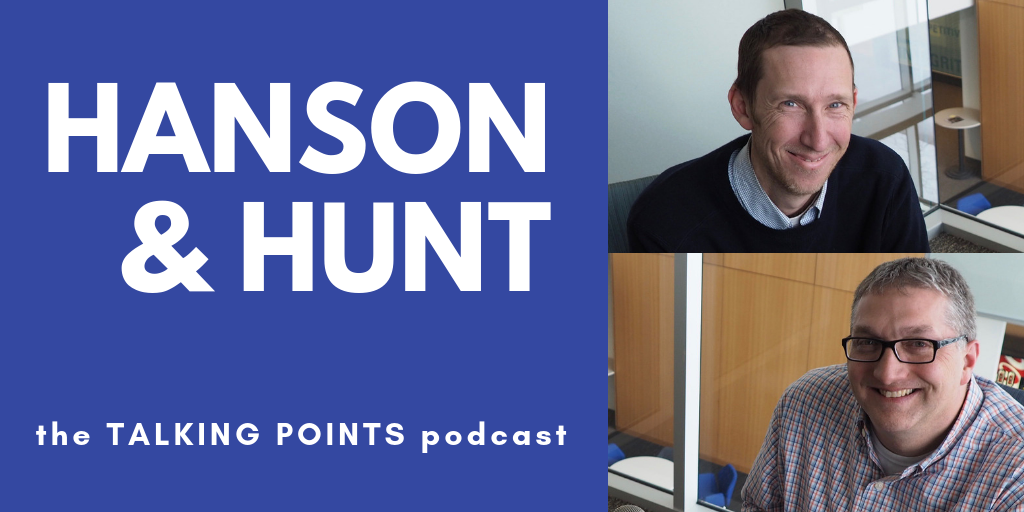 New work! My goal heading into the New Year was to secure two new clients. I doubled it and secured four! It was fun to work with long-time friend Joel Swanson at Affinity Plus Federal Credit Union. And, to work (again) with Jennifer Hannon at Hearth & Home. And, to work (again) with Leigh Huther at Trane. And Katy Epler at the Richfield Tourism Board.
Longest-running PR blog in Minnesota. 2019 saw the shuttering of the longest-running PR blog in Minnesota (and maybe, the country): The MN PR Blog. Which now means the Talking Points Blog is the longest-running PR blog in Minnesota–a distinction I do not take lightly as anyone who's managed a blog knows how much work and time it takes! A few of my most popular posts in 2019 include: 15 up-and-coming PR and social media marketers to watch;  17 additional winners of the 32 Under 32 List and What grade would you give the MIAC on its handling of the St Thomas fiasco?
Longest-running PR/comms blog in Minnesota. With more than 130 episodes now in the can, our five-year run means we're the longest-tenured PR podcast in Minnesota!
Mastermind Milestone. I've now run a Mastermind group made up of brand-side folks at Minnesota's largest companies for three years now. And, in 2019, we hit a big milestone: We now have 30 Masterminds in the group!
The Coffee 50 (well, really, 63, but who's counting?). Every year, I aim to have coffee with at least one person every week. I even write a post about the people I hope to have coffee with in the New Year. This year, I had coffee with 63 different people (I know I probably missed a few folks–if so, I'm sorry!). I'm already making my list for 2020 (I'll be sharing next week!)–and I'm looking forward to who I "stumble on" in the New Year, too.
Amanda Theisen, Blue Cross Blue Shield
Bao Vang, University of St. Thomas
Emily Pritchard, The Social Lights
Ali Harries, Ameriprise
Jody Ambroz McArdle, Minnesota Ovarian Cancer Association
Brett Boyum, Marvin Windows & Doors
Laurie Bauer, The Vomela Companies
Lisa Grimm, free agent
Joshua Carter, Tunheim
Dennis Cass, solo writer/strategist
Rebecca Lechner, Room & Board
Candee Wolf, independent consultant
Sarah Manley, free agent
Jolina Pettice, HealthPartners
Matty O'Reilly, Restauranteur (Bar Brigade, Republic, Foxtrot Burger, Sandy's Tavern)
Kathy M, Meet Minneapolis
David McCoy, US Bank
Eri O'Diah, Collective.ly Digital
Lindsay Stewart, Patterson Companies
Tony Saucier, Mindsailing
Greg Swan, Fallon
Glenn Karwoski, Karwoski & Courage
Rob LeMay, United Health Group
Jackie Krings, Andersen Windows & Doors
David Witt, W2O Group
Jesse Stremcha, Lutheran Brotherhood
Ryan Pena, Be The Match
Susan Garcia Hagen, Public Library of Science
Stacia Vogel, Gray Plant Mooty
Justine Perez, US Bank
David Jungers, Optum
Jen Hannon, Hearth & Home Technologies
Alyssa Greve, Cambria
Megan Ayotte, independent consultant
Vince Giorgi, free agent
Dan Bonebright
Betsy Andersen, University of Minnesota
Aaron Keller, Capsule
Alex Mensing, Be The Match
Katie Seifert, Post Brands
Greg Bury, Medica
Noelle Hawton, Minnesota State Colleges & Universities
Susan Eich, independent consultant
Aimee Jordan, Fairview
Mark Jenson, University of Minnesota
Bruce Moorehouse, University of St. Thomas
Anna Liewicki-Long, SnowGlobe PR
Erin Keifenheim, Children's Hospitals & Clinics
Sarah Reckard, Resideo
Matt Kucharski, Padilla
Monica Wiant, US Bank
Tim Bursch, Spredfast
Kendra Klemme, Cargill
Katie Dohman, freelance content strategist
Sue Serna, Cargill
Brett Weinberg, Allianz
Elise Bartlett, Life Time
Drew Pearson, Goodbye Vanilla
Lida Poletz, Genoa Healthcare
Aaron Pearson, Stratasys
Bridget Jewell, Periscope
Marie Yarroll, Cargill
Anna Lovely, Cargill