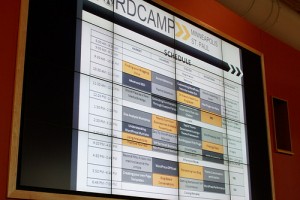 Over the last few months, I've been a part of a number of social media-based events. I spoke at the first-ever WordCamp here in Minneapolis last weekend (great event, by the way). I spoke to the APR study group for the local MN PRSA chapter (on the subject of social media/technology). I organized and introduced speakers at BlogWorld last month. I spoke on a panel with Bob Brin, Tyler Olson, John Bernier and Kate Madonna-Hines at a Tech.MN event in October.
At WordCamp, they had more than 30 speakers. BlogWorld? More than 100.
And there are a number of industry events across the Twin Cities–and country–each week. Just check the hash tags on Twitter. In fact, there are a number of events running just within the social media/PR industry on any given day.
This over-abundance of conferences and events has led me to one question recently: Is speaking at these kinds of events still a credibility builder?
I only ask because with so many opportunities, is it really a differentiator anymore? After all, if everyone's a speaker, then can it really build that much credibility?
Here's what I see happening. With the explosion of events and speaking opportunities, we now have people speaking who may be subject matter experts, but they're not great speakers. To be completely honest, I probably fall in this group. Do I know my subject matter? I think so. Am I an engaging, off-the-charts I-have-to-see-this-guy-talk speaker? Not as much as I'd like to think (OK fine, I'm not. Period.).
And, I'm definitely not alone.
In fact, I can probably count the number of speakers that I've found entertaining, engaging AND educational on one hand (Peter Shankman remains one of the best public speakers I've seen in our space–hands down). Literally.
So, I guess my question to you today is two-fold:
* Does speaking really matter as a credibility builder anymore since there are so many opportunities?
* Is the art of public speaking slowly disappearing?
Would love your thoughts.
Note: Photo courtesy of TECHdotMN via FlickR Creative Commons.