I usually have a rule for folks I profile in this series: I must have met them in person. Simple rule. And I've followed it to the letter of the law. Until today.
I've "known" Christian Plewacki for years. That is, I've followed him on a combination of Twitter and LinkedIn. And, I've always respected his viewpoints. Seems informed. Opinionated. And willing to stand tall behind those opinions. And, unlike many others who have these opinions on trends in the social media world, he's actually done the work. Namely, with Patterson Companies, 3M, and now, Toro.
And yeah, I've spoken to Christian a few times on the phone. I "feel" like I know him–but again, we've never met. That will be changing in the not-too-distant future. But, for now, let's meet this Social Media Rock Star and learn more about what he's up to at Toro.
First, tell us more about your role at Toro as Social and Digital Media Leader.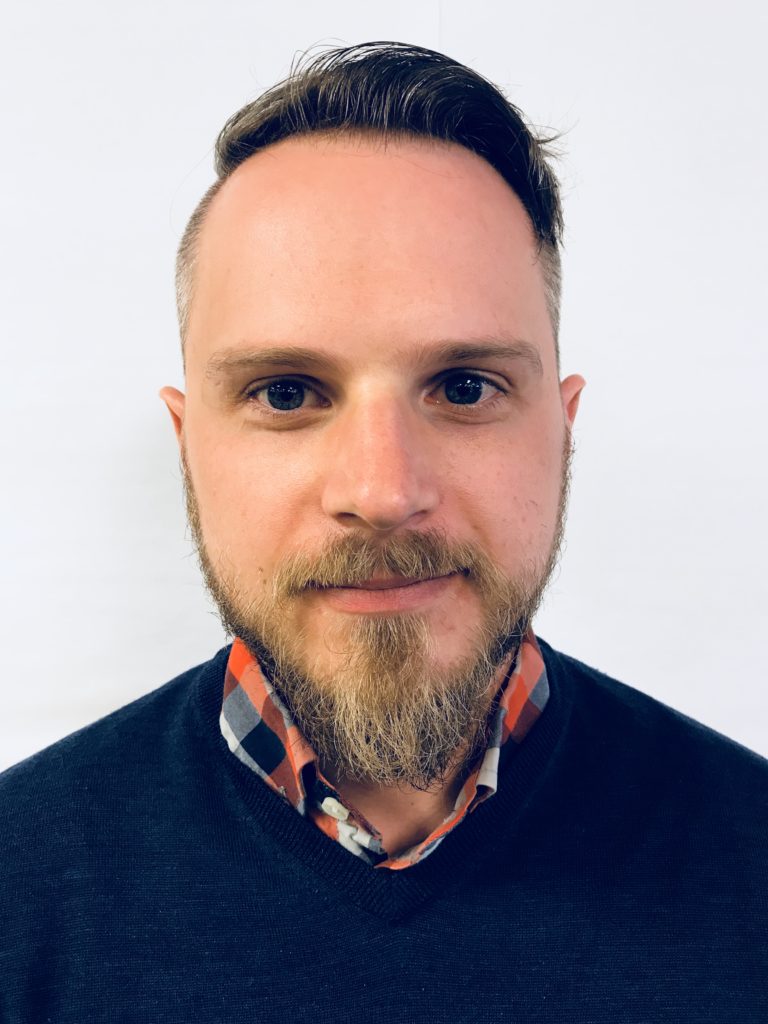 The nature of my role at Toro is similar to what I did at 3M, but different in scope and scale. At 3M, I was one member of a pretty big corporate team of social & digital marketing specialists whose services span many divisions across just about every industry you can name. I left that behind for an opportunity to build a modern marketing center at Toro, more-or-less from the ground up. I work across functions, divisions, and other levels within the company to drive change and scale up excellence. This can take the form of working with executives to formulate near and longer-term digital strategies, to educating divisional marketing teams on industry trends & best practices, to planning/executing/measuring/optimizing paid campaigns for proof of concept or to support product launches. It all depends on the day.
You've been at Toro now for a little over a year. What's been the biggest challenge of this role for you? What's been your biggest win so far?
The biggest challenge is that, as an individual contributor (AKA, a one-man show) with few resources and the inability to clone myself (or…no direct reports), I rely almost solely on my ability to influence. But I see this as a positive, as it forces me to exercise and strengthen my influencer muscle like never before. It forces me to learn new ways to tell compelling stories with data, and empathize with folks who see the world differently than I do. There's a lot of appetite for smarter marketing across divisions and brands of Toro – and folks in pockets of the organization who champion digital/social marketing within the older construct. I think my biggest win at Toro so far – and definitely a career highlight – was presenting to the Board of Directors about the shift to digital (literally the title of my slide deck) during the annual strategy meeting earlier this year. I was the lowest-ranking employee in Toro's history to stand before the Board and make strategic recommendations, and this had less to do with how awesome I am – it was mostly attributed to being in the right place at the right time. (The presentation was well received.)
As someone who's been in social media marketing your entire career so far, and someone who has worked his way up the social media ranks, what do you think of social media as a career path? Would you recommend a career in social media to today's young grads?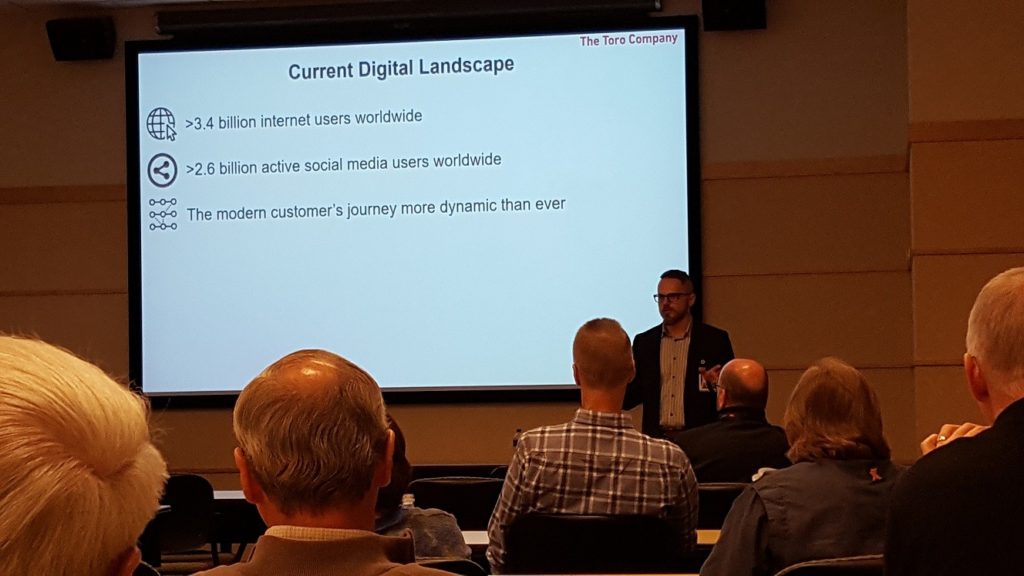 I've thought a lot about this lately. Back in 2009-2012, when social, search, mobile and other channels under the digital umbrella were less mature, specializing in one of those disciplines seemed like the way to go, and that was the advice from career experts. Back then there could be 1 person at a big F500 brand with "social media" in their title, and as social grew as a more legitimate channel, that person was promoted to Sr. Manager or Director of social media, and now manages a big team of social media specialists. Now, in 2018, as big brands strive to integrate siloed processes, tools and resources across all of the channels where they touch customers, the career advice I'm hearing is that the modern marketer should generalize and broaden the scope of their subject matter expertise, to be more holistic. I think that experience working in an agile marketing environment at a big company, or a smaller agency/startup where you can quickly get exposure to and responsibility for managing other disciplines can be helpful if you've been focused on one discipline, and want to expand or have aspirations of being a CMO or CDO someday. But everybody's different – if you like working in social, stay in social. There will be plenty of demand for social media experts in the years to come. I believe this is true because social is the one channel that can literally span all stages of a customer's journey, and yet it is, ironically, still treated like an afterthought or a box to check. Smart folks who love social and have a knack for working across functions and connecting those dots internally for a more seamless and personal customer experience are extremely valuable.
You're also a part of the first generation to enter the workforce during the dawn of social media marketing (unlike us old folks who came into the industry using fax machines!). What have been the notable shifts you've seen impact brands the most in the social media world since you've been in the workforce?
What's a fax machine?
From an employee standpoint, the generational preferences and habits are so interesting to observe at these big old companies. I'm on the elder end of the millennial spectrum, so I find that I have tendencies of both gen y and gen x. I find that, for the most part, legacy folks are trying hard to understand this influx of younger counterparts, and evolve a little in their own adoption of social media or other tech. Younger folks would do well to soak up the knowledge and wisdom of their elder colleagues. That's one shift…not sure if I've answered your question.
Since we're talking trends, what are the key trends you're talking to your teams at Toro about in 2018? And what should brands have their eyes on as we head into 2019?
I've learned that, in any industry that's being disrupted by digital technologies (which is all of them, to varying degrees), it's easy and natural to chase shiny toys, while neglecting leaking pipes. Knowing my internal audience and where they are on the digital maturity scale, I mostly reinforce the basic but often-neglected principles of effective marketing – less is more/quality over quantity approach to publishing; invest more in amplification/targeted distribution of content than creation of content; social customer care is becoming the new marketing…stuff like that.
But of course we're talking about VR, AR, AI, blockchain, blah blah blah. I really like this recent post on how marketing automation is evolving, and think this trend is really important.
You have big opinions in the content marketing world–I've seen you share some pretty interesting viewpoints on LinkedIn (and I've agreed with many of them). What do you see as the biggest mistake most brands make when it comes to content marketing?
Honestly, I don't think most brands even know what the hell content marketing is. Many marketers assume they know; they publish marketing content, and call that content marketing. Content marketing is a process, and a hard one. It is not for the faint of heart, as my friend and content marketing wizard Carlos Abler often says. It's not enough to simply have a corporate blog, or manage an editorial calendar and publish content you think people will like. A content marketer religiously collects and analyzes audience data from a variety of sources, which unlock insight about which content topics and formats will add the most value across the fragmented spectrum of touch points also known as the customer journey. And then they rigorously measure the performance of that content against metrics and KPIs that tell whether or not that content is achieving its twofold purpose of delighting customers and driving revenue. That's content marketing.
You've decided to pursue your Master's of Business Administration at Augsburg University–congratulations! What drove your decision to purse the advanced degree? And, just out of curiousity, why did you land on Augsburg?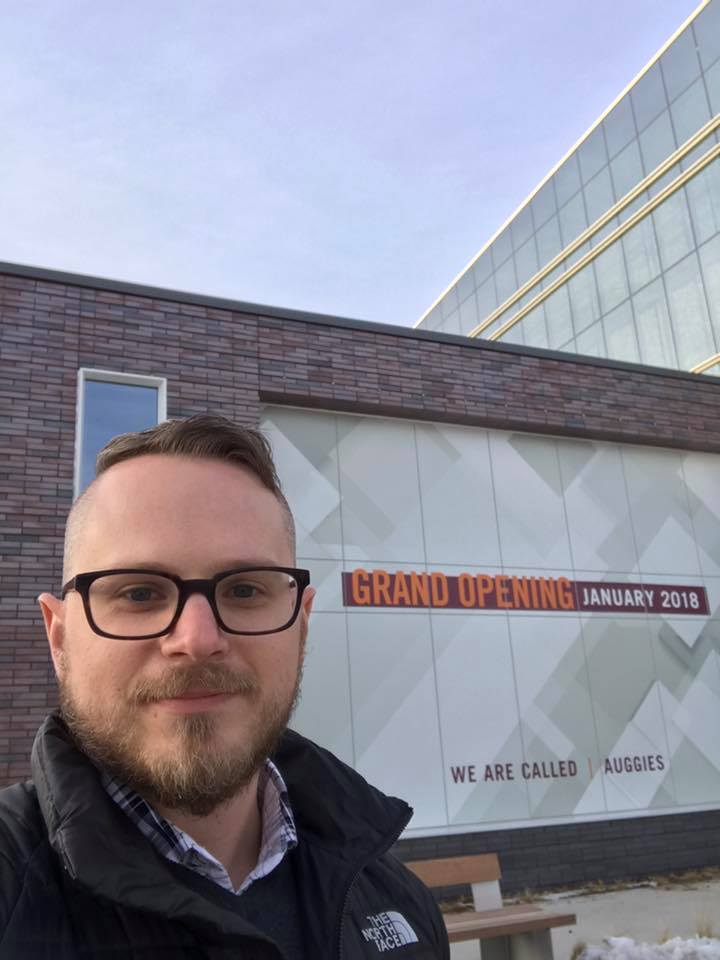 Thanks! For me, the decision sort of came down to cultural fit and values alignment with the institution. As far as the structure and curriculum of the program, it's hardly different from what any other school offers. What really attracted me to Augsburg is their emphasis on creating and cultivating a diverse student body, and they're continually recognized for this. My program director says, "We don't try to recruit rich white kids like some other schools around town. We close the education and achievement gaps, and actually change people's lives." Augsburg is also a bit more affordable than Carlson, which is nice.
So far in your career you've worked with all B2B brands (primarily, at least): Patterson Companies, 3M and Toro. Was that a deliberate choice? And, what attracts you to B2B vs. more consumer-focused brands?
Not by design, but I've really come to love B2B. A consumer brand creates strategies around minimizing the steps a consumer takes from awareness to purchase. Conversely, a B2B actually adds steps in the path to purchase because of more complex sales cycles and to capture quality leads. But we're approaching this tipping point where the B2B buyer's purchasing preferences and media consumption habits as a consumer are dictating those expectations in the professional setting, increasingly. At some point, B2B marketers and channel partners are going to be forced to make it a lot easier for customers to do business with them, period. I love hearing a B2B marketer say, "My customers are not active on social media," and then showing that they actually are, which opens up the door to discussing ways to reach, engage and convert in these spaces that are often more effective and efficient than traditional tactics.
I'm always interested in if/how people who work in social media spend their personal time on social media. Where and how do you spend time on social media outside of work?
I actually use Facebook the most, but mainly for posting trivial/silly or politically-charged thoughts and opinions among friends and family members (like most people, right?). I love Twitter (@CPlewacki) and use it a lot, mainly for business-related stuff, and a bit of levity too – it is Twitter, after all. As you mentioned earlier, I use LinkedIn pretty heavily for professional networking and expressing industry thoughts and opinions through the platform's fantastic publishing tools. Instagram some. Snapchat a little. They're all fun, and serve a unique purpose.
Send me a friend request on Facebook and I might accept. 😊
Final question: Best concert you've been to in the last year?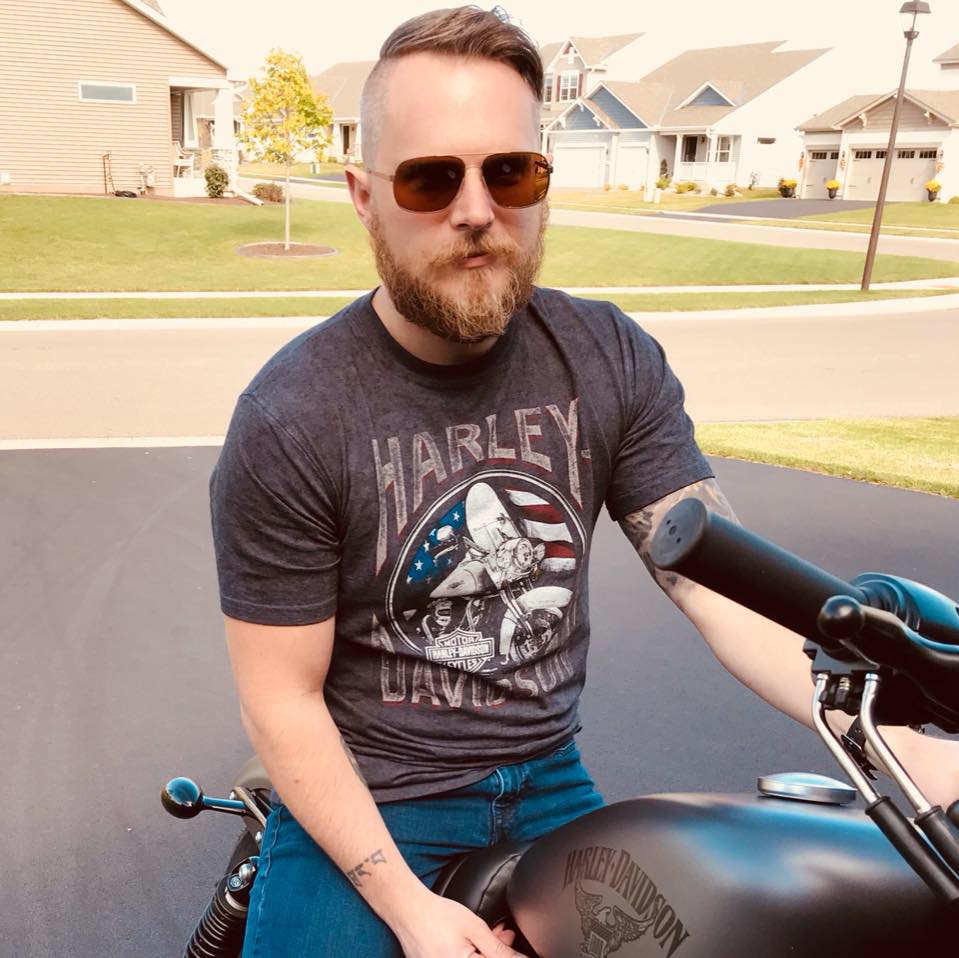 I have a penchant for heavy metal, and try to go to metal shows often. I know I've been to at least one concert this past year, but can't recall exactly which band it was. It's been a busy year. I was planning to see Anthrax & Killswitch Engage in Minneapolis last winter, but it was during a mega blizzard, so I stayed home (super metal of me, right?). I was really stoked to see super group Prophets of Rage (members of Rage Against the Machine & Public Enemy) at the 93X 20th anniversary festival this summer, but they canceled it for some reason. So this past year has been a bit of a dry spell, but I'm going to turn it around.