In the spirit of full disclosure, I want to start this post by saying my wife works for Blue Cross Blue Shield of Minnesota and this post in no way reflects her thoughts or opinions on the Do Campaign or her employer.
Whew–glad we got that out of the way.
But, that point is relevant because it's how I found out about a very interesting case study that just began a couple weeks ago here in Minneapolis. It's called The Human Doing campaign by Blue Cross Blue Shield of Minnesota and it's scoring a lot of media coverage and grassroots "buzz" (man, I hate using that term) here in the Twin Cities to date.
The idea is simple (according to the ads):
One man. In a box. For 30 days. Using your support to live a healthier life.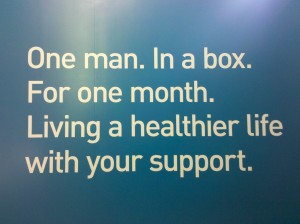 That "one man" is Scott (last name not revealed, but you can pretty easily figure it out from the Facebook page). The campaign is part of a much larger initiative (the "Do" campaign) orchestrated by Blue Cross designed to "groove your body and smart nutrition choices to prevent a host of health problems."
With this particular piece of the campaign, however, Blue Cross put a very public twist on it by placing this guy in a GLASS BOX right smack in the middle of the Mall of America–the single biggest tourist attraction in Minnesota. There, his charge is basically to live his life for 30 days (he started March 18 and will be in that box through April 16) in attempt to help Scott develop healthier habits in terms of exercise and eating with the community's support.
And, of course, that means the online community, too.
Yes, there's a big online component to this campaign and that's what I want to discuss today (although the bigger idea for this campaign is fairly interesting, too).
The general concept for Blue Cross is to engage the community to help Scott achieve his goals after 30 days. And that helps raise awareness for healthier eating and exercise habits among hundreds of thousands of people in Minnesota–at least that's the hope. It also raises awareness for Blue Cross as a health insurer in Minnesota (smart move to host the "event" at the largest tourist attraction in the state–and one, I might add, that's very active online with substantial and engaged communities of their own).
So, looking at the campaign through that lens, here's what I like (there's a lot to like here) and here's what I thought Blue Cross could have done a little differently:
What they're doing well: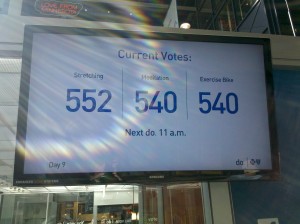 * A real, honest-to-goodness integrated campaign. So many campaigns claim to be "integrated", but this one really lives up to that title. When you visit the glass box at the Mall, you see the social handles listed on graphics surrounding the booth (read: I can easily hop on my phone and follow the campaign quickly). They also have flat-screens around his room with live reports of the voting–again, encouraging you to interact with Scott right there at the Mall. Can't make it to the Mall? They have livestreams set up on Facebook and the blog so you can follow along remotely. The folks who work inside the box with Scott frequently mention the Web and social properties and encourage interaction there. I haven't seen any traditional advertising yet on this campaign, but I'm interested to see what the integration points look like there, too. I think they get a solid B+ here.
* Strategic choices matter. First, they chose a guy that seems to be an actor of sorts. Maybe a performance actor (think he mentions this in his intro video). I don't know, but clearly, he's not an accountant (no offense to accountants). That's a huge key to this campaign. If it's an introvert in that box, this doesn't work half as well. Second, hosting the event at the Mall is brilliant. Again, not only is it one of (if not the) best spot in the state in terms of foot traffic, it's also a brand that has massive online communities of their own. Translation: More opportunities to build awareness and reach other audiences online outside of Blue Cross's reach.
* Up-front training make a difference. You can imagine the conversations that were had between Blue Cross and Scott before this campaign. I mean, the guy is basically tweeting and posting to Facebook under the Blue Cross banner (in a way). Historically, Blue Cross has been a pretty conservative organization, so for them, I'm betting this was a stretch. But, I'm also betting they had some hardcore education sessions with Scott around how to be an active participant online and how to best represent himself, without negatively impacting the Blue Cross brand (certainly a concern). Based on his responses on Facebook and Twitter, Blue Cross has to be thrilled. Like I said, Scott's responsive. He's diplomatic. He's positive. And, best of all, he's real.
* The big idea is gimmicky, but it has teeth. I mean, think about it. A guy living in a glass box at the Mall for a month? That's got PR gimmick written all over it. But you know what? This gimmick has some major teeth. Remember, their goal is to raise awareness for health lifestyles including the war against obesity. Online, I would guess their goal is to increase reach and impact the daily habits of Minnesotans–inspiring them to live healthier lifestyles. Take a look at the Facebook page. There are multiple posts by fans that almost say that verbatim. Look at the Twitter feed–same thing. And, there's A LOT of it. On Friday, March 25, there were more than 60 individual posts to the Facebook page. On Twitter? More than 20 replies. Granted–those aren't monstrous numbers, but then again, he's only one week into the campaign. Guessing those will go up based on what we see now.
What they could have done differently/better
* If you want to be "human", be human. One of the bigger issues I have with the campaign is that it's not 100 percent of the way there on the "humanity" scale. I mean, we don't even know Scott's full name. Sure, they probably need to keep that quiet. But, it doesn't mean they can't use some form of his name on the Twitter handle (@thehumandoing isn't doing it for me). It doesn't mean they couldn't find different ways to allow Scott to interact with the community either (what about a daily video interview or livestream with fans so they can answer questions?). I think they got 90 percent of the way there–they missed cashing in on that last 10 percent.
* It's not quite as interactive as it could be. Look, Scott is very active on Twitter. He responds to folks. He's funny. He's real. He produces daily video recaps that are short, to-the-point and unrehearsed. The idea to ask the community to vote on certain exercises or foods Scott should eat–yep, that's solid, too. But, I still just don't get the sense that I'm part of Scott's bigger goal here. I don't feel like I'm part of the action. Maybe they're planning to get to this in the next couple weeks, but what if they gave folks the opportunity to come into the box and workout with Scott (I know HE goes outside the box to interact, but why not let the general public INSIDE the box)? Even make it a contest of sorts on the blog. Or, again, why not have a live Q&A with Scott on Facebook via Livestream. He could answer people's questions and comments (by the looks of it, they're interested on Facebook and Twitter). Why doesn't Scott challenge followers to do the same exercises he's doing for one week and ask them to challenge their Facebook friends to do the same? Doesn't that get to their larger goal? I think they got about 75 percent of the way there with this piece–just didn't quite slam the door (at least, not yet–again, maybe they have something in the works in April).
And finally, one last issue to raise. What happens after the 30 days? Will Scott still tweet under @thehumandoing? What about the Facebook  page? Will it go silent? Obviously, Scott will need to go back to his family and his life–but will the story continue? How? I'll be curious to see how the Blue Cross folks handle this one because it raises an interesting issue online. To be successful with social tools, most of the time, you can't think in terms of "campaigns." You need to have a longer-term focus. But, that's not the goal of this particular piece of work, is it? There's is a short-term goal, as defined by the actual event itself.
So, I guess my question is, can short-term integrated campaigns such as this be successful online? Does it hurt Blue Cross that the platforms may lie dormant after the 30 days? I think that's an interesting discussion.
What do you think?