I first met Allan Schoenberg about four years ago. On Twitter. We became fast "friends." But, then became more real life friends when we met in person at BlogPotomac in 2009 and then again at BlogWell here in Minneapolis. Now Allan lives in London–he moved there last year–as part of his work for the CME Group. Never heard of it? Don't worry, you're probably not alone. But the work Allan is doing with the CME Group is nothing short of amazing–especially if you work in the B2B space. So, I thought it was high time I profiled that work and gave it the stage it deserves. So, let's chat with Allan and learn more about what he's been up to at the CME Group on the social side of things the last few years.
I find what you're doing with the Facebook cover images very interesting. Essentially, you're using that space as a spot to advertise and promote recent media interviews featuring CME Group leaders. Take us through that thought process—and what have results looked like so far?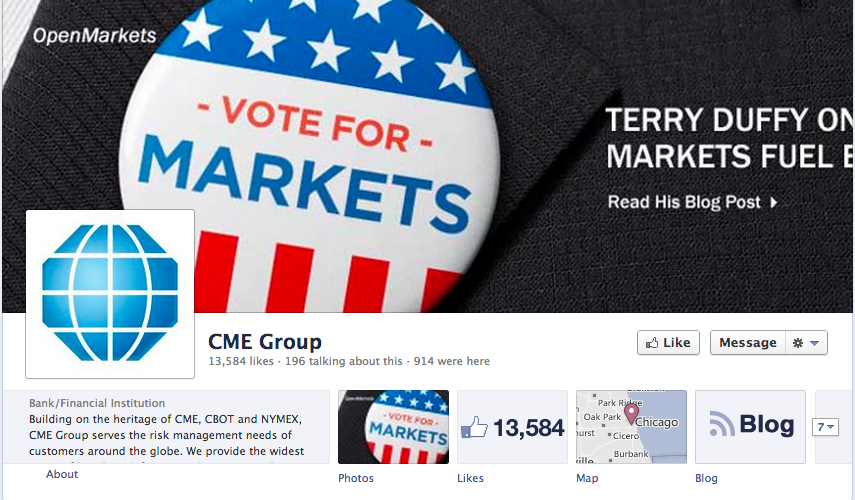 Facebook for us has evolved from a standalone social outlet to an extension of our website. Integrating our news stories into our social story is definitely part of how we leverage content. So, we can take a news story with one of our executives and quickly turn that into a web banner on our corporate site, link to that story, and then replay that on Facebook or Google+ in a banner format helps with our distribution efforts. But that's just one of the pieces of our content puzzle where I work closely with our website team.
We have an amazing web team led by Jennifer Wachtel whom I respect and have a great relationship with. She and I have been working closely together for the past three years on "social integration". In fact, in mid-2011 we actually integrated our website with Facebook so your comments on our site showed up on your Facebook page. About a year ago we really started to a see a pickup in traffic on our Facebook page, which led us to think this really should be an extension of what we are doing with our site. So the tradition website banner on our site can now be used as a photo and cover for Facebook, Google+, Twitter, LinkedIn, etc. And we also have been adding these banners to Pinterest. But I have to admit I have a hot and cold relationship with Facebook – sometimes it works very well for us, but as changes are made to the platform we have to learn to adjust and the platform is not focused on brands, especially B2B brands. Their focus is on a user experience from the consumer side — I get that. So we make adjustments and move on from there.
Unlike more consumer/retail brands, you've chosen not to focus your Facebook updates on visuals. Has that been a conscious decision? And, are you getting what you want out your Facebook content/sharing?
We do use quite a bit of visuals – historical photographs, charts and images. But we are learning and we are definitely looking at ways to highlight posts that matter to our followers through a variety of ways. I think you'll see us continue to experiment in this area, which will include posting material that may be several weeks old. As long as the information is relevant and topical to our customers, which is the audience we target with Facebook, you'll see us look for different ways to reach them. In terms of relevance, more traffic to our websites is coming from Facebook and its growth we are pleased to see.
We hear so much about Facebook ads working really well for B2C brands–but what about B2B brands like CME Group? Have you experimented with Facebook ads? If yes, what have the early results looked like?
We have begun to leverage social advertising and it's been successful from our early trials. This is another area where we have been doing a lot of research around and planning and we will begin to do more. Facebook's Sponsored Stories is something that I'm pretty excited about and in the short term this will be an integral part of our branding efforts for content. What's interesting about these posts is that they morph the paid versus earned experience. And our advertising plans don't just include Facebook; LinkedIn will also play a part for highly targeted content.
You've long been a proponent of LinkedIn groups for B2B organizations. And, you've had a pretty unique approach to them—basically facilitating groups for different segments of your audience. How are you measuring success through your facilitating these groups? And, what's the reaction been internally at CME Group to your participating in those groups?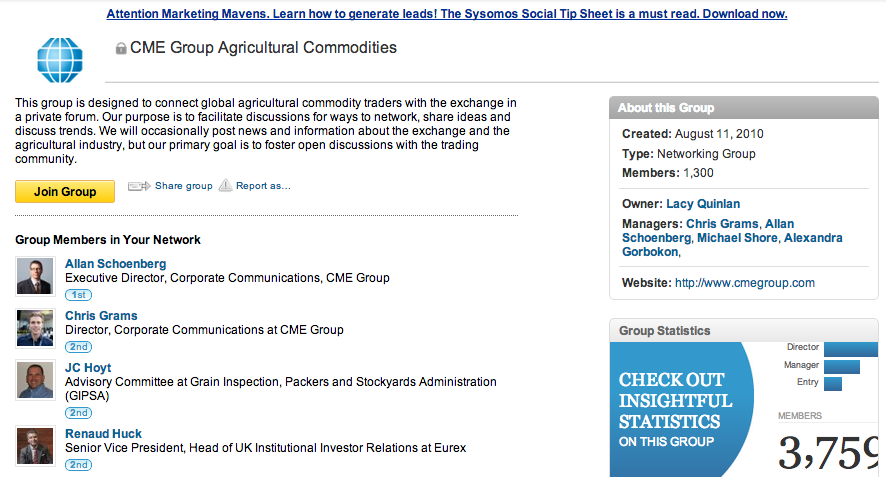 Ironically, one of the most popular posts I wrote over at our blog B2B Voices was not to overlook the power of LinkedIn groups. I published that post three years ago. For B2B companies I think LinkedIn remains the best social platform for a number of reasons.
We now have more than 10 groups on LinkedIn and all of them are very different but with a common goal – connect our sales team and product experts to our customers. I like these groups because we keep them private in order to keep out competitors and vendors, but also to keep them small and manageable.
LinkedIn also is a great tool because it's a simple social media tool to use and has such a focus on one common goal for everyone: career management. What I mean by that is that through LinkedIn you can connect and meet with peers in your industry, you can read stories that are mostly focused on your professional interests, and you can keep your own professional experience up to date. All of these qualities make LinkedIn extremely valuable for B2B companies and allows us to really focus content.
What else are you doing with LinkedIn to inform and persuade your key audiences? Any tips for B2B communicators struggling with how to use LinkedIn to drive results?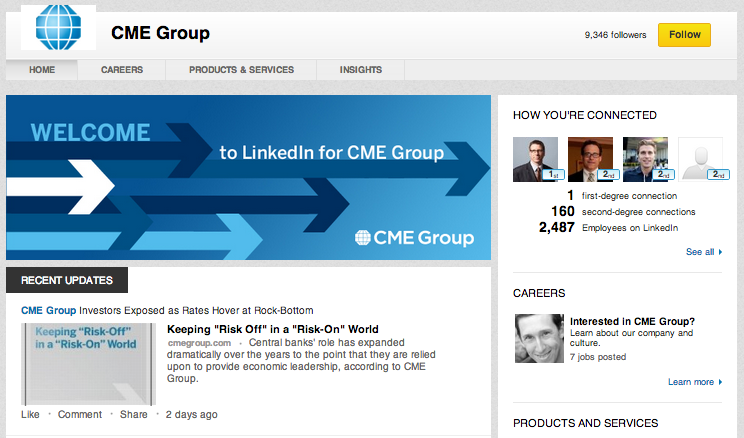 I don't want to give away all of our secrets, but there are two things that matter. First, focus on finding the people internally who want to use LinkedIn and help them build their profiles. This includes sending them news stories to post and actually helping them write their posts. If you do this consistently (every week) they will better understand the resource and will become great advocates for your brand. My other tip is that you should make your company page a priority. If you follow our company page, I've made sure that the content is timely and relevant, but that we also leverage the Careers and Products tabs. The new company page format is fantastic and really becoming another platform that is an extension of your website.
LinkedIn for me is all about building a small community around a company, topic or idea. But like all things, if you don't have a plan to know what you want to get out of it you won't succeed. Or you'll succeed by accident and that won't last long.
Some might say you're wasting your time participating on Google+. And you have a modest community there. How do you justify the time and resources your spending on G+ to upper management?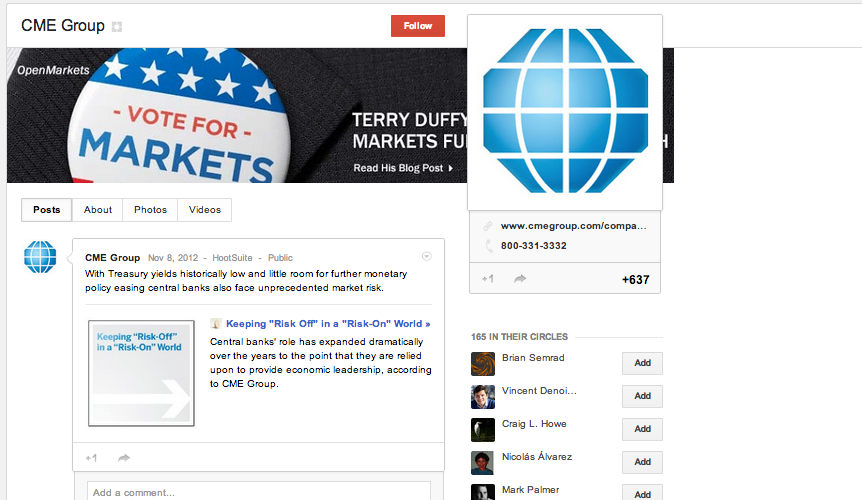 I'm still trying to figure this one out myself, but I'm excited about the opportunities with Google. They have deep pockets and patience and I don't think they're worried about their growth or acceptance in the short term. Neither am I. What does this mean for our social strategy? We'll keep using it and we'll keep waiting for it to evolve, but in the meantime we have other platforms to leverage.
You're active on so many social platforms across the board. Is there any particular approach or platform that seems to work better for you in terms of results and moving the needle? Why?
I am long-time user of Hootsuite. In fact, I started using it in August 2009 for both myself and the company. We upgraded to the Pro version 18 months ago and last month upgraded to the Enterprise version. The entire platform is easy to use and navigate and I can see all that is happening – from Twitter to LinkedIn to Weibo and Facebook. For me, it's a great aggregator for all of our content. I wrote about how to manage social media in CorpComms magazine earlier this year, but there really is no one solution. You have to experiment and try different things.
In addition, I am a huge fan of the team at StockTwits and what they have done in only a few years.  From their media partnerships to integration with PR Newswire, they understand both content and content aggregation.  And for us, their focus on the markets and finance is a perfect fit. I really share their enthusiasm for social finance and what can be done in this industry.
You face the same challenge many in the B2B world face—effectively and efficiently extracting the knowledge from your organization's leaders to use across social media channels (i.e., Facebook posts, LinkedIn shares, etc.), without taking too much of their time. Any tips or approaches that have worked particularly well for you?
Well, we are lucky that actually we have an abundance of content. It's not so much finding what to write about or talk about, but it's finding the right time to do it. Our blog – OpenMarkets – has really taken off in terms of growth and we have worked really hard as a team to promote it externally and internally. I'm really proud to be a part of our team that has built this site over the last three years. Again, it's taken patience and persistence to do, but the results show prove that it works.
My best advice for content is simple: What do you customers need to know? If you can constantly ask yourself that you will be able to find ideas all around you to write about and develop.
Final question: Any tips for B2B communicators looking to use social to reach executives and more senior-level leaders? It's a complaint I hear often from B2B organizations—so I'd be interested in your thoughts in this area since you've clearly had a decent amount of success.
That's a tough question because every company and industry is so different, but I'll offer three points. First, be patient. If you expect immediate success, or worse if your management expects immediate success, you won't be happy with the results. Set the right expectations internally so people understand that social is an extension of your efforts and a way for you to better connect and listen to your stakeholders. Second, focus on quality content over quantity of content. Your content will help drive interest in who you are and what you do, so take the time to make it good. Finally, none of these technologies are going away, so the mid-level – or even junior – executive you're communicating with today on Twitter or LinkedIn will one day be a top executive. Pay attention to them. If you've made them a fan of your brand today you're setting your company up for success in the long term.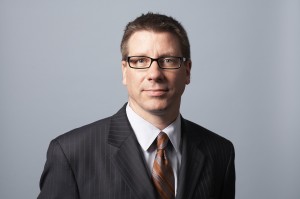 Allan Schoenberg is the executive director of corporate communications at the CME Group. He is an accomplished public relations executive with a successful track record in all aspects of business-to-business communications with an emphasis in brand management, public relations and social media. Allan is an experienced public speaker and has presented at Blogwell, Business Marketing Association, Finextra, FIA Expo, Ragan Communications, University of Chicago and other events. He was also an adjunct professor with DePaul University and Loyola University Chicago from 2005 to 2010 teaching many public relations disciplines in the graduate and undergraduate schools. You can find Allan on Twitter at @allanschoenberg.