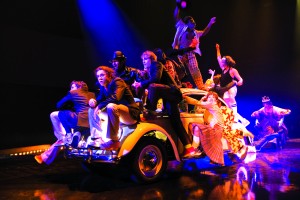 I went to my first Cirque du Soleil show about four years ago. Hit the touring company when they were in town. I was instantly hooked. What an experience–from the performance itself to the complete package. I was in awe. Then, at BlogWorld last year I heard Cirque was offering up tickets to bloggers at the event (smart move). I wasn't going to pass that up, so I took in LOVE, which I would HIGHLY recommend (even if you're not a huge Beatles fan). This year, I was lucky enough to go again and I hit the Elvis production, thanks to Cirque's social media lead, Jess Berlin (who has since moved on to head up social at American Eagle Outfitters). I had an opportunity to sit down with Jess at BlogWorld in October–what a lovely young woman. So lovely, in fact, I thought I'd let her share her story here today with you and the social media work she's done with Cirque du Soleil over the last few years.
You're the social media manager for the biggest (and most amazing) circus show on earth. Talk a little about your role at Cirque and some of your key roles and responsibilities.

I oversee the social media strategy and execution for Cirque du Soleil.  This covers several things but at the forefront of our strategy has always been and will continue to be Blogger Outreach. Bloggers tell the story of our shows better than we can so we love having others write about their experience with Cirque. We also really focus on content creation for our channels as well as being really engaged in the dialogue with our followers on Twitter.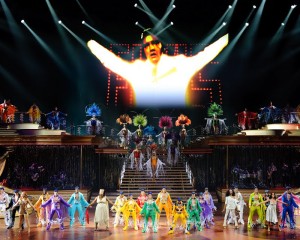 From the outside looking in, it seems like you're using Facebook as a way to give your biggest fans a behind-the-scenes look at Cirque. You feature live video chats with cast, unique giveaways and exclusive ticket deals on the platform. Talk about your decision to go this route and how you've developed your content strategy along the way.
We have 20 shows around the world and each show is its own unique brand so in order to differentiate all of the shows, they each have their own Facebook page (editor note: Here's the Elvis page).  Each show page is unique and has its own personality.  The thing that is consistent across all pages is that we try to provide our fans with access they wouldn't be able to get ordinarily.  We're seeing that people fan our pages after seeing the show so we want to provide an extension of someone's show experience.  We like to give people a glimpse at some of the inner workings – what goes on backstage and what the performers are doing on their time off, etc.  While we do promote exclusive ticket discounts for our fans, we try to keep the majority of posts content based.
For the last two years you've given away tickets to your Vegas shows at BlogWorld (full disclosure: I participated both years). Those aren't cheap tickets. Can you talk first a little about how you convinced management it was a good idea to give these tickets away to bloggers? And then, a bit about what kind of results and outcomes you hoped to gain from this idea?
As I mentioned earlier, blogger outreach is one of main priorities with social media.  With BlogWorld it was easy to convince upper management to agree to providing tickets simply because you have such a quality group of bloggers and influencers attending the conference.  We usually give away between 150-200 tickets every year and all we ask for in exchange is an honest review of the show they see. BlogWorld gives us the chance to interact with bloggers that we wouldn't ordinarily reach out to on our own so their coverage is exposing us to new audiences.  In addition to all of the great posts we receive, we see a significant spike in online conversations about our shows in general leading up to and the week of the conference.  This also helps us attract new followers, particularly on Twitter, as people tag us in their mentions.  Every year our participation with BlogWorld exceeds our expectations as we continue to make new blogger contacts and a way for us to show our support for the blogging community.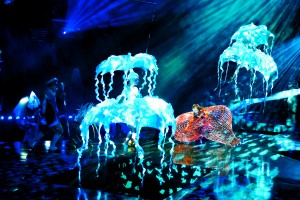 I heard you say in a recent interview that the ROI you see on your social media efforts at Cirque outpaces anything you do in the advertising realm. Can you talk a little about how you're measuring that? And, what kind of results you're seeing?
It's not that we're outpacing what's being done with advertising – but the ROI is far greater.  The sales we see from pushing a Twitter promotion or exclusive ticket discount are always huge because of the viral nature of a good offer and that is of zero expense to us.
How are you defining success at Cirque from a social media perspective?
Twenty-five years ago, Cirque du Soleil was built on grassroots efforts. In a way, social media is bringing us back to our roots. We want to be a part of the conversation that is already happening about our shows online, but also contribute by sending out news and show access that people don't usually see, directly from us.
We gauge success on a few different levels.  First and foremost is engagement – are we continually improving on how we can better engage with our audience online and in turn see our followers steadily grow.  We're always monitoring how people are talking about our shows – what the conversations are and what the sentiment is.
By participating in social media, we want customers to recognize that we're an approachable brand, we also want to reach a new audience that may not be that familiar with our shows. And obviously, we hope by engaging online we can eventually translate that to ticket sales.
OK, speed round: What's the most popular Cirque show in Vegas? "O" – people always hear about the "water show".
What's the largest Cirque venue in the U.S.? The largest theatre is The Beatles LOVE at The Mirage with 2,013 seats.
What's the longest running Cirque show in Vegas? Mystère has been running at Treasure Island for 17 years.
Most expensive show to produce in Vegas? KÀ at MGM Grand at 165 million is the most expensive show ever produced.
Over the last few years, how many Cirque shows have you seen? Too many to count!  I love that perk of my job!
What's your favorite? It's always changing, usually it's the last one I've seen which right now is Zumanity.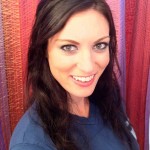 Jess Berlin was formerly the social media manager at Cirque du Soleil in Las Vegas where she was responsible for planning social media marketing campaigns, developing and distributing content as well as coordinating blogger outreach. Prior to her social media role, Jessica was a publicist for all of the Resident shows (including Cirque). Currently, Jess is just starting a new job with American Eagle heading up social for the organization in Pittsburgh.