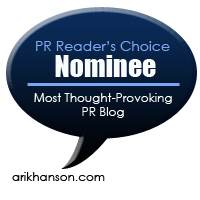 About this time last year, the first-ever (to my knowledge) PR Reader's Choice Blog Awards kicked off. The idea was simple: Find a way to publicly recognize some of the great PR blogs we all read every day by way of a community vote.
A number of great blogs and their authors were highlighted last year including Dave Fleet, Sasha Muradali, David Mullen and Todd Defren. And I expect nothing less again this year.
So, here's the deal. Nominate your favorite PR blog in one of the four categories below by next Monday, June 14.
* Best Up-and-Coming Blog (last year's winner: LAF-Lauren Fernandez)
* Most Educational (last year's winner: PR 2.0-Brian Solis)
* Most Thought-Provoking (last year's winner: Danny Brown-Danny Brown)
* Blog of the Year (last year's winner: PR Squared-Todd Defren)
You can nominate a blog by leaving a comment below–that is the only way comments will be accepted. You can nominate more than one blog, but only one blog per category.
Next Monday, I'll tally up the nominations. The top five in each category will qualify for the final round and public voting, which will begin on Tuesday, June 15. We'll vote for a week until EOD Monday, June 21 and winners will be announced on Friday, June 25.
Hope you'll consider submitting a nomination today!