Last fall, Popeye's trolled Chick-Fil-A on Twitter into helping it launch its new chicken sandwich that ended up selling out and causing gun play in stores.
Then, Netflix asked brands for their best x-rated sex tweet in what might be the very best Twitter thread of all time.
And last week, Planters got in on the action when it killed off Mr. Peanut and publicly solicited friends, followers and yes, brands to commemorate Mr. Peanut with tributes on Twitter (and then unveiled "baby Peanut" Sunday during the "Big Game" in what might be the most disappointing spot of the entire event).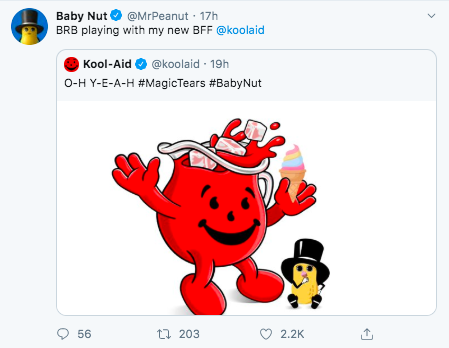 These are all moves that are part of a growing trend: Brands using other brands to gain awareness and engagement via social media marketing. Some may argue it's an odd move (I've been one of those people in the past), but it may actually be turning out to be a shrewd strategy. After all, just look at the #RIPeanut hash tag for a minute. Many of the tweets with the most engagements come from other brands paying tribute to Mr. Peanut–like this one from Nesquik.

Just look at @MrPeanut's Twitter feed and you'll find an almost limitless stream of brand tweets with similar levels of engagement. The feed from Jan. 22-24 is literally full of these tweets–too many to count, really. And, during the "Big Game" they once again found a way to engage with brands–but not humans.
Now, some folks may argue this brand-to-brand interaction on Twitter is meaningless. It's not strategic and it's not driving toward brand goals. I used to be a skeptic when it came to this stuff, but I'm starting to see a semblance of value. Why? With one simple tweet, Planters drummed up millions of impressions and hundreds of thousands of engagements–much of it on the back of other brands.
Budweiser, Oscar Meyer, Shake Shack. The list goes on and on and on. Each one with thousands of engagements and most likely much more than that in impressions. Plus, in the cases of Planters and Netflix–it's highly entertaining!
How many of you have went back and read all the brand responses to Netflix's initial tweet? They're funny, right? So yeah, brand-to-brand tweets can sometimes be annoying and in some cases, childish even. But, used the right way, they can also drive big results.
Want another recent example? Look at Olay and what they did during and after the "Big Game."
Their outstanding #MakeSpaceforWomen hash tag attempts to raise $500,000 for Girls Who Code. Noble and worthy cause, right?
Not surprisingly, they saw a ton of tweets during the Big Game, and on Monday. But, they also found time to retweet and engage with a host of brands including Mattress Firm, of all brands.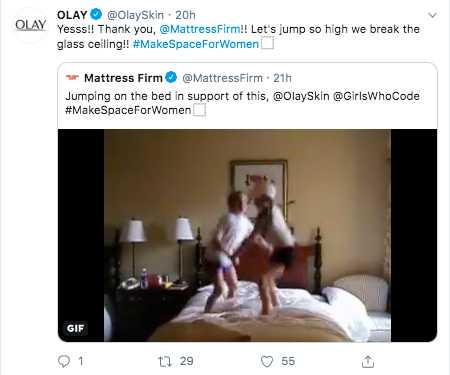 You also had a number of brands like Budweiser tweeting (supposedly) on their own volition. Again, brand-on-brand interaction.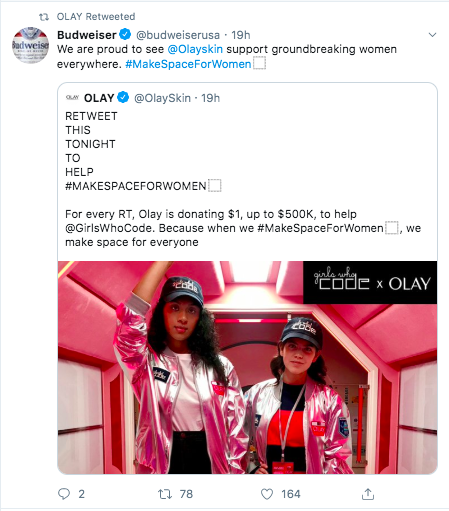 The list goes on and on. This is not a one-off situation. Brands engaging with other brands is a definite strategy at this point. The only question is: Do you think it's a viable one?