Brand journalism, as a concept, hasn't exactly had a great run.
Casper's vaunted "Van Winkles" brand journalism effort lasted just more than a year.
Verizon shuttered its foray into brand journalism (Sugarstring) after JUST ONE MONTH!
There's a long line brand journalism fails.
But, on that rare occasion, brand journalism can flourish.
Coca-Cola has been running its Coke Journeys site for quite a while now. GE has managed GE Reports as long as I can remember. Red Bull has been a pioneer in brand journalism since the beginning. But, those are companies with pretty damn deep pockets. What about midsized companies? Heck, what about other large companies that don't happen to be in the Fortune 100?
My prediction: REI is about to show us all how it's done.
Earlier in October, REI unveiled its new brand journalism effort: Uncommon Path.
This is a quarterly, hard copy publication for its members, employees and prospective customers.
And, it's a beauty.
I picked one up at my local REI recently–it cost me $4.95 (Dear REI: Why aren't these free for members?).
That said, I'm sure Uncommon Path isn't coming cheap. Looking at the masthead, I counted 40+ people involved in the production of this publication. Wow.
But, it is a work of art. Of course, that's just a piece of the puzzle here. The bigger strategy behind this makes a lot of sense. You only have to read the initial letter from the editors to see what I'm talking about:
"Uncommon Path chronicles the experiences, events and ideas that shape the relationship between people and life outside. We'll explore issues that face our environment and the challenge of our generation: climate change. Our stories aren't limited to trails and peaks. They take us to parks and urban places closer to home. And yes, we dig into the best gear to help you get out there–wherever there is for you. No matter where you come from, what you look like, or what you knew before, everyone's welcome outside. This is your invitation to take the path less traveled."
What do you see in that short message that's on point with REI's overall strategy?
1 – Connection point to #OptOutside.
It's right there at the start. This whole publication will cement that stance that REI has taken through it's Black Friday to get people to "opt outside" and explore the great outdoors. And good timing with Black Friday right around the corner.
2 – Aligning its political stance.
More pointedly, taking on climate change. This is on point with trends that say more people want companies (and their leaders) to take the lead on political issues. It's on trend with surveys that say people buy from companies who live by a mission and attempt to make a difference. No bigger difference to make right now than to help stop climate change!
3 – Attracting a more diverse customer base.
Look at that last sentence–"No matter where you come from, what you look like, or what you knew before, everyone is welcome outside." That's essentially a political statement! But, it's also confirming a larger strategy by REI: to "play to their power base" of what I can only assume are very left-leaning customers and grow a more diverse customer base within that. So smart.
What do I see in this first issue that impresses me so much? That makes me believe this will survive and be a key cog in REI's marketing efforts for years to come? Three big things stand out upon initial review:
1 – It's legitimately interesting!
The world's first back-packing drag queen? That's interesting! And, it was hardly the only piece in the magazine that intrigued me. It was full of journalistic-quality stories that I would find in my Minneapolis Star Tribune.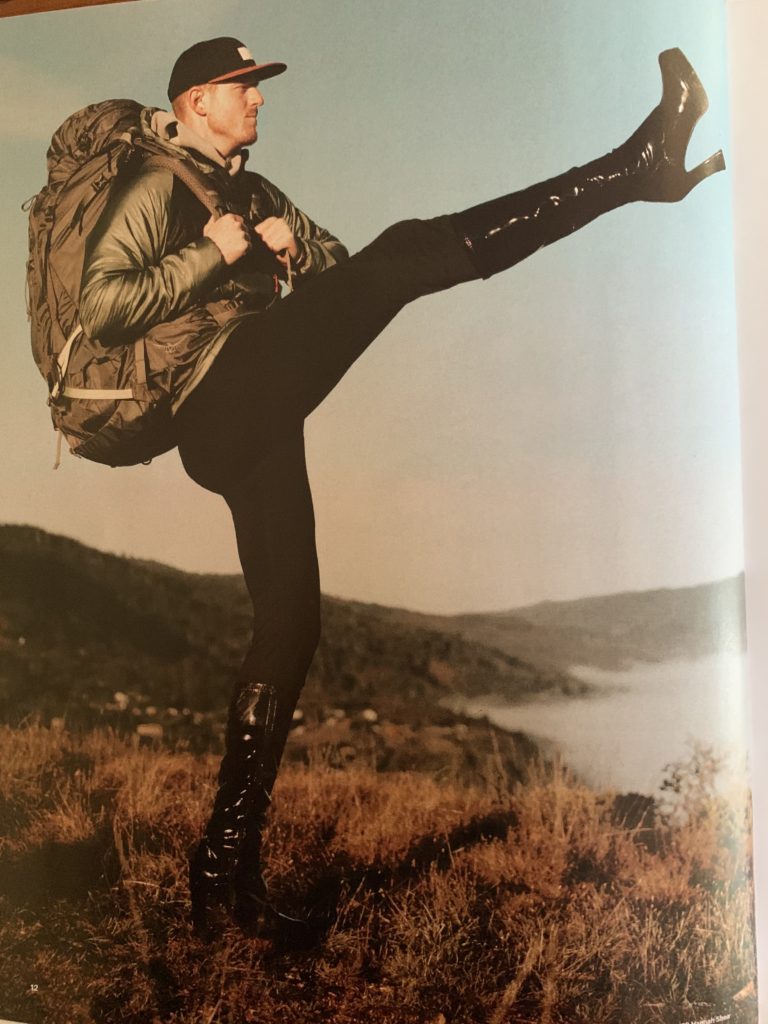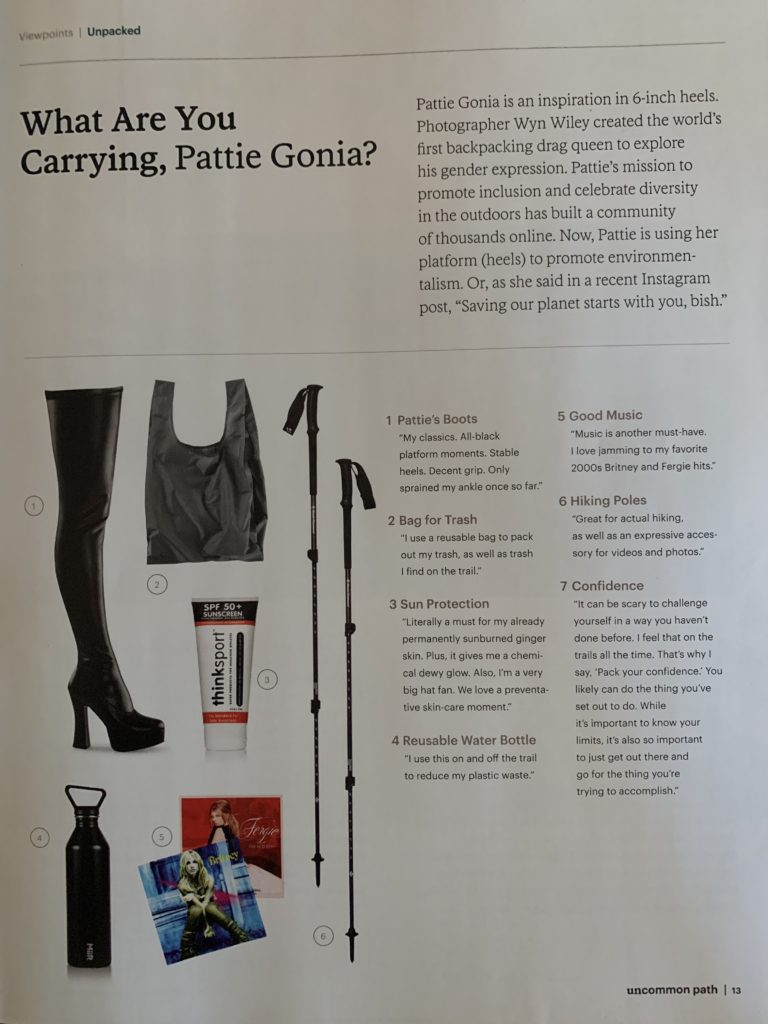 2 – World-class original photography
And I'm hardly exaggerating. They even have a section devoted to it!
This stands out so much because what do many other brands use when it comes to photography needs on their web site or in online content? You guessed it–stock photography. Going all in on world-class, original photography is a big move. But, it gets your attention. And it pulls you in.
3 – Subtle, but effective, product placements
With an Instagram-like style, the first issue included a number of mild editorial stories like this one below. This specific story, about the gear you'll need start climbing, features a number of products you can, of course, buy in REI stores. The features don't beat you over the head with the products–they do tell a story. But, in the end, they are, essentially, advertisements. Subtle advertisements. But, advertisements, nonetheless.