First, I want to share this disclaimer: I'm an REI member and a HUGE fan. My son and I LOVE REI.
Second disclaimer: This was a brilliant move. From multiple perspectives.
That said, amidst all the "best move ever" hype, I can't help but wonder: Wasn't this really just a smart business decision by REI?
Because, let's be honest, this move was all about money. They all are.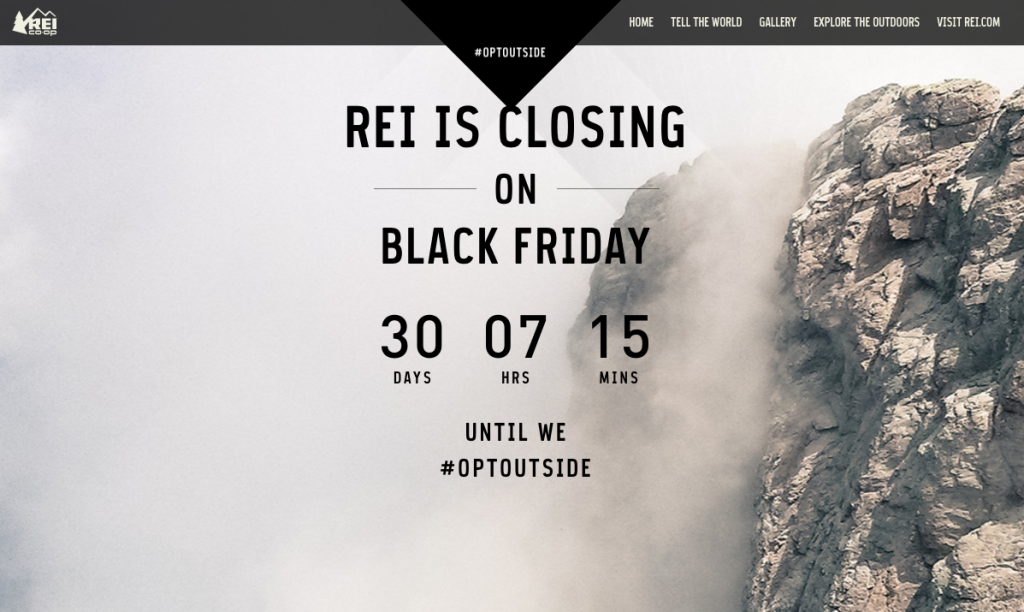 Look, I'm not saying it wasn't a brilliant PR play. The move clearly has EVERYONE talking this week (um, just Google "REI OptOutside and see what pops up on page one). Perfectly timed (week before Halloween, slow news week). Perfectly executed (microsite is well done; social execution nearly perfect). Great traction across the board.
But still, I think this was all about the money.
For a number of reasons. Let's take a look:
Point #1: REI is still a business. Remember, REI isn't a non-profit. Sure, they're organized as a co-op, which means members pay dues and they pay members back a dividend each year. But, they're still in the business of making money. 2.2 billion of it in 2014 to be exact (up 10 percent from 2013, according to Wikipedia). So, yeah, REI is loving the goodwill and awareness this is generating, but they also love money. Just like any other company.
Point #2: Paying 12,000 employees for a day off ain't cheap. I'm no math major, but it's probably a decent chunk of change to pay the 12,000+ REI employees to take the day off on Black Friday. I'm sure REI could find ways to use all that money. Last time I checked, money doesn't grow on trees. Even in Seattle 🙂 So, they aren't doing this out of the kindness of their hearts. Educated guess: They weighed the pros and cons and figured they could generate considerable media coverage/awareness with this move, while generating goodwill with their employees (more on that in a moment) and still make money (see Point #3). Seems like a smart business decision to me.
Point #3: REI.com is STILL OPEN! So they're closing all their brick-and-mortar locations on Black Friday. No problem–the internet is ALWAYS OPEN! REI's virtual doors are still open on Black Friday, right? And, one could argue, that may fit their target audience better anyway, as outdoorsy-type people probably aren't the kind of people who want to battle Black Friday crowds.
Point #4: Too much competition. There's just so much competition on Black Friday for dollars. Target. Walmart. Best Buy. Kohls. I mean, many stores are open on Thanksgiving! With so much competition, maybe it just makes good business sense for REI to stay on the sidelines for a day and save their sales for a different day. I'm no MBA grad, but that sure makes sense to me. And again, ladders back to the almighty dollar.
Like I said, regardless, a smart decision by REI. For the goodwill it probably generated amongst their employees and customers alone, I think this was a wise move.
But, this was all about the almighty dollar. They put way too much money into this campaign to think otherwise.
Plus, see points 1-4 above.
Agree?