I first met Kendra Klemme six years ago. We were introduced by a mutual friend. Kendra was working as the director of communications and PR at Starkey at the time, and luckily for me, we wound up working together for a few years. I say luckily because I could tell right away in meeting Kendra was the type of person I wanted to remain friends with (client or no client).
Since then she's moved on to UnitedHealth Group. But, I've found ways to stay connected to Kendra (I asked her to speak as part of a MIMA monthly program a couple years ago, and she's a part of a mastermind group I run). I've also noticed multiple people who have worked for Kendra in the past say she's one of the best managers they've ever had. No better compliment. And, it's really not all that surprising. As a boss, Kendra is thoughtful, forward-thinking and is not afraid of taking risks. She's EXACTLY the kind of person you want to work for. Let's learn more about this PR Rock Star.
First, tell us about your current role at UnitedHealth Group.
I am an Associate Director of Communications in the Medicare & Retirement division of UnitedHealthcare – the insurance side of UnitedHealth Group. Specifically, my team supports the sales channel, communicating with both internal (sales leaders) and external (sales agents who sell our plans) audiences. 
Working with health insurance agents probably isn't the sexiest job you've ever had (I can say this kind of thing to you, right, because we're friends! :). Yet, you find a way to make it work and have fun with it! What advice would you give to others who may be considering some of the not-so-sexy positions in the marketplace?
Insurance isn't sexy? No, say it isn't so! Kidding! Insurance itself may not seem like something you would aspire to as a young professional, but health care is a growing, changing, ever-evolving industry, which makes UnitedHealthcare an extremely interesting place to work and grow. I have been impressed with the focus that the company as a whole has put on its culture as well. I think we all want to have a purpose in our jobs, and health care is a deeply personal experience for all of us. We all have stories about how the system functioned – or maybe didn't function so well. The exciting challenge for me every day is helping our sales team and agents understand the complexities of the health care system. Medicare is a federally-run program, so in addition to understanding the need of agents and consumers, we also have to understand and adhere to the regulatory environment. I like the challenge of taking very complex and difficult topics and distilling them into simple message that anyone – even if you aren't in the industry – can understand. 
I've known you now for five-plus years. Over that time, one of the many things that's impressed me about you is your openness to trying something new–like the podcast you started targeting agents at UHG. Here's my question: Why is it that some people, like you, adopt this kind of mindset, while others do not? Just seems like everyone should think like this, but yet, clearly, many do not.
This is a tough question! My general rule of thumb is that I need to continue to grow and change, which means trying new things. I am also committed to reaching audiences in the places they are, which may vehicles that we haven't tried. In the case of the podcast, our agents spend an inordinate amount of time in their cars, especially during the Annual Enrollment Period (AEP) in the fall. Since AEP is our biggest selling season, we also have many topics to communicate. Podcasts seemed like a good option – agents still receive the information, but they receive it in a way they can more easily consume it during a time when they aren't sitting at their computers. It's fun to try something new – it keeps my team engaged and excited about the work. It also empowers all of us to share ideas and keep looking forward. 
We've talked about this before: The trend of people our age (mid-career) making a conscious decision NOT to climb the career ladder and take wholly satisfying jobs that give us more balance in our lives. I've told you that's part of the reason I got out of the corporate game–I didn't want to climb and I felt like I was a failure if I didn't do that. Do you see this as a trend? What do you see with your peers and friends in the industry?
This is such a big topic and something I think about frequently. I have always been someone who puts up boundaries around work to give myself time for home. Since I had kids, I'm much more diligent about it. I don't want to miss my kids growing up or their activities. I want them to see that they can make choices about where they spend their time and energy. For me, that includes being a full-time employee, but also a mom who is present when I'm home. I coach two of my daughter's sports because it's important to me that she see a woman engaged in sports. Most of the coaches are men, and while they are great for the most part, I think she needs to have great women role models as well. 
All that being said, my job is important to me. I love the work and the people! I want to continue to grow and be challenged, but I don't want to sacrifice the rest of my life, either. At this point, I have been able to continue to build my career and feel good about the commitment I have to my family as well. I have this conversation with many of my friends who are in similar positions. Obviously, everyone has to do what works for him or her, but I hear a similar refrain often from my friends that it gets more difficult to maintain that sense of "balance" (a complete fallacy by the way) as you move up in the corporate world. The hard part is that it doesn't mean that I don't still want to have those opportunities! I think like everyone, I will continue to evaluate the options that come my way and make decisions that are right for me, but also for my family.   
In a recent post, I fully committed to the #HeForShe movement. Seems like a no-brainer. I recently asked a number of men I know in the industry about a woman they admire in PR/marketing and why (for an upcoming post). I'll ask you the same thing today–who is one woman you admire in our industry and why?
There are so many smart, talented women in the communications field the Twin Cities – it's hard to choose just one! Since that was the charge, I'd like to recognize Natalie Bushaw, the PR Director at Lifetime. Besides being incredibly smart, strategic and hard-working, she is also incredibly kind and generous. She constantly amazes me! She works full time, has twin boys and a husband and still finds time to give back to the community and advocate for her boys. I've known Natalie for nearly 15 years, and I can honestly say she's one of the most inspiring women in my circle. I am constantly amazed by her ability to get everything done and not compromise on the important things like her family. While I'm sure it doesn't feel easy to her, she makes it look that way! 
In 2004, you went back to school and got your Masters in Business Communication from the University of St. Thomas. Do you feel that decision has paid off? Why or why not?
I went back to school for my master's degree to help round out my business acumen. I graduated from the University of South Dakota with an English degree, but I didn't take any business classes. As I moved into my career, it was obvious to me that going back to school could benefit my development, and besides that I enjoy school! I loved the program at St. Thomas. I had some incredible professors with deep real-world experience and had the opportunity to meet so many talented, smart people that I continue to keep it touch with even years later. My experience getting my master's benefitted me in many ways – both in the classroom and through networking. As for whether it changed my career – I don't really know! I would like to think that it gives me a leg up in situations where I am up against other similar people without a degree, but it's hard to know that for sure.
Like me, you have two small children–in fact, our kids are fairly close in age. And, as a result, our lives are similar in that they are fully comprised of two things right now: Work and kids' activities! Any tips for young parents out there on how to best manage a productive work life AND being a parent in today's always-on world?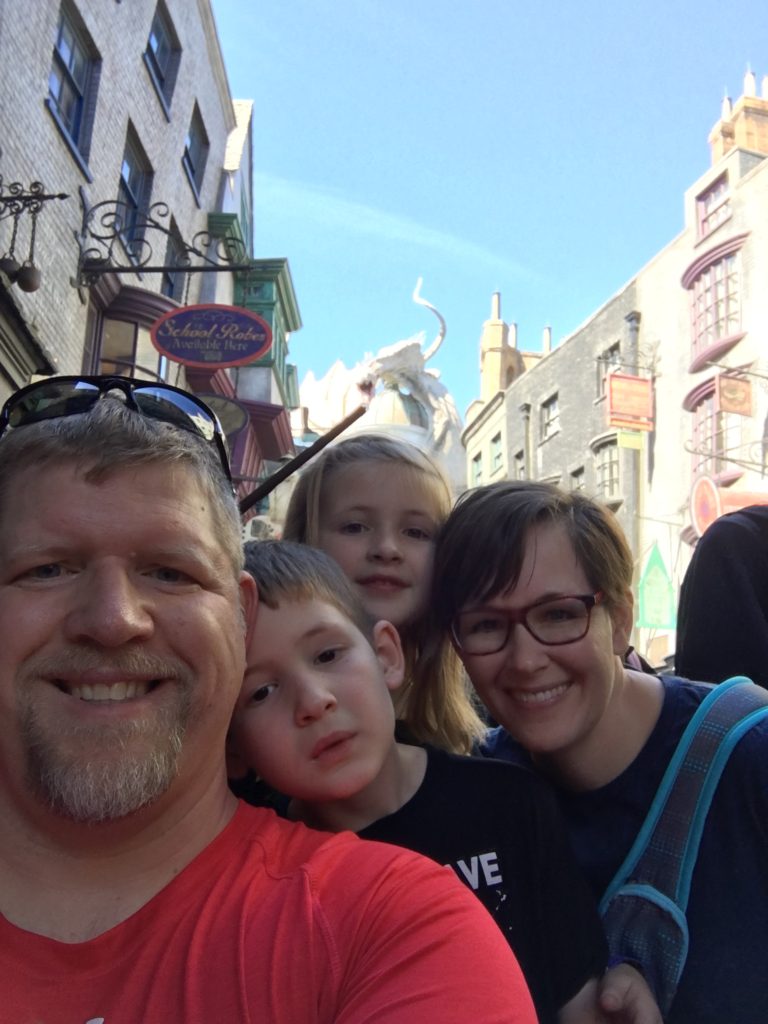 I try very hard to be present at work and at home. I set my hours so that I can be home in time to get the kids a quick dinner (often a taco bolted down at 5 PM, but dinner is dinner!) before evening activities start at 6 PM. I also try my best to put my phone down and focus on what's happening at home from the time I get home until the kids are in bed. I try to get a quick run in every day – for both my sanity and my dog's benefit. Sometimes that happens at 9 PM! 
As for advice – give yourself a break! Life is messy and frustrating and funny and joyful. You can only do what you can do at any given moment. Make time for the important things – whether that's a workout, time to watch TV, lunch with a friend or a date night with your significant other. Tomorrow's another day!