Susan Beatty knows a lot of people. Like A LOT. And when you run into someone who knows Susan, the likely response you'll get is something along the lines of: "Oh, you know Susan? She's so great." I've heard it more than once. Believe me.
I just wrote about this last week, but Susan is one of those rare corporate-side folks who gets the power of networking. In fact, that's how I met Susan years ago (through PRSA work). We found out we had a lot in common (outside of her silly love for the Green and Gold). I'd love to tell you all about how great Susan is…so, I will! Enjoy this installment of PR Rock Stars featuring one of my very favorites: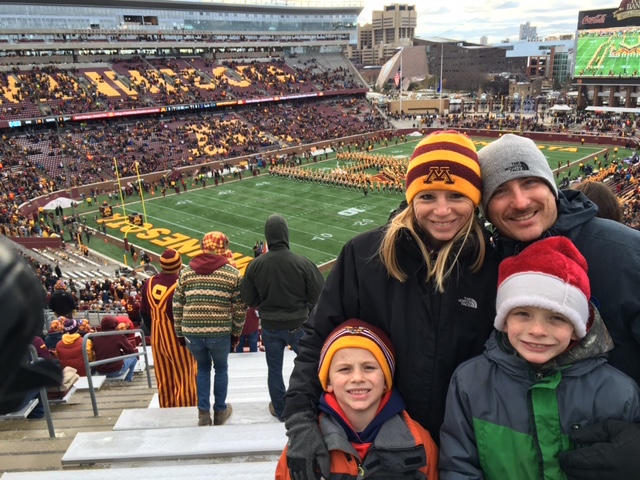 1–First, can you talk a little about your current role at USB? What are your key areas of responsibility?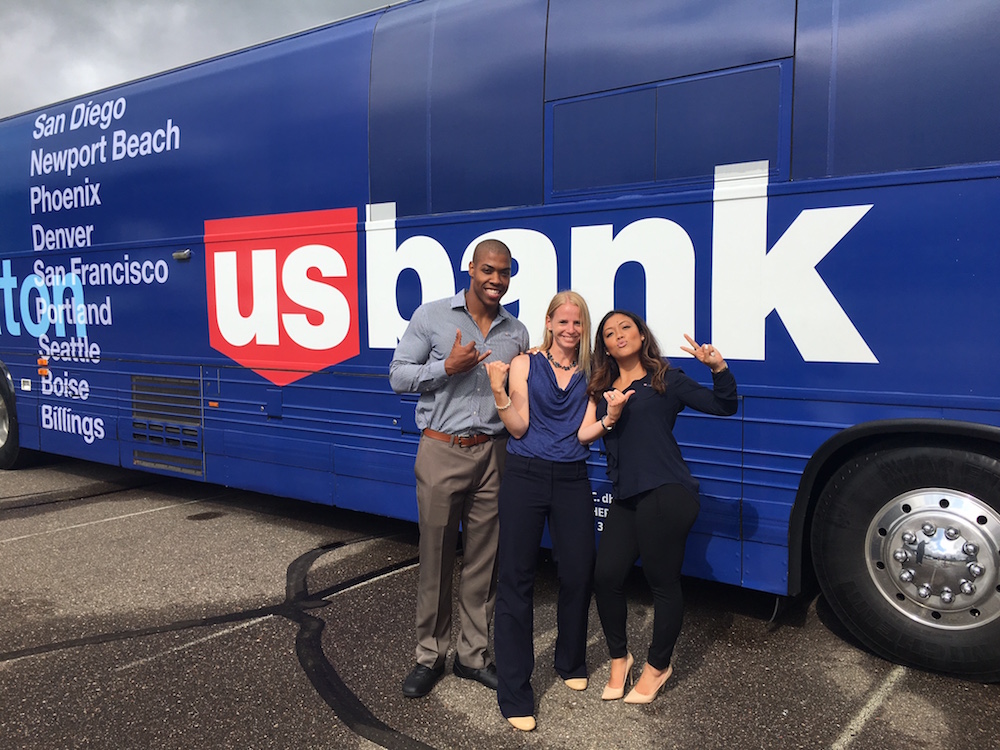 I always tell people that I have one of the best roles within the Corporate Communications team at U.S. Bank and that I get to do all the "fun stuff." I have a broad scope of responsibilities, which makes it truly a great role. My portfolio of work includes: corporate social responsibility, which includes financial education and diversity and inclusion; managing external communications for our brand, including overseeing a consumer-focused spokesperson program and an annual satisfaction consumer index; external communications alignment with our social media team to maximize great story telling; serving as part of the Twin Cities market leadership team and building out communications for our significant sponsorships (including U.S. Bank Stadium).
I smile when my day includes meetings that involve things like Super Bowl planning, the XGames, our new Podcast (Power of Possible Podcast – check it out in the app store!) and partnerships with awesome nonprofits like Technovation[MN]. Pretty awesome.
2–In 2016, you helped spearhead the PR efforts around the new US Bank Stadium. What did you learn from that experience?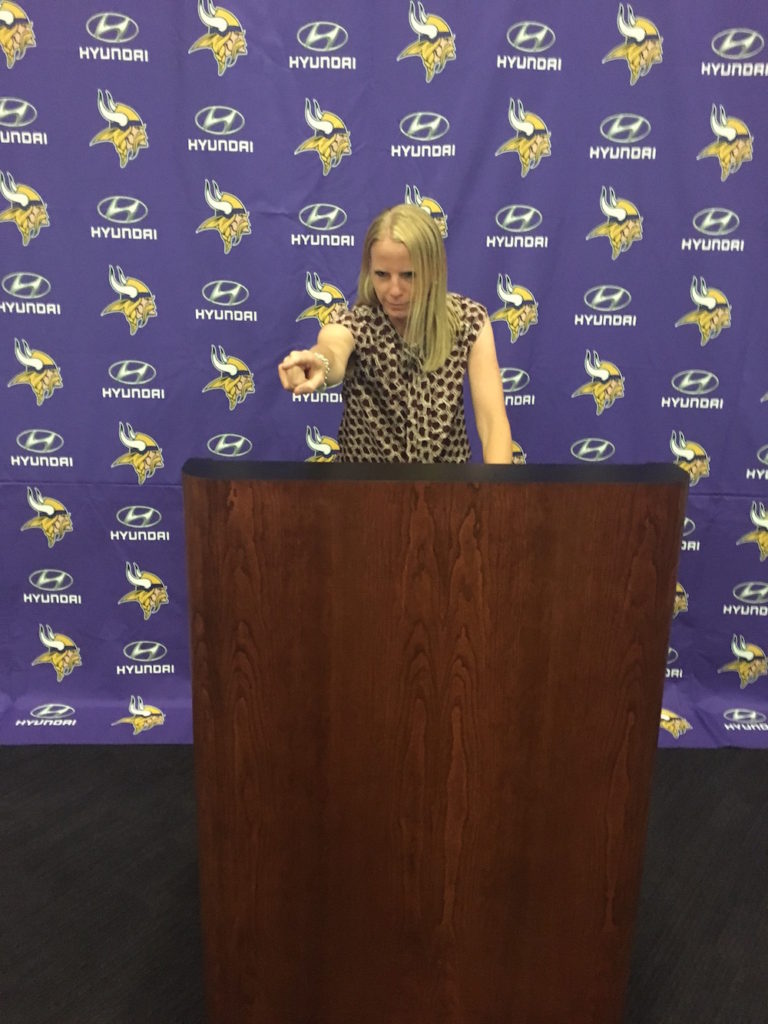 The opening of U.S. Bank Stadium was a really fun time for us at the bank. One of the significant programs we launched alongside the opening of the stadium was U.S. Bank Places to Play, a three-year $1 million grant funding program in partnership with the MN Vikings. The grants fund recreational spaces across the state of Minnesota. U.S. Bank Stadium is such a large place to play, but the small places matter too. We are having so much fun with this program. In a matter of weeks, we will announced our second round of grants.
One of the other really special things we did with the opening of U.S. Bank Stadium was a family day. We invited U.S. Bank employees and up to three additional guests to tour the facility, have photos taken on the field and experience the new stadium before many others from the general public could. We had such an overwhelming response to our family day.
Our naming rights on U.S. Bank Stadium were rooted in our interest to solidify our commitment to our headquarters market here in Minnesota. It is also an opportunity for U.S. Bank to enter the national branding conversation in a very significant way. Our chairman Richard Davis was instrumental in securing the bid for the 2018 Super Bowl and we are thrilled to be a part of it.
3–You also have quite the financial communications background, as you've spent time at Bremer Bank and Piper Jaffray, in addition to USB. What is it about financial comms that keeps you wanting more?
I actually wanted to work in sports and did for some time after finishing my journalism degree at the University of Minnesota. I still do want to work in sports potentially someday, but for now I'm grateful for the role I have at U.S. Bank which allows me to work on many partnerships with our sports teams.
I recall the first few weeks after starting my job at Piper Jaffray, thinking to myself "how do people work in these quiet offices all day with these brown cube walls?" After working in a collegiate sports office for the past three years, it was quite a change. After a few months, I realized I needed to brush up on my financial acronyms and knowledge, but in less than a years time, I actually enjoyed reading the Wall Street Journal. Every company has lent a different experience for sure. During my time at Piper, I learned how the investment bankers helped young companies go public on the stock exchange, growing their businesses – truly amazing work. I worked with some of the smartest, most brilliant analytical people during my seven years at Piper Jaffray.
At Bremer and now at U.S. Bank, I'm honored to work with talented bankers who are dedicated to making people's financial dreams come true. The breadth and depth of the work we do at U.S. Bank as one of the largest financial institutions is pretty crazy when you think about it. My responsibility to help manage the reputation of the fifth largest bank in the country is not lost on me.
4–Interestingly, you started your career in sports PR with the Green Bay Packers (more on that in a minute), and the University of Minnesota. I like to tell kids if they're going to go into sports PR, make sure you do it when you're young because it's a TON of hours and you essentially get paid minimum wage. Am I about right with those assertions? And, what did you like about working in sports PR for a few years?
Wow – working in sports PR were some of the best years of my career, hands down. When my time at the U of M in athletics came to an end, I was offered a few different opportunities in sports, one of which was to move to New York and work for the NFL league office, but I was drawn to stay in Minneapolis/St. Paul near home. I don't regret not taking any of those opportunities. Shortly after I started my career however, I did have an opportunity to interview for my dream job with the Green Bay Packers, but ended up being the number 2 candidate. After that, I embraced my career in financial services and haven't looked back.
I completely agree with you – work in sports while you're young. When I worked in the industry, I put in 70+ hour weeks and worked most nights and nearly every weekend. It was completely rewarding for me at the time, but can't imagine doing it with any kind of family or other responsibility. I did work in college athletics however, in a role where I covered multiple sports so there was no off-season. I think PR roles in professional sports are a little bit different where you have at least some times during the year where you are not "in-season."
I often will tell others that if you have an opportunity to hire somebody who has worked in athletic communications to do it. The roles are demanding and your talents have to stretch over multiple disciplines. In a recent story in Sports Illustrated (yes I still read the magazine cover-to-cover at the gym in the morning), I read about the war for top tier digital talent at major division one football programs. Universities are relying on small and nimble communication teams to produce compelling content to lure in recruits and showcase the university. I believe it was Clemson University that has the top team of digital talent and other schools are already recruiting them.
5–With all these cool, high profile jobs, you've met a lot of sports celebrities over the years. Who has been the most interesting and why?
I have to say (and sorry to all you #NoPackNo fans out there) that it would be Brett Favre. I worked with the Green Bay Packers for a summer as a PR intern and had the opportunity to meet Brett. He was always known as a jokester and as "always having fun playing the game." He truly did live and play that way both when the spotlight was on and when it was not. I recall once working in the PR offices that summer when the other intern and I said "gosh, what is that smell?" It was awful so we asked some of the full-time staff who seemed to be un-fazed by it. They simply said, "oh, that's just Brett – he thinks it is funny to let off stink bombs in the office and then run away." You seriously can't make this stuff up.
He also used to yell across the lunch room during training camp at long-time PR Green Bay Packer legend Lee Remmel. In fact, he almost sang at him "oh, Leeland…" Lee just brushed it off. Come to think of it, Lee Remmel was a true gem in his own right. At the end of our summer in Green Bay, he hosted the entire PR team at dinner. I am honored to have worked with such an amazing historian and sports PR legend.
6–You volunteer a ton of your time to other organizations from Second Harvest Heartland to MIMA to the YMCA. With a young family at home, and a demanding day job, why do you continue to spend so much time giving back? How has it impacted your day job?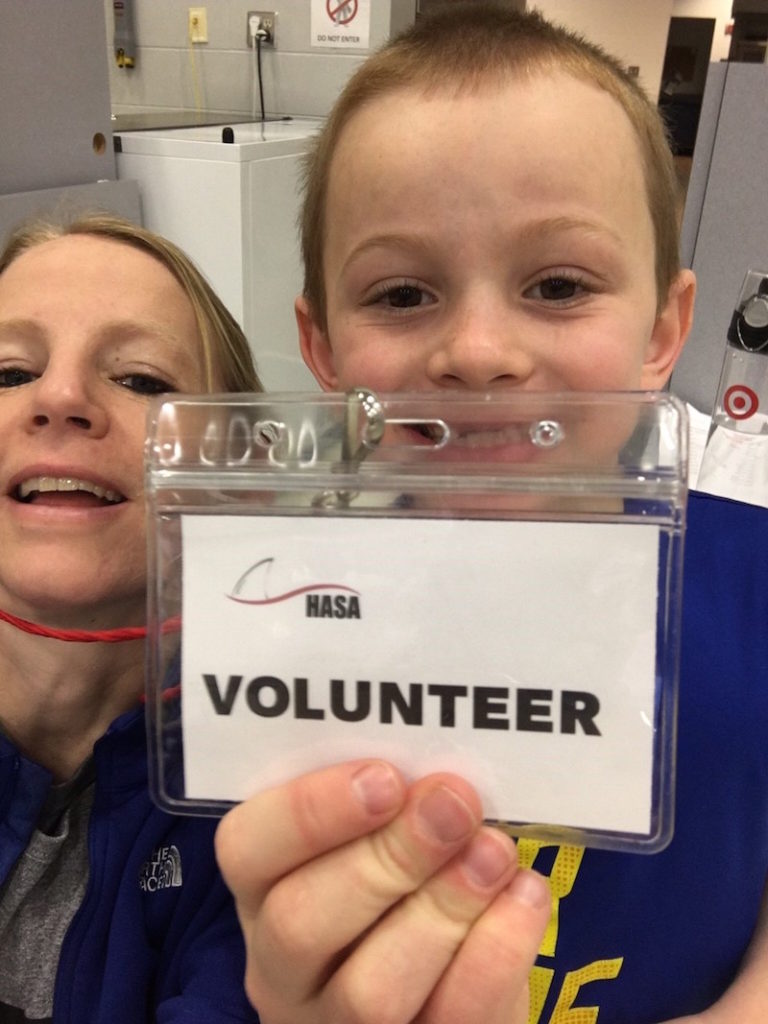 Giving back has been part of who I am as long as I can remember. It's something I learned from my parents early on in life. They were always cooking food for others, donating their time and giving back. One of my mantras, is you'll never regret time spent helping others. It's so true. My first volunteer experience as a young adult as actually serving as a mentor with Bolder Options, led by great community organizer and friend Darrell Thompson (also a famous Gopher and Green Bay Packer!). That experience made me realize just how important it is to use your gifts and talents to lift up others. And then when I worked at Piper Jaffray, I started an initiative to serve lunch at Catholic Charities once a month and I'm honored to say there is still a team making it happen many years after I moved on. I had always been involved in professional organizations and volunteering.
Over the past 10 years, I have been actively involved serving on multiple advisory and professional organization boards. I have met SO MANY people serving in these roles. And through each opportunity I have learned a ton from others. I have been exposed to so many things through my board service and had the opportunity to volunteer in multiple different ways.
Volunteering has been a large part of all of the organizations I have worked at. Often a board meeting or volunteer opportunity happens during the day and you just have to make it work. If it is beneficial for you, it is beneficial for your organization. Often you can wear dual hats in your volunteer commitment – giving back as an individual, but also becoming a more connected and smarter professional which ultimately impacts your organization and your ability to bring your best to work each day. Balancing time is no doubt a juggle. I make it fit because it's so important and I wouldn't have it any other way.
And now, I have the responsibility of introducing volunteering to my 2 young boys. We are often buying items for those in need, serving food through our church, ringing bells to raise money at holidays, coaching youth sports and many other activities. We often tell them how important it is to give what you have to those who don't have as much – and that giving of your time is so important.
7–You have a lot of initials after your name (APR, MBC). How has earning each of those certifications and degrees shaped you into the communicator you are today? And, if you had to do it all over again, would you, and why?
I think always improving your skills and stretching yourself is important in your professional career. I started taking those masters classes at St. Thomas at night to help me learn business communications better. At first, I was most interested in getting the certificate, but then I decided I would just complete the program and earn the full master's degree. If I had to do it all over again, I would have gone after the full MBA so I could learn even more about accounting and statistics for my eventual career in financial services.
Getting the APR for me was all about commitment and dedication to the discipline of PR. When you think about professionals who are true professionals in their industry, they often have credentials, licenses or certifications. For us in PR, there are only a couple of these certifications that we can achieve, and one of them is the APR. Studying for the APR reminds you of the core disciplines that make up a holistic PR campaign – research, objectives, goals, etc. I'm very glad I went through with it and encourage others to do the same.
8–Finally, you're a die-hard Packer fan. So sad. How many more years of Aaron Rodgers' prime is Mike Holmgren going to waste? And, are you ready for the Brett Hundley era to begin?
Hmm… so first of all Mike Holmgren? That was like so 15 years ago. Aaron Rodgers has many, many, many years left to play. We Packer fans have been truly blessed to go from Brett Favre to Aaron Rodgers. Both phenomenal quarters and complete game changers. I think most of us Packer fans know that when ARod goes down, so goes the Packers. And there is no more "Flynn to win" behind him. I'm excited about the 2017-18 season. We were so close last year. I think this is our year and I know Packer faithful cannot wait to invade Minneapolis and U.S. Bank Stadium February 4, 2018.