"The Snack Guy." That's what a number of folks know Dan DeBaun as at his employer, Life Time. But, as you'll quickly see in this short interview, Dan is a whole lot more. He's a former journalist-turned-PR pro. He's a runner. And, he may be the first (and only) journalist to interview cats on TV! (see below for the full story)
Let's hear more from this PR Rock Star.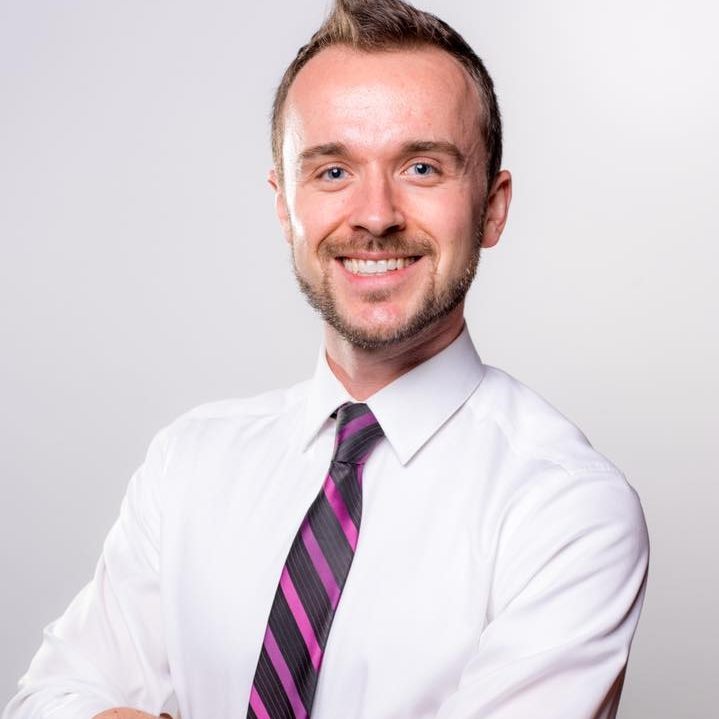 Let's go back to the beginning–how did you get your start in the media world?
I was a radio news reporter for three years in St. Cloud out of college. I reported on just about anything during my time in radio…Breaking news, traffic reports, school board meetings…I even interviewed cats at the humane society one time (look it up; Editor's Note: Ha! I did–and it is epic!). I then spent two years at the Minneapolis St. Paul Business Journal reporting on retail and restaurants before I started my career at Life Time in May 2018. I really appreciated my time in radio and print journalism. I quickly learned the importance of being flexible and working at a fast pace under constant deadlines. Of course, being exposed to so many local business leaders during my time at the Business Journal was a blessing. I learned a ton from my day to day conversations with these people about how they became successful.
Little known fact: You led social media management for the Business Journal during your time there. How did that prepare you for your first job in PR with Life Time?
It gave me valuable experience with daily posting and scheduling on Twitter, Facebook and LinkedIn. Twitter was an especially big priority and it gave me a chance to connect with a lot of fellow journalists, who I continue to follow and interact with as a PR pro. It's a fantastic tool to keep up on their work and what issues they're focused on.
Why Life Time? What drew you to that company, in particular?
I was drawn to the culture and energy here. I interviewed our CEO Bahram Akradi a couple times as a reporter and really admired his vision for Life Time. It was really neat to hear about the company's new ventures into coworking at living spaces at the time. I'm also very interested and passionate about health and fitness. I'm an avid runner and have had a growing interest in mental health and nutrition. Life Time has given me a chance to combine those interests into my career. It's also nice to have co-workers who enjoy running. For the longest time I was the only person in the office who enjoyed it. People thought something was wrong with me.
Can you tell us a bit more about your current role at Life Time?
I spend a good chunk of my time on media relations and pitching. I coordinate a lot of TV segments and print/online interviews across the country. Part of this is media training our general managers, personal trainers and other experts to get them ready to go on camera. We really have an embarrassment of riches when it comes to energetic and smart people at Life Time for media. It makes the job really fun.
Outside of media relations, I spend time focused on daily, weekly and monthly reports showing out progress for company leadership. I also manage the Life Time newsroom website and LinkedIn page.
Your clubs were largely closed earlier this year when COVID initially hit. Can you talk a little about what work life was like during that time? How do you do PR for a company when most of your clubs were closed!?!
We had to adapt very quickly when COVID-19 came into our world. Starting in late-February, our task force got going, communicating with clubs and with members. Then, we made the decision to close all of our clubs in mid-March. As a company, we quickly pivoted and within a week created and began offering on-demand virtual classes on the Life Time website and You Tube channel for members and nonmembers (they're still available here and we continue to post new classes all the time). My role was focused on media pitching on these virtual classes, vs. our typical in-club offerings. There was a huge demand in the media for ways people could stay in shape while staying home, and we saw a great response from that outreach. We recently did some family workout segments on KARE 11, for example.
Starting in May when our first club reopened in Oklahoma City, we've spent a considerable time working to secure placements in each market. The response has been phenomenal as we've orchestrated a ton of media visits to our clubs to showcase our enhanced cleaning and safety protocols we now have in place to keep people safe when we've reopened.
While it's been a long several months, we're close to fully or partially reopening nearly all of our 150+ locations across the country.
What's been one big win you're especially proud of during your time at Life Time?
I'll always be really proud of getting one of our member weight loss stories featured by the TODAY Show. We have a member at Life Time Savage, Scott Morton, who lost 40+ pounds so he could donate his kidney to his brother. He managed to lose the weight, in part, due to his daily walks on the treadmill at the club. It was an incredibly rewarding story to see come to life. It took months of pitching, interviews and follow up…but it happened! Scott is also an employee at Life Time Savage now. I think that speaks to the culture that's present here.
You also happen to work for one of the best PR leaders in our city–Natalie Bushaw. What's one thing you've learned from Natalie during your first couple years working at Life Time?
I love working with Natalie and she's really taught me the value of building and balancing relationships, both with the media and our internal partners. Natalie has a warm and energetic personality that I really admire. I've learned a ton just by watching how she communicates with others and remains calm and composed under any situation.
You've been posting a series dubbed "Rapid Snack Reaction" for a while now on Facebook + Insta. How did that come about? And, do you think this work helps you in your work in the influencer marketing space at Life Time?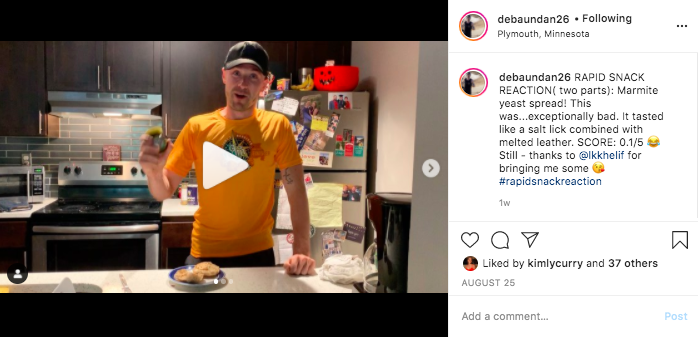 Ha! I was sitting in the parking lot of a Trader Joe's with a box of maple cookies and couldn't wait to eat some of them. Then the idea popped in my head to record myself eating them and reviewing them rapidly…because I was hungry and impatient. I grew up watching energetic pitch men on TV like Billy Mays and Ron Popeil and always found them fun to watch…So, I decided to combine that sort of energy into trying new foods. I certainly wouldn't call myself an influencer by any means, but it's given me experience with creating content. It also (to my surprise) connected me with a lot of people at Life Time. I'm known as " that snack guy" in the office to several people.
Related: You're a big foodie. Favorite Twin Cities restaurant that you are absolutely hoping does not go under during COVID-19?
Red Cow can't go under or I may need to take a week off work to recover.
Finally–what's one silver lining you've experienced during the pandemic so far?
I really appreciate that the pandemic has given me a chance to grow my skills and gain a lot of experience performing under pressure, especially when it comes to crisis and member communications. Outside of work, I really appreciate having extra time in the morning for running and exercise. I try to get as much fresh air as possible each day!