The legend of Nora Purmort existed far before I ever met Nora. She has a sister who is very successful in the interactive world here in Minneapolis (Meghan Wilker). She's a successful interactive/communicator/marketer at Life Time Fitness. She was on the MIMA board of directors for the last two years. She's won awards left-and-right, as of late.
But, I didn't really get a chance to meet and know Nora until about a year ago when I asked her to speak at the 2013 Minnesota Blogger Conference. I expected smart. I expected professionalism. I expected nice. What I didn't expect was how damn funny this woman was. And, I think that's why so many people are drawn to Nora Purmort. Her personality and humor are contagious. People want to know her. People want to hang out with her. People most likely really enjoy working with her. So, it was a no-brainer to feature her here in this series. Let's here more from the woman. The legend. Nora Purmort (did I embarass you enough, Nora? 🙂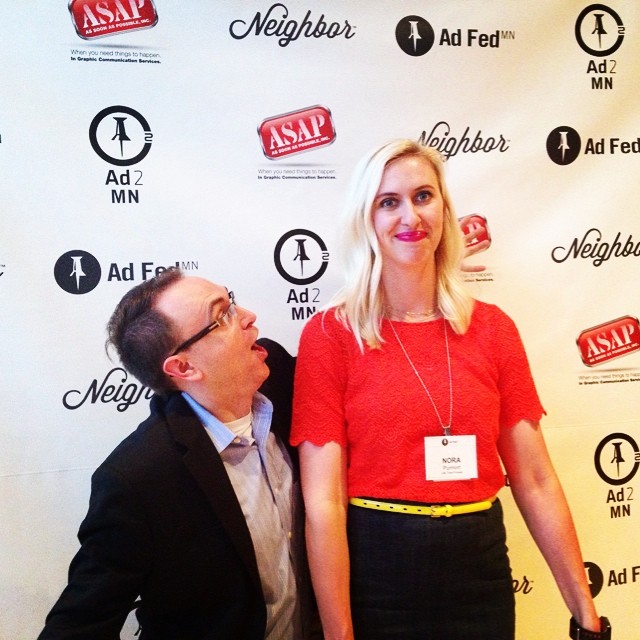 You're currently the senior social media manager at Life Time Fitness where you work with two of my good friends–Tony Saucier and Natalie Bushaw. It's your first corporate job after years on the agency side. What would you tell those who are considering a career in social/PR about the differences between the two?
I consider myself so lucky to have started my career at PR agencies in New York that were founded and staffed by some of the most influential women I'll ever meet. I'm newish to the corporate world, but I do believe that agency experience does everybody good. There's no other position where you so quickly learn how to work hard and well under pressure. And yes, on the agency side there's almost a comical amount of pressure (ask me about the time an intern was having a legit nervous breakdown in the bathroom because the lotion samples she was supposed to have couriered to Allure hadn't arrived on time — CAN YOU EVEN IMAGINE?!).
Agency has a lot of fun perks: beer! Scooters! Ping pong! Free things! And the energy is really addictive and contagious and just talking about it I miss it a little.
I love the corporate side primarily because of where I am: Life Time aligns very closely with my own personal values. Our health is so damn important, guys. If you don't already take care of yourself, start today. Also, if you don't have health and life insurance, please stop reading this and take care of these things ASAP.
On the corporate side, you're naturally more intimately tied to the performance of your company as a whole. There are certainly plenty of agencies who are truly passionate about your clients, but you truly and consistently see the impact that your work has when you're client side.
Should I return to the agency side, I'll be a better partner to my clients having seen this side of the table. Overall, the best thing for your career is diversity. I know some people still start at job at 22 and retire from it at 65 (WHO ARE YOU PEOPLE?) but I'm happy to have had the experiences I have, however varied.
You just ended your two-year term on the MIMA board of directors. What did you learn during your term on the BOD that you probably couldn't have learned anywhere else?
You know what people love to wax poetic about? How wonderful our professional community is here. You know why they do it? because it's true. A board position for a non-profit is a volunteer position. The worldly perks are generally food related (holler if you're never touching Jimmy John's again, fellow MIMA boardies!). That means people are there out of their own passion and love for the community. Flipping beautiful. You tend to forget about that when you're obsessing over deadlines and to-do lists: holy crap, we're all a bunch of people, and we belong to this group because we care about what we do and the other people who do it. Lauren Melcher and Tim Brunelle are two people who personify MIMA: much of the great events you've been to are directly related to the work they put into that organization and their energy was truly inspiring.
If you're not currently involved in a volunteer position for something you care about, do it.
You may be most well known for your popular blog "My Husband's Tumor". It's an incredible and inspiring read for anyone who has the time. Who's your inspiration as a writer (because I think you're a pretty damn good writer)?
Oh gosh golly, where do I even start? As far as fiction, I can curl up and live inside anything by  Jhumpa Lahiri, Ernest Hemingway or F. Scott Fitzgerald (eye roll as much as you want, both these dudes knew their feelings). For non-fiction, Joan Didion and David Sedaris tell their personal stories like no other.
It's also interesting to me that you use Tumblr for the blog since most of the posts are text-heavy. Why did you choose Tumblr initially as a blog platform and do you believe that's helped or hindered you along the way?
I chose Tumblr because Tumblr is my platform. I joined in 2007 when you needed an invite (thanks to my long-lost friend Josh for picking me), and posted this incredibly deep thought for my first post in 2008. At last count, I had 15 or so Tumblrs that I was sure at the time were genius ideas (I still think Baby Glares has some promise). My blog wasn't started with any specific goal in mind other than to document what my husband and I were going through, and maybe attempt to outline that into a memoir (currently in the works).
Tumblr's helped me in that the platform itself has it's own ecosystem: my followers there get posts in their feeds, and each of their engagements helps me reach more Tumblr users.
But any average reader doesn't even know that it's necessarily on Tumblr, and can engage with or ignore it like they would any other blog. I have comments enabled for Facebook and Disqus. I have social sharing buttons. It does everything I need to do, and most importantly, it's easy and it's on a platform I already use. The best blog platform isn't Tumblr vs. something else, it's what you'll use vs. what you won't.
You're a working mom in a two-worker household. That in itself, would be tough (I know, because my wife and I live that scenario!). But, add your husband's health concerns to the mix and (I'm sure you get this a lot), but I don't know how you do it. What's the one thing, above all else, that allows you to get through the toughest of tough days from a work/life balance standpoint?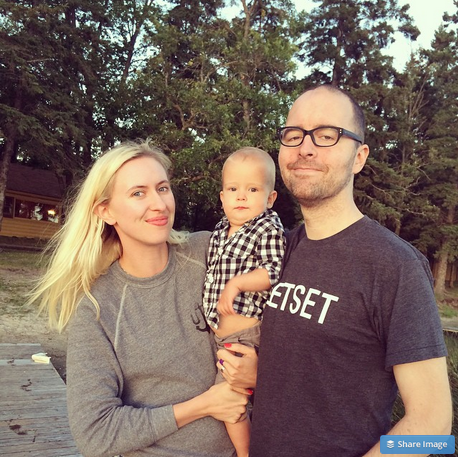 I do it the way you do it, and your wife does it, and every other working family or working single person, or just any other human in general does it: because it needs to be done. The world doesn't stop spinning just because your own universe has ground to a halt. And really, your own upended world rights itself eventually. Or you just get used to the new angle. Everything I've learned about life I've learned through my husband Aaron: it's not that hard, it's not that serious. Be grateful, be good, be happy to be here. It's a fucking miracle in every sense of the word that we even made it on this planet.
But, on really hard days, I for sure just cry in my car. Benefit of a long commute!
You were recently recognized as part of AdFed's #32Under32 list–quite the honor. You were also listed as one of Minnesota Business' "Real Power 50". You wanna leave some for the rest of us? 🙂 In all seriousness, what's next for you with all the great professional success you've seen lately?
Five years ago, I was living in New York City working in beauty PR. 5 years before that, I was starting my first job after going through an entire interview process not understanding what the company actually did (you'll not find that job on my LinkedIn so don't even try). 5 years before that I was a high school senior convinced I'd someday be an attorney. I wouldn't have accurately imagined any of my life the way it turned out, and not because I have a bad imagination. We have an ingrained desire to flip ahead to the back of the book and try to overplan our lives. All of the best things in my life, from my job at Life Time where I get to help people live healthy lives, to my husband and our son, were completely unplanned.
Aaron and I were married a month to the day after he had brain surgery to remove a malignant tumor. Aaron had his second brain surgery three weeks before our son Ralph was born. Tony interviewed me when I was (obviously) 6 months pregnant. None of these seem like auspicious times for something wonderful to happen, but they were.  When you're focused on what's happening now vs. what's next, you free up a lot of mental energy.
I don't know what's next, and I never have. Whatever it is, I feel like it's awesome.