I met Lauren Melcher earlier this summer. After a random inquiry, we met up for coffee. I was impressed immediately. This woman was not only holding down a full-time agency job, she was planning the largest creative event in our state (and arguably the Upper Midwest): The MIMA Summit. Then, at a later meet-up I discovered she's a fellow beer geek. And, she got a new job at Weber Shandwick. The more I learned about Lauren, the more I wanted to learn even more. So, I thought I'd ask her a few of the questions I've been meaning to ask her since our last meet-up. Here are the results…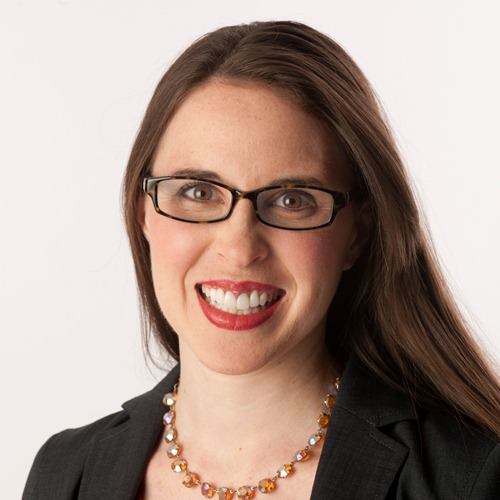 1—You have an interesting background that's a mix of publishing, politics and digital marketing. How did you go from a communications intern for Hilary Clinton's campaign to a digital strategist at Weber Shandwick?
I sometimes wonder that myself, actually. I think it comes down to a bit of luck, a lot of hard work, and having some eclectic interests that keep me off the beaten path.
The internship on Hillary's campaign was a once-in-a-lifetime opportunity that came on the heels of a digital media internship at New Hampshire Public Radio during the 2008 presidential primary season. I'd been brought on to help their new media director manage all the extra campaign content, and I spent a lot of time editing stories, audio and video for the NHPR website.
At the same time, I was finishing an English and management studies degree at St. Olaf College, and the J-term class that had taken me east for the New Hampshire and South Carolina primaries also gave me an opportunity to blog for the Star-Tribune. So I was blogging for a newspaper, while curating multimedia content for a public radio station. I had a front-row view for how the web could transform media and content delivery, and it was really inspiring.
Then, I saw the other side of modern mass media while interning on the communications team for South Carolina for Hillary. I was charged with planning press tours, booking interviews and staffing Senator Clinton during media appearances. Although it was the complete opposite of what I'd been doing on the media side, I learned that I'm good on my feet in a crisis and I love helping to solve problems. That was my first taste of PR, and it was a really great experience.
When I graduated, I stayed in Minneapolis to run a young women's magazine. It didn't survive the recession, but at the time, we had high hopes for changing the way young women interacted with mass media. I think we were just a few years too early … if we'd had the iPad for magazine delivery back then, everything would have been so much easier! But it was there that I learned first-hand what it means for a brand to engage with a community online. We had no budget for traditional marketing, so we built everything by word of mouth – follower by follower, article by article. It was hard work and a lot of long hours, but the thrill of building a brand online was addicting.
Eventually I took a job with a small, full-service agency (marketing, advertising and public relations), where I helped to build the digital practice. Most of my experience is in social media strategy and website redesign planning for education, agriculture, financial services and nonprofit clients. That was three years ago, and now I'm in a job that didn't exist when I was a senior in college. I think that's amazing, and some days I have to pinch myself to make sure I'm not dreaming.
2—You're relatively new to Weber Shandwick (started in August) and it's the first big agency you've worked for. In your view, what's the difference between working for a large firm and a smaller one?
Hands down: the team. At a small agency, being the social media or digital point-person is a great opportunity, but it's also a tricky position. Digital strategy is not something that anyone is an expert in – the topic is just too big. But when you're the only one doing social media planning or community management at a small company, it's easy to be labeled as such. I was never comfortable in that position. I love having a team of strategists around me to bounce ideas off of and collaborate with on projects where we can each bring different strengths and experiences. I'm one of seven digital strategists in the Minneapolis office, and there are over a hundred of us throughout the global network. I'm never alone with my biases and experiences, and that's a better thing for my clients (and my sanity, to be honest!)
3—The "career path" for today's digital marketer is so varied. Some folks come from traditional marketing backgrounds. Others, like you, have journalism/publishing and even PR backgrounds. What background do you think helps prepare you the most for a role in digital marketing?
Anyone who wants a career in digital marketing should, at some point, work in an organization where the digital strategy is crucial to the organization's bottom line. Having a budget line you're responsible for changes the way you approach your job, in a good way. That was absolutely the case at the magazine, and it taught me to invest time and energy in the activities with the best returns on investment. Social media wasn't just for fun – it was the backbone of our outreach strategy.
4—You're also on the MIMA board of directors playing a lead role on the high-profile programming committee (with MIMA Summit just a month away). What learnings have you had from this work that have carried over into your "day job?"
It's all about the audience. Whether it's a presentation for 300 people or a public affairs campaign for three million, what matters is whether or not the audience absorbs the intended message – not whether or not it's presented in the prettiest, fanciest, most innovative way. I think that digital teams can get carried away with the "cool" factor and forget about the audience. That's not going to be successful in the long run. We know that at MIMA because our audience tells us exactly when they think we've missed the ball. They care about the quality of the content because it's what they've come to expect over the last 13 years. It can be humbling to hear the critiques, but it is also really useful information that we need to hear so we don't make the same mistakes again with future events.
I've found that taking the same approach to my work – keeping the audience at the forefront of my strategy recommendations, testing and surveying whenever possible, and managing client expectations accordingly – leads to successful projects and happy clients.
5—In your "spare time" you also write for Tech.MN and the Huffington Post. How did those opportunities come about and how do you identify topics to write about for both publications?
Arianna Huffington extended the blogging invitation back in 2008 when I was the editor of Alive Magazine, and I've kept up my credentials ever since. I have mostly written about topics relating to civic engagement, technology and society, but I don't have a contract or any particular editorial responsibilities.
When you have the freedom to write about whatever you want, it's incredibly freeing and stifling at the same time. I haven't blogged for Huffington Post in a while, because it's so public – I have to feel extremely confident about everything I put out there. And so much of my daily work is confidential that I can't use that as a springboard. So, it's not easy to find topics that are timely and where I also feel like I can say something that someone else hasn't already said.
It's easier with TECHdotMN, where I focus on female tech entrepreneurs and co-hosting the weekly TV show. I appreciate the ability to focus on a niche topic and become the go-to person on a subject I find fascinating. When Mike Bollinger and Jeff Pesek started TECHdotMN, we talked a lot about my experience with nonprofit news organizations and the challenges facing online media channels. My contributions grew naturally out of an interest in their project and a desire to help raise the profile of the Minnesota tech startup community, even though I'm not a tech entrepreneur or investor.
I've always believed that not "having time" is not a real excuse. We make time for the things we care about. Some months, I prioritize friends, family, travel and house projects over volunteer projects and outside writing. But I have also made time for writing and volunteering because the results are important to me. The relationships I've built, and the doors that have opened, because of those activities are absolutely irreplaceable.
6—You've also confided to me that you're a "beer geek" of sorts. Since it's that time of year, what are your favorite Oktoberfest beers?
Ha! Well, I'm no connoisseur but I like tasting beers more than tasting wines – does that count?
I'm always a big Summit fan, and I love their Oktoberfest. But the Bell's Oktoberfest is pretty fantastic, too. I wish that Odell Brewing Co. or Deschutes Brewery had an Oktoberfest. If they did, one of those would probably be my favorite (their ales and porters are delicious).