The first time I saw or heard Alyssa Ebel's came when I was researching the fantastic #OnlyInMn campaign. Since then, she seems to pop up everywhere. And, as WCCO-TV's Jason DeRusha said in a recent Facebook comment thread, she's "always on brand." That couldn't be more true. Every time you see her pop up in a social feed, she's traveling around the state using the now-ubiquitous #onlyinmn hash tag. When you see her on TV, she's covered in Explore MN garb. When you hear her talking on the radio, she's raving about our great state. I know of few PR people who live the brand they represent more than Alyssa Ebel. So, it seemed like a good idea to feature her here today.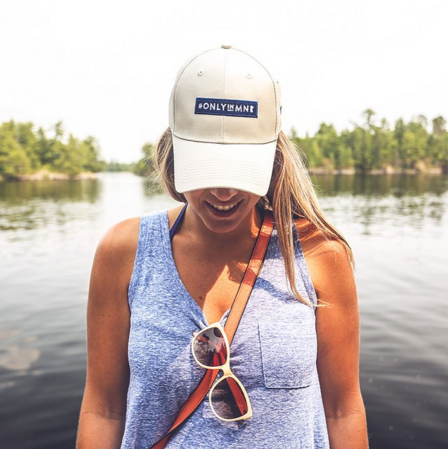 More than anyone I've seen in recent memory, you completely live the #exploremn brand. Can you talk a little about that and how that's evolved for you? Do you think that's absolutely necessary for success in this kind of position with a tourism organization?
That's my queue to say yes I live the #ExploreMN /@exploreminnesota (Instagram and Facebook) / @exploreminn (Twitter) and #OnlyinMN brand. I live and breathe all things you can explore and find only in Minnesota, whether I'm on the clock or not in my current role as Explore Minnesota's Senior Public Information Officer. My true love for Minnesota has grown over the years, so much that I left an awesome job with a big office overlooking Chicago's Michigan Avenue to come back to my motherland. This is home and it's way better than any swanky office view. Working for Explore Minnesota these last three years has deepened my appreciation for the state. Minnesota is an incredible, one-of-a-kind destination.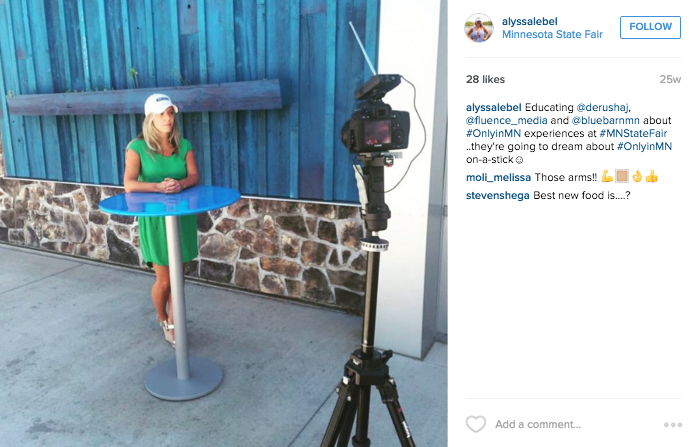 I like to practice what I preach to media near and far, so living the Explore Minnesota brand has lent success in publicizing statewide travel and tourism opportunities. I have a lot of media contacts who follow, or friend me on my professional and personal social channels, so regularly showing off my #OnlyinMN experiences is a simple and effective media relations tactic. Follow me on Twitter @ExploreMN_PR, or @AlyssaLEbel (also Instagram).
No, I haven't visited every single 100+ breweries, biked all 4,000 miles of paved trails, swam in each one of our 11,842 lakes, trekked six national parks sites, 75 state parks and recreation areas, etc., etc., etc. – YET! I take every chance I get for a shameless #OnlyinMN plug, and you and WCCO's Jason DeRusha are my #1 fans.
Now count how many times I use #OnlyinMN in this Q&A .
Working for a tourism organization must present a set of fairly unique challenges. Can you talk about those challenges, and what you've done so well to work around them?
Any organization presents challenges, but when representing a statewide tourism organization in the public sector, these are two challenges:
Geographic and activity-diverse parameters
Representing an entire state of travel destinations, attractions, lodging properties, etc. is exciting, but it's impossible to promote all of the assets in one breath, so my solution is the rule of three and roundup-style media pitches. Explore Minnesota defines five regions in Minnesota: Northwest, Northwest, Central, Metro and Southern, so I think three when pitching travel opportunities to media. Up to three regions (all if applicable to topic) are included in PR deliverables and media FAM tour itineraries (FAM = travel PR talk for media familiarization tour.). Just like any PR strategy, I have diverse, timely and seasonal editorial calendars. I execute a lot of in-house pitching, and recently teamed up with local PR agency, Bellmont Partners for some extra help. Just ask the Bellmont team about my rule of three! You'll also start to notice Explore Minnesota's geographic-diverse mission when planning your next Minnesota getaway at exploreminnesota.com, or while you're seeking inspiration from our social channels.
Minnesota's perception problem
What's the first reaction you get when you ask people who have never been to our state what they know about Minnesota? I often ask my out-of-state media contacts that question as an ice-breaker and among a few responses are: "It's COLD." "Mall of America." "Lot's of Lakes." Minnesota is all-too often known as a flyover state or stereotyped as the "ice-box of the nation," when some states are just as cold, if not colder or snowier than MN in the winter. I always get such a kick out of the national weather anchors when they talk about Minneapolis.
My job is to promote Minnesota as a premier travel destination – that we're known for SO much more, and hey, when it's cold, it's OK because we embrace it with quirky winter activities that you can find #OnlyinMN. Or, experience the great indoors with our vibrant arts scene or fab TAX-FREE shopping!
I spend a lot of time pitching and coordinating media FAMS, like this recent Denver Post FAM that yielded two proud stories in one of Explore Minnesota's target markets right before the 2015-16 winter season hit:
I also attend travel media conventions, I'm a member of Society of American Travel Writers (SATW) and use Twitter as a key media outreach tool. Regularly meeting face-to-face with various media has been a game-changer in my PR career.
PR pro-tip: Joey Bunch, Denver Post writer is the best Colorado media contact you'll find. He eats wild rice soup at every meal and knows Minnesota hockey hair better than any Minnesotan. He might even use #OnlyinMN more than I do.
Your family owns and operates a houseboat company near Voyageurs National Park in Minnesota. I see you visiting frequently. Did your love of the outdoors and all things Northern Minnesota play into your wanting to work for Explore Minnesota? How has that helped you in this position?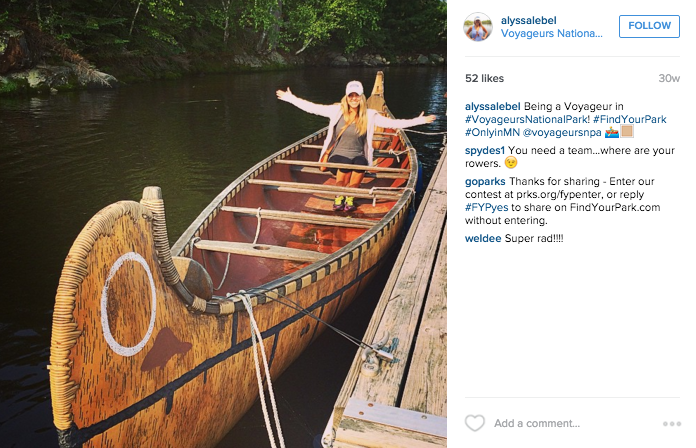 That's right; I grew up in Minnesota's tourism and hospitality industry selling houseboat trips (and cleaning!) since my teenage years for Ebel's Voyageur Houseboats (44 years in the biz, built by my amazing grandpa and dad…may they rest in peace). My upbringing absolutely played a role in wanting to work for Explore Minnesota, or any sort of tourism organization. My dad and mom instilled my passion for the tourism industry and I'm proud of my MN roots. I live the best of all Minnesota worlds. I get to go home to one of our nation's most unique and only freshwater-based national park whenever I want, run around the lakes of south Minneapolis (and shop at Primp. A lot.), work downtown St. Paul and get to visit so many iconic destinations along the way. I'm a city-living, country/lake girl at heart (cheesy, but true). I knew a lot about Minnesota and how to sell a destination long before joining the Explore Minnesota team. I'm so grateful my mom forwarded me the EMT Express job posting (Explore Minnesota's tourism industry newsletter).
I've been a big fan of your #onlyinmn social campaign the last year or so. In fact, I've written about it before. How did that campaign get off the ground, and why do you believe it's been so successful?
I think I counted that blog post on my media report, so thanks! Explore Minnesota was looking for a fresh way to market unique and diverse travel experiences and wanted to elevate our social media presence. The campaign was presented by Explore Minnesota's marketing agency partner, Colle+McVoy and when introduced, the first thing we did was look up #OnlyinMN on Twitter to see if it's ever been used. It was, but in a negative way (i.e. #OnlyinMN would it be -20 below, etc.), so we loved the idea of it being established. We hijacked it by sharing positive experiences that can be found #OnlyinMN.
The #OnlyinMN campaign is the largest travel marketing campaign in the state's history and efforts generated big returns for the state: 3.2 million trips, $337.4 million in traveler spending and $31.2 million in state and local taxes in 2015. Not only is the campaign enticing travelers, but it's changing perceptions of Minnesota as a top place to live, retire, or go to college – the campaign is augmenting Minnesota's overall economic development objectives. Impressive details about Explore Minnesota's recent ROI study can be found here: http://www.exploreminnesota.com/news/details/?nid=1128
The hashtag has been used more than 260,000 times so far and is a Minnesota travel inspiration tool. It's a Minnesota movement.
10 years into your career, you've now spent time on the agency, media, and government sides of the PR world. What have been your favorite aspects of each?
During the last 10 years, I dabbled in news, entertainment, to consumer CPG, retail and now travel/tourism PR, so I had a lot of rewarding experiences from each gig.
Media: I learned how a newsroom really operates at KARE 11 and what they like/don't like about PR professionals. Most importantly, I fostered a few relationships while making coffee.
Agency: I learned the true meaning of of multitasking, managing my time and how to drink free beer.
Government: gaining a broad knowledge of politics and great relationships with the Governor's Office through Governor's tourism events and initiatives, such as the Minnesota Governor's Fishing Opener – a time-honored 69 year media tradition that celebrates travel in our state and serves as the unofficial kick-off to the summer tourism season.
Selecting the "Top Pics of the Week" for your popular Instagram campaign must be one of the more fun parts of your job. How do you go about selecting those pics? And, what have been some of your very favorite over the last year?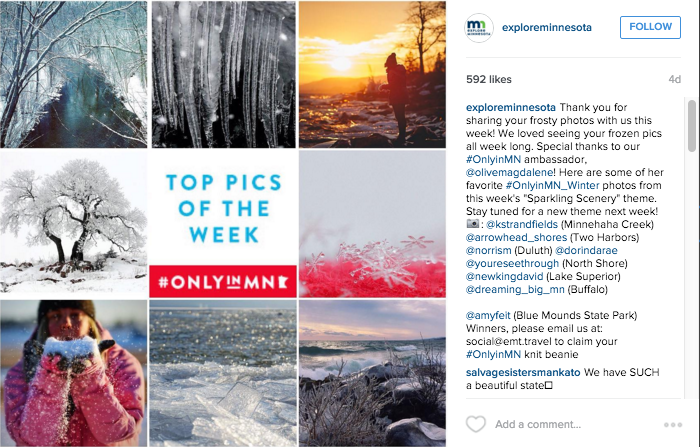 Explore Minnesota's #OnlyinMN "Top Pics of the Week" has been a blast, but I can't take the credit for it since we hired social media rockstar, @CaitlinRick just a few months after the campaign launched.
Explore Minnesota strives to highlight a wide variety of destinations across the state each week. Throughout, Caitlin likes photos on Instagram or pins them to Explore Minnesota's #OnlyinMN hub: exploreminnesota.com/onlyinmn
We receive so many #OnlyinMN photos, so it's a great way to stay organized. We also try to feature a variety of Instagram users, so we're lucky to have such a talented, enthusiastic and passionate Instagram community in Minnesota. Explore Minnesota also launches seasonal theme weeks on Instgram (currently in process, so get out there and start exploring MN) as way to crowd source featured photos. Our audience loves it.
We don't have personal favorites – we love them ALL.
What's one thing you've learned about Minnesota that you didn't know before you started your job with Explore Minnesota?
How truly diverse Minnesota is every which way you travel. From the lake-splashed, tree-covered northwoods, to the vibrant and cultural metro scene, to rolling prairie hills, to mighty Mississippi River bluff country, there is something for everyone and always something new to try here in my home state.
I see from a former tweet, you're interested in teaching an adult class on how to best use hash tags. What would be your first lesson? 
#Pleasedonteverusethislongofahashtagtotellmeyourlifestory. And use #OnlyinMN to leverage your visibility. You're among more than 260,000 uses so far. Become part of a Minnesota travel movement. Change perceptions of Minnesota. Be #MinnesotaProud.
I'm a huge craft beer geek. You're clearly a fan. Top 5 Minnesota craft beers. Go!
You're really testing my mission for geographic-diversity with this one, so I'm going to say that I love all kinds of #MNBeer, because I truly do, and strive to try something different each time. My latest favorite is Northbound Brewpub on Sunday's for the Smokehouse Porter and the porketta breakfast burrito (double #OnlyinMN).
Note: Photos courtesy of Alyssa Ebel and Explore MN.