Minnesota PRSA 2012 Young Professional Award winner. New (relatively) social media director at Maccabee PR in Minneapolis. Master's degree pursuer. What is Christina Milanowski NOT doing these days? That's the question. And, I aim to find out the answers. My PR Rock Stars interview today focuses on a young PR pro here in the Twin Cities I've noticed rising the ranks for a while now. Let's hear what she has to say about her work in PR, PRSA and life as a new homeowner.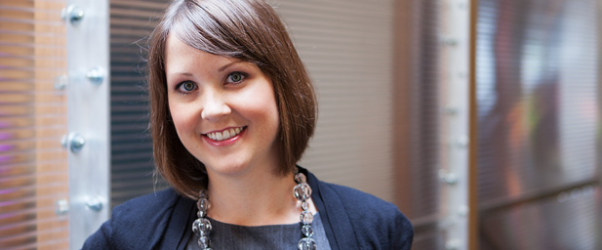 You recently won the MN PRSA 2012 Young Professional Award given to a young pro with "an extraordinary contribution to the professional's organization, the public relations profession and local community." Tell us a little bit about why you won that award (your work, your contributions to the community, etc.)–and what it's meant to you.
It was such an honor to win the Young Professional Award, and I have to thank my colleague Abra Williams for drafting up a stellar nomination (she's good!). Receiving the award at the Classics banquet was magical. It's a humbling experience that reminds me hard work pays off!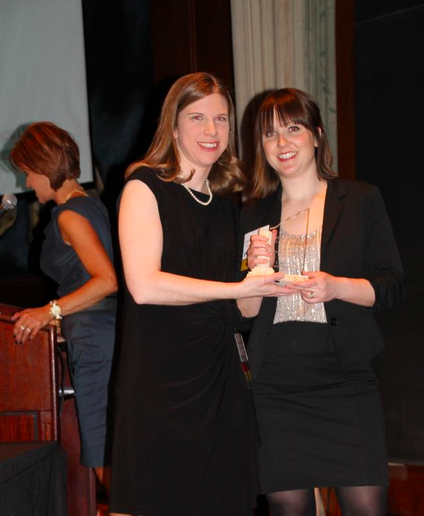 I have been very active in the MN PRSA community over the years as a member and currently as co-chair of the membership committee. I believe strongly that communicators must possess the foundational public relations skills upon which PRSA is founded. And, as demand increases for social media, those writing and strategic communications skills transfer. The "new age" of communication channels, so to speak, is where we're headed, but we're not going to shake the tried-and-true disciplines, such as internal communications, press releases (gasp!), tradeshows and events. Young professionals need a broad understanding of all of this.
You've been at Maccabee PR in Minneapolis for a few years. Before that, you worked on the corporate side. But you worked in social media in both roles. What are the challenges, as you've experienced them, on each side when it comes to social media consulting?
I think there are pros and cons to working in-house and agency and I encourage every counselor to strive to gain experience in both. While working in-house at a legal company, I was able to get my feet wet with SEO (working alongside TopRank), the legal blogosphere (I started a company blog) and the gratification that comes with building our social channels to support it all. I liked honing in on one brand and attaining the "client" perspective that now helps me on the agency side.
I'm coming up on four years at Maccabee later this summer and I've found the agency side to be very meaningful. I've never worked harder than I have now and I've learned that I need to be continually challenged. From a social standpoint, you can have a broader understanding of it as a consultant. Challenging has been the openness and acceptance of social media that varies significantly by client industry, type of company, and size of project. The fun is in prescribing the channels and strategies that are most relevant to each, unique client – and helping them bring it to life.
What's the most interesting project you're currently working on at Maccabee PR right now?
Right now, a great deal of my time is being willingly consumed by leading our agency's inbound marketing efforts. What's particularly interesting about inbound marketing (aka content marketing, lead generation, content strategy) is the implication for PR. At the epicenter is quality content and who better to manage that then practitioners schooled in journalistic standards? Delightfully, it marries social media, content writing, website and SEO strategies, and email marketing into one integrated strategy. The power!
Maccabee signed on to HubSpot about a year ago and has since explored all of the bells and whistles and strategies and tactics necessary for the inbound marketing model. We've seen the power first hand – site traffic is up, we've launched the MaccaPR blog, and we're connecting with business prospects in new, engaging ways. Plus, this project has given me the hands-on experience to translate the strategy for clients.
You're currently pursuing your Masters at the University of St. Thomas (good for you). My theory has always been that the MBA does much more for you on the corporate side than it does on the agency side (I've seen it first-hand). Why did you decide to get your MBA? And, what do you hope to achieve as a result?
Pursuing a masters in business communications (technically an MBC) has been one of the most impactful moves I've made in my life. The spark you get from sitting in a classroom and collaborating with your classmates (or finishing your homework just in time) is unmatched in the workplace setting. At St. Thomas, MBA and MBC students often share classes, allowing me to learn alongside and from working professionals much different than me – engineers, accountants, HR benefits managers and medical device sales reps.
As to what I want to achieve, more knowledge and to feed my drive to keep on learning. Still, I know there are practical implications for my work with clients. I've learned a solid understanding of what makes corporations tick – ultimately, the bottomline – and its invaluable from an agency or corporate side. Ultimately, I'd love to earn the respect of business owners and professionals by being seen as a business and PR counselor.
You're also active in the local PRSA chapter. Why do you spend so much time with PRSA and how has it helped you in your career so far?
In addition to PRSA's focus on core knowledge for communicators that I talked about early, I've most loved the networking. There's a lot of opportunity to get to know fellow PR practitioners in our community through chapter events. Minnesota PRSA members are so welcoming and smart.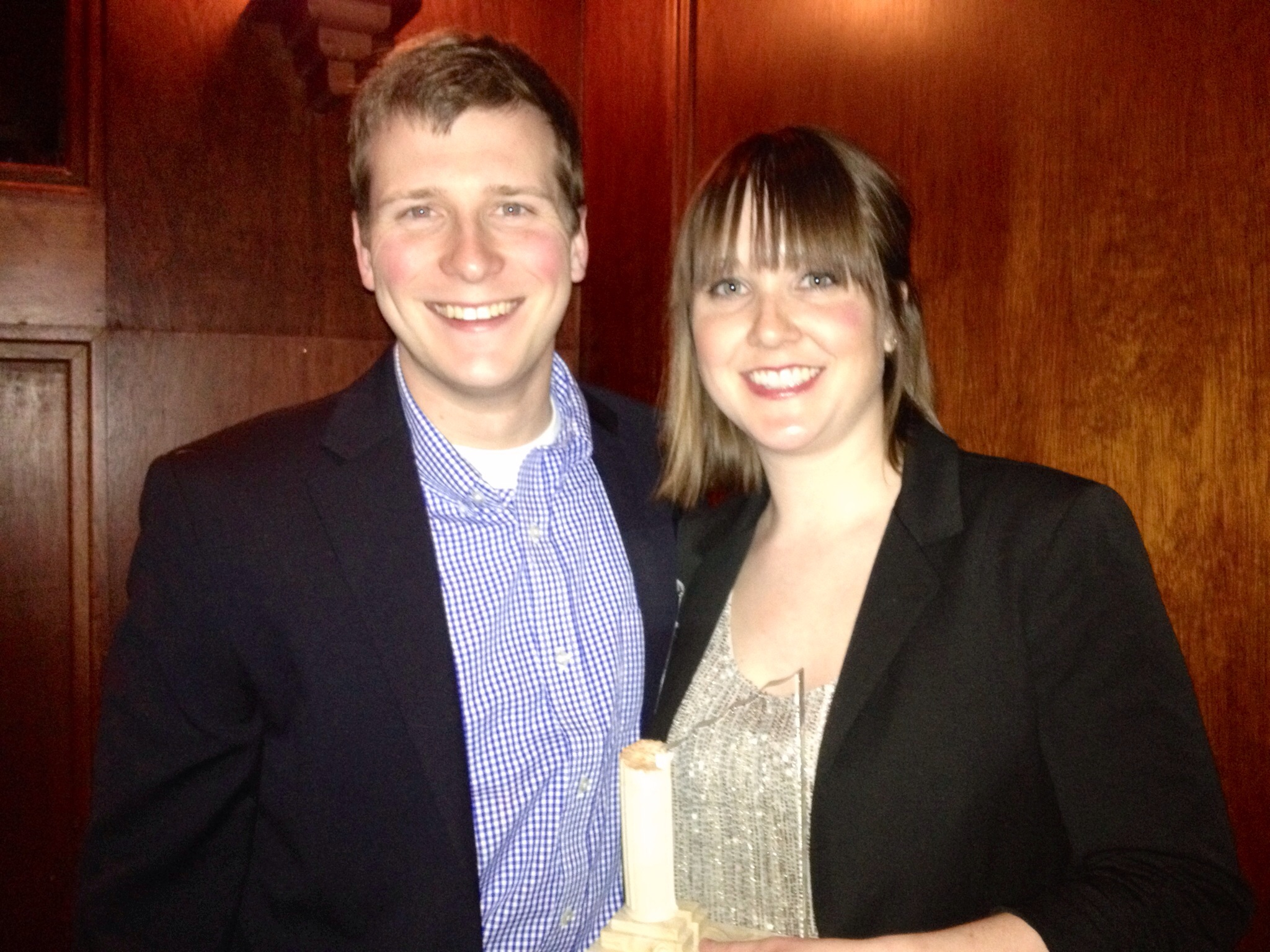 I also see you're a new homeowner. And a Minneapolis homeowner, which I like to see (we live in the Hale/Page neighborhood in South Minneapolis). Why did you choose to live in the city and what have you enjoyed most so far about being a homeowner?
My husband Nick and I chose to buy in South Minneapolis because we love the city. Minneapolis has a great vibe and it's been awesome to both work and live here. Maccabee is in the Warehouse district, so I can easily bus in the winter, bike in the summer-like months, yet still drive and park on the street, if need be. I particularly love biking to work – all five days last week, woohoo! In Minneapolis it's so accessible and oftentimes a far better option than driving. Since becoming homeowners two years ago, we've most enjoyed our own backyard, adopting a rescue puppy (Ayza!), and having easy access to the lakes, restaurants and great people in the city.