One of the big drawbacks of working as an independent consultant is that you're completely disconnected from the workplace and working with other people. And, for me, since many of my clients are more on the senior side, I feel even more disconnected from younger people.
Bottom line: I rarely get a chance to work with people like Bianca Jones.
And that's really too bad, because Bianca seems pretty great. And I only say "seems" because I don't have any direct work experience with her. But, I'm sure if I asked her colleagues over at Best Buy, or her teammates on the Classics committee with MN PRSA, I'd hear many, many compliments.
Let's hear more from this PR Rock Star about her experience at Best Buy, how volunteering with MN PRSA has shaped her thinking, and how we can attract more diverse candidates to the PR industry.

First, tell us more about your current role at Best Buy.
My current role is twofold – I assist with PR on the product side of Best Buy, meaning I work with our merchants and vendors on launches of new products, key drive times, promotions, etc. I also handle proactive and reactive media relations in the "mid-Atlantic" region of the U.S., from Chicago to Washington D.C., which involves pitching story ideas like back-to-school and holiday shopping, but also handling stories about incidents in our stores. We have a team member assigned to each of our retail territories so our stores have a specific point of contact and we can build relationships with local reporters.
What's the most interesting part of your current role?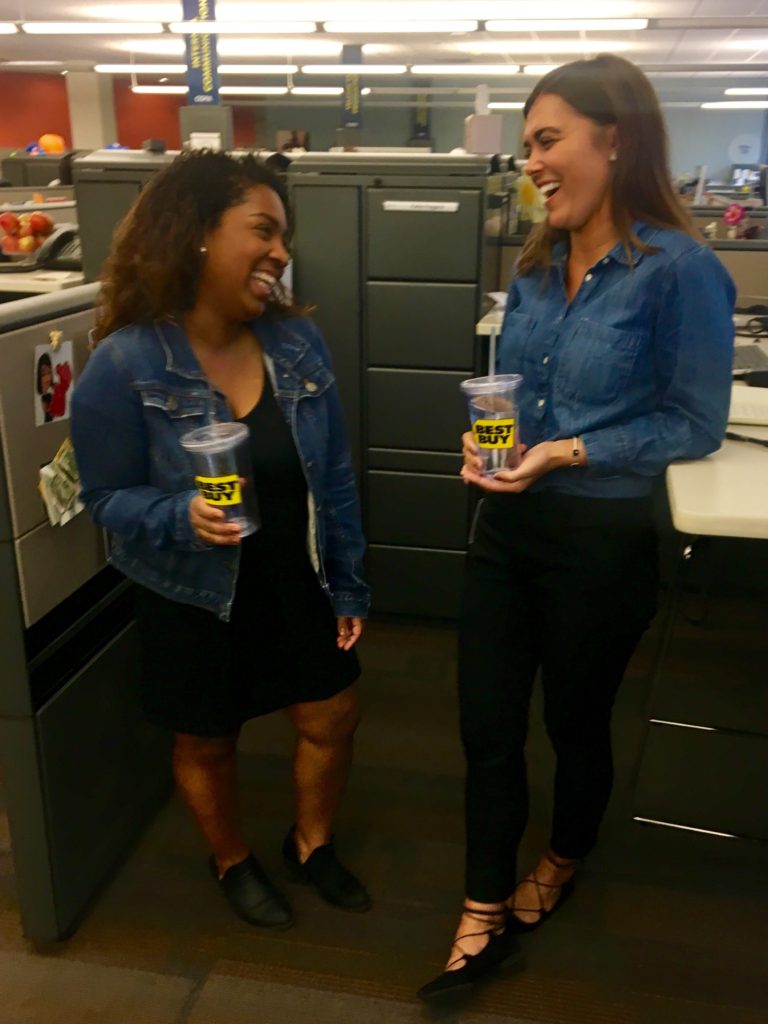 I get to work with so many different types of media on a daily basis – from tech outlets to both long- and short-lead lifestyle/consumer publications, to national and local news stations. I love being able to flex in and out of working on multiple stories at one time, and build relationships with so many different types of reporters.  We, as a team, put a lot of focus and energy on the importance of building relationships with reporters, outlets and our stores. We all get out into the field on a regular basis to meet with our store leadership, identify great Blue Shirt spokespeople and meet with reporters. Those relationships have proven to really pay off in the long run (especially when a not-so-great story comes up).
We're also a fairly small team (about 12 on the external communications side), so we have exposure to a lot of different experiences – including crises. When you have over 1,000 stores around the country, not-so-great things are bound to pop up, so I've gotten quite a bit of experience in crisis communications including how to work with local law enforcement, preparing statements. etc. We also have an all-hands-on-deck mentality around quarterly earnings, so everyone has a role that day and is expected to have a grasp on what we are reporting and what it means for the overall business.
You joined BBY fairly early on in their transformation. What's it been like working for a company that's going through that change–at a very fast rate? And, what's it been like working for a company that has found itself in an underdog-type role in the last few years?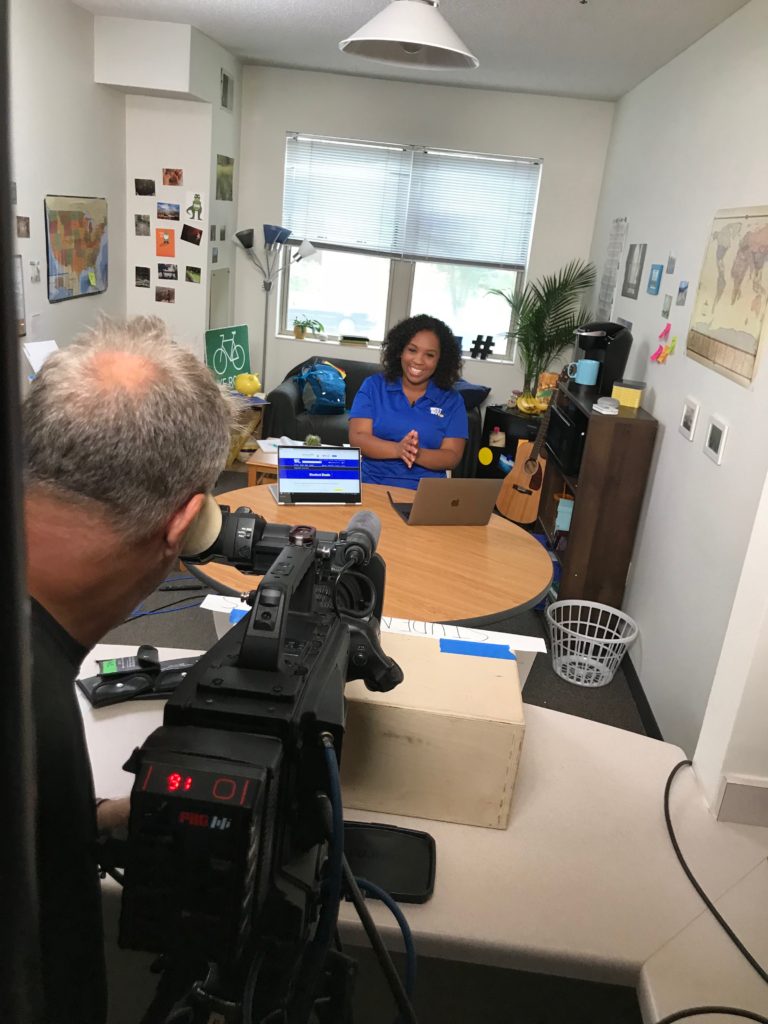 It makes you hungry! It's great to work for a company that went through a transformative turnaround, but we still sometimes feel the weight of media who sometimes insist on calling us "the underdog." I've been able to do my fair share of identifying unfair stories and "fighting back" with reporters on both accuracy and tone, which has helped broaden my PR skillset (and get a few stories and online headlines changed, too). The attitude of our team is that no error is too small to ignore.
It has also taught me the importance of not taking things for granted, and really grinding to make every story as best as it can be. As we have experienced, all it takes is one negative headline to completely unravel the public's thoughts on the company. But, it's the great stories (like this one inBloomberg) that makes work worth it. Our team has worked really hard to change the narrative around Best Buy. Obviously improved business results go a long way, but we have spent years fighting against the assumptions from media that we were not going to survive and we have changed how people talk about us.
Before joining BBY, you worked at four separate PR agencies. How did that agency experience prepare you for your role in corporate PR?
Working at agencies taught me the beauty of multitasking and prioritizing. Most jobs require that skillset, but when you're in a fast-paced agency world, you're forced to learn it so much more quickly. This certainly came in handy during my first Black Friday – the pace was unreal as we manage media visits to stores in nearly every media market in the country over that weekend, but I was ready for it.
And, more than anything, it helped increase my confidence. There's a reason why I tell  new professionals to "be a sponge" – I learned so many different things from every agency and every colleague I worked with, and I've been able to take experiences with me to Best Buy. Whether it's how to work with a reporter, or asking the right questions in meetings, it all has helped mold me.
You've been a member and key volunteer with MN PRSA for years now, recently helping lead the MN PRSA Classics event. How has your work with MN PRSA helped kickstart your career?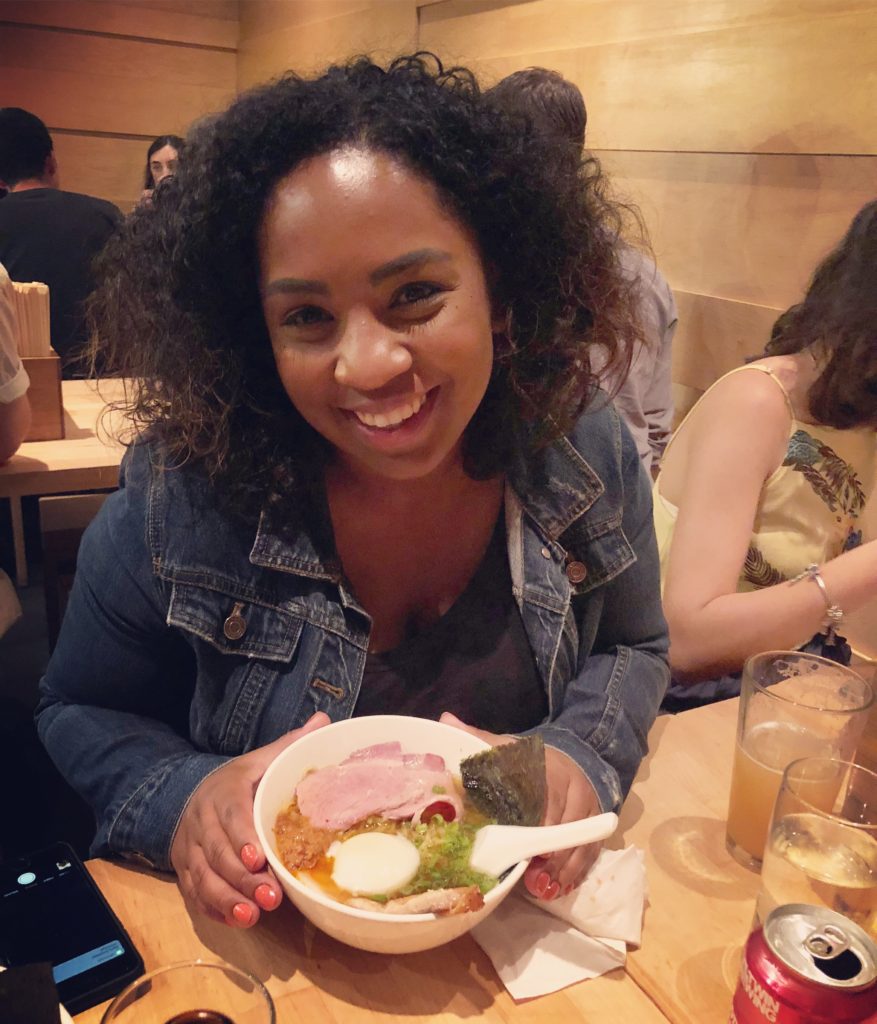 For starters – the networking. I've worked on the Classics committee for over four years, and have met a ton of people from all different types of PR backgrounds. It was really helpful in my early days of trying to figure out what exactly I wanted to do with my career, and now its provided a great foundation for me to build on.
Working on Classics has also given me a chance to work on something outside of my job, and learning the delicate art of balancing my job duties and volunteer duties. There is definitely a lot of benefits to working on a team outside of your job – it's an easy way to learn how to work with different work and communication styles. In the end, it has helped me stretch myself, and become more reflective on how I work with others.
You were previously a mentor with The Brand Lab, an organization devoted to cultivating more diversity in the creative fields. We talked about this when we met for coffee, but how can/will that work help bring more diverse candidates into the PR field in the future? What else can we do to get more diverse people and viewpoints in our industry?
One of the biggest challenges in this industry is that potential candidates don't see themselves in this field, so exposure is key and organizations like the Brand Lab offers just that. Whether its dedicating your time to become a mentor, or hosting an intern for the summer, you're providing teens an experience in a field that they may not have considered before. At Best Buy we've had a number of Brand Lab summer interns, many of whom expressed that they had no idea that an industry like communications existed.
Networking is hard for everyone. Period. But being a person of color in networking situations can feel extra difficult. Look at some of our professional organizations in town – the diversity can be extremely limited. And being in that situation as a POC, you automatically feel like you don't belong, becoming even harder to make connections. So I encourage those at networking events in town to expand your circle beyond the group you may be with. This helps create opportunities for those who don't often get it, because that's how we cultivate more diversity.
Lastly, it's not just hiring people that will solve the issue, but making sure the feeling of inclusiveness is there. Keeping people there is also important. I love working at Best Buy because I'm able to bring my full self to work. I can share my background, views, and life experiences to a team that is primarily white, but values every ounce of who I am.
Last question: Career highlight so far?
My first "A1" story – above the fold J
It was with the Denver Post, covering a Black Friday "dress rehearsal" for employees at our Aurora, CO store. We treat these stories as exclusives, so I had spent months building a relationship with the retail reporter, since this story requires a high amount of trust (some of the content discussed during the training is highly confidential). I also spent a long time identifying the perfect store and manager within my territory, and going through all of the necessary media training with him. Luckily, the day went off without a hitch, and the reporter was accommodating to my requests for tweaks.
I finally got the paper in my hands, and it felt pretty surreal to see all of my hard work in print. I think sometimes we're always so quick to execute on pieces of work, then move onto the next thing, but I always find it humbling to go through old pieces and reflect on where you've been (and also critique yourself along the way J)
OK, I lied–last question: You seem to be somewhat of a sports fan. One sports figure you'd love to have dinner with, dead or alive (and why)?
My choice would definitely be Serena Williams. I've been inspired by her since the beginning of her career, and admired everything she has done for sports and young women (especially those of color). All of this on top of facing endless negativity from the public, and people doubting her abilities along the way. And to see her journey through motherhood, and making to the Wimbledon finals 10 months after giving birth – it's all so remarkable. Let's be honest, dinner would definitely consist of me gushing over her for two hours.
Fun fact: I am a Packers fan BORN AND RAISED in Minnesota. Yes, I'm the worst. But I'm also a huge Minnesota Lynx fan, so that evens things out, right?