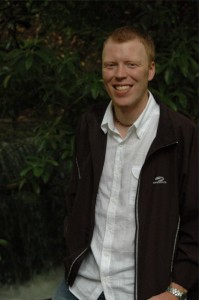 If you work in the world of PR, marketing and social media and you're not following Dave Fleet, you may want to start. NOW. The guy churns out thoughtful, compelling and useful content on a regular basis–all on top of working at one of the top digital agencies in North America: Thornley Fallis. Oh, and by the way, he's also a hell of a guy. Without further introduction, let's meet this Canadian Rock Star…
You've had an interesting path that led you to Thornley Fallis. You spent a number of years working for government, you've worked for a bank. How did that experience help you land a job at Thornley Fallis, one of the most well-respected PR and digital agencies in North America?
I think the primary benefit I gained from my prior experience was an understanding of different aspects of communications in different organizations. I worked in a web development role for a bank in the UK; I worked in a web management role for a tech company; I worked in strategic communications in a few different positions for government here in Canada.
These different perspectives have helped me to be able to consider things from different angles, and the web experience has certainly been an advantage at Thornley Fallis.
I think the thing that landed me my current job lay on top of my professional experience – which was my activities in the social media space. My site caught Joe Thornley's eye, we connected and subsequently agreed there was a fit with Thornley Fallis. 
Your blog, davefleet.com, is generally considered one of the top blogs in the PR industry. You're listed in the AdAge 150, you're the top PR blogger on Scribnia and you were nominated by your peers for the PR Reader's Choice Blog Awards earlier this year. You don't get that kind of recognition and readership without producing compelling content on a regular basis. With your agency job, how do you keep up and continue to start meaningful conversations on your blog day in and day out?
It's actually quite easy. I work with a fantastic bunch of people like Michael O'Connor Clarke, Joe Thornley, Terry Fallis and Kerri Birtch, who challenge me to answer questions like the ones I pose on my site every single day. I just take the issues that I face during the day, raise them to a more general level, give my opinion and ask what people think.
I think I learn more from the comments on my site than readers could possibly learn from me.
This is the second Toronotian (is that even a word?) I've featured in the PR Rock Star series (Danny Brown is the other). I know IABC has a huge membership in Toronto, your PodCamp drew huge crowds earlier this year. What makes Toronto such a strong digital and PR community?
Toronto has a fantastic social media and PR community – it seems there are events almost every day (Third Tuesday Toronto, PodCamp Toronto, SproutUp, CaseCamp and HoHoTO come to mind immediately, but there are way more) and we have some of the scene's leading thinkers here.
Part of it comes from the market – lots of companies have their headquarters in or around Toronto, so there's a concentration of companies and minds here. There's a bit of a chicken and egg situation with the events too – we have them because there's such a good scene here, and we have a great scene here because of the events.
I wouldn't discount other Canadian cities though. Places like Vancouver, Ottawa, Montreal and Halifax have a great scene too.
You're pretty open about your love of the outdoors—particularly running. In fact, you blog about your running experiences over at Toronto Runner. Why are you so passionate about running and how does it help you maintain balance and sanity in your life?
I'm an all-or-nothing kind of guy. If I'm going to do something, I'm going to give it 150%. If I can't do that, I just won't do it. When you work and live that way, you need a way to tune out of work. Running lets me do that (although I take the same 150% approach to running). Plus, it gives me time to consume the 20 or so PR and marketing podcasts to which I subscribe.
To be honest, I've let it slip over the last year, and the Toronto Runner site is pretty much mothballed – another casualty of the 24-hours-in-a-day restriction. One of my commitments to myself is to get this back on track and I plan to run the Boston Marathon again next year, so the running is far from over.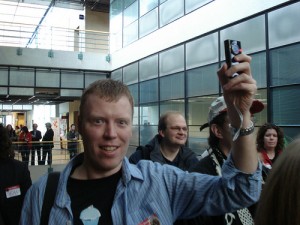 You clearly outline tips to pitch you right on your blog. While those tips seem obvious to many, you clearly posted them for a reason. And I'm guessing you've received your fair share of bad pitches in the last year or so. What advice would you give to PR pros just learning the social space about blogger relations? What are the keys to success?
I receive a large number of pitches and the majority still miss the mark. Each one makes me cringe – while I'm forgiving as a fellow PR guy, each time I think of all of the people who received the same pitch and who might not be so friendly.
My first tip would be to remember that you're not just pitching to a name on a list. Just as with media relations, you're pitching a person with interests, history and a personality. One big difference is that most bloggers aren't paid to write their sites and they don't have to produce a post every day – if they don't want to write, or if you make it hard, they just won't.
You can do a bad job once, but you may not get asked to do it again. Do it right the first time.
Take the time to get to know the bloggers in your field –  read their sites, comment on their posts, meet them at events. Get to know what they write about, what angles they take and how they like to be pitched (and whether they like to be pitched at all). Some people will post pitching tips like mine; others won't be as obvious. Either way, the up-front work will pay off in the long run, and the results should speak for themselves.
About Dave Fleet
Dave Fleet is an Account Director at Thornley Fallis Communications, a full-service public relations and digital agency with offices in Toronto and Ottawa.  When not in the office or on the intertubes, Dave can be found pounding the pavement in pursuit of his next marathon.
You can read more from Dave on his public relations, social media and marketing blog or connect with him on Twitter or LinkedIn.