Four years ago, Missy Berggren and I started the first conference in Minnesota solely devoted to Minnesota bloggers: The Minnesota Blogger Conference.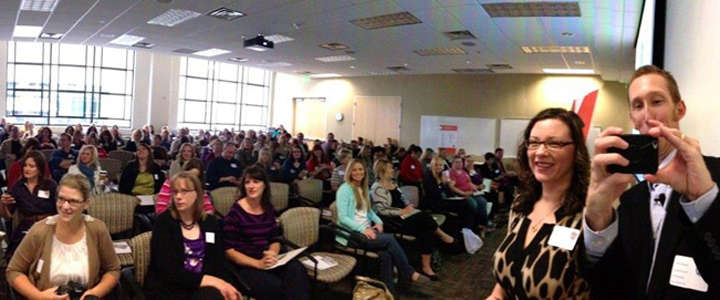 We started the event because we saw a need (at the time): to help bloggers from different walks of life, who blog about different topics, come together and learn from each other. And, to be honest, just to network and get to know one another.
With the help of many, many people, we've pulled off four #mnblogcon's.
It's been exhausting. Fulfilling. Time-consuming. Informative. And most of all, a heckuva a lot of fun.
But, our run has come to an end–well, for now, at least.
Last year, Missy signed on with WCG here in Minneapolis. She also joined the board of directors for the Food Allergy Support Group, and signed on as a key member of the planning team for the local Social Media Breakfast chapter. All this meant fewer hours to devote to labors of love like #mnblogcon.
Similarly, new commitments for me to the MIMA board of directors, the Winona St. Alumni Association, Bolder Options and Goodwill (in addition to client work!), have filled up almost all my "free time."
Enter Mykl Roventine and Jen Jamar.
Missy and I have known Mykl and Jen for years. Big contributors locally. Bloggers in their own right. And great people.
When they showed an interest in taking the #mnblogcon reigns, we couldn't resist.
We wanted #mnblogcon to live on–after all, we've seen tremendous demand for the event, and continue to field inquiries about this year's #mnblogcon. So, naturally, we wanted to secure its future. With Mykl and Jen leading the way, Missy and I are extremely confident #mnblogcon will be on the right path.
Missy and I will still be involved in advisory roles, but Mykl and Jen will be handling all the day-to-day and planning details. In essence, #mnblogcon is now Mykl and Jen's baby.
But Missy and I plan to be at #mnblogcon this fall. We wouldn't really miss it for anything.
So, I hope you'll join me in welcoming Mykl and Jen to the #mnblogcon family and wishing them the best of luck with this year's event.
Missy and I have nothing but the highest of expectations 🙂
PS: If you're interested in volunteering to help with #mnblogcon, or you're interested in sponsoring, please contact Mykl at myklroventine@gmail.com. Look for more details on the event at www.mnbloggerconference.com.