This post is the third in a continuing series around what PR folks wear to work.
I started with the agency folks.
I then moved on the corporate folks.
And today, I'd like to highlight one of my favorite groups–solo PRs!
I tried to select a good mix of folks. Solos who work from home. Those who work from coffee shops. Those who rarely (if ever) see clients. And those who work from mountaintops (oh, you think I'm kidding? Read on!).
For those of you who might be considering a role in solo PR at some point down the road, I thought this might be enlightening…
Laura Scholz, @laurascholz, Scholz Communications, Atlanta
I have many jobs (officially: owner and President, Scholz Communications; Pilates Instructor, Urban Body Studios; Contributing Writer, Eater Atlanta), so I'm often running from one thing to another and in and out of workout clothes, so my clothes need to be easy, stylish, and comfortable.
-tank: Tanked, Inc. , a company a friend of mine started that does novelty tanks. It's pretty and comfortable, and I can easily throw on a blazer and make this outfit go to a meeting or night out.
-leggings: lululemon, In the Flow Crop II; Comfortable, flattering, and like wearing Spanx. This is our favorite crop of the summer.
-camisole (under tank): lululemon Power Y Tank; I own about 12 of these tanks, mostly in black. They form my base layer most days.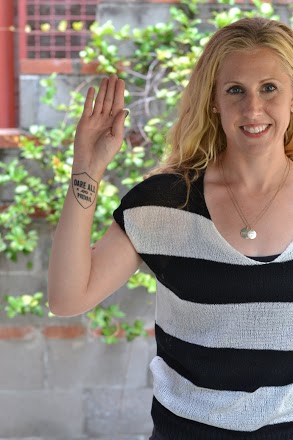 -tattoo, Only You Tattoo and designed by Scott Hidinger; in memory of my friend Ryan Hidinger, who died of cancer this past January. He founded The Giving Kitchen to help other restaurant industry workers in times of crisis. I am on the marketing committee for the organization. The tattoo is a great conversation piece for talking about Ryan's legacy and TGK out in the community. Most people recognize the slogan and shield. Ryan's late wife, Jenny, is one of my best friends and has the same tattoo.
-necklaces, Erica Sara Designs; Erica's a great friend of mine, and my husband commissioned both of these necklaces for me. One says "breathe," which is a great mantra for an asthmatic runner and Pilates teacher. The other says "too," which is what my godson says when you say "I love you," and also has our anniversary, February 27, 2009, engraved on the back.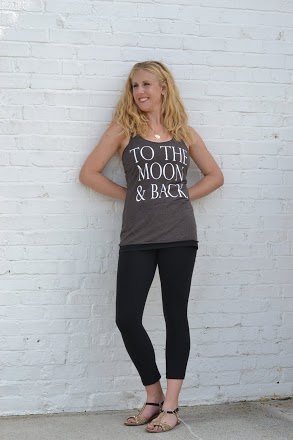 -I like to add fun sandals to the outfit if I'm meeting friends for lunch or drinks. These were a bargain from Steve Madden on Piperlime. I think they were $29.99 on sale.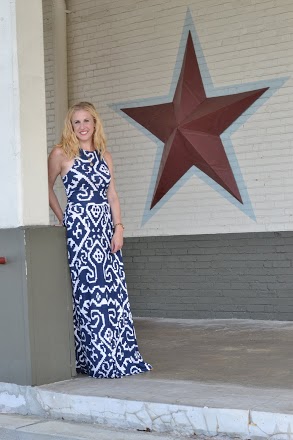 I find that in the sweltering Atlanta summers, a well-cut maxi dress is the best way to look pulled together for a work meeting, lunch, or media dinner out. This one is from Anthropologie, and I bought it at the tag sale last week for $69.99. I loved the color and the print. I usually wear neutrals–this is about as much color as I'll wear. You can't see the shoes, but they are these amazing Vince Camuto cut-out mules that go with everything.
Bracelets: Mostly in rose gold and gifts from friends. Rose gold studs from Bauble Bar. My engagement/wedding ring was my grandmother's and is rose gold, so that's my favorite metal.
Photo credit: Mary Elizabeth Kidd.
Lisa Gerber, @lisagerber, Big Leap Creative, Idaho
For the record, I've never been asked to participate in a blog about fashion and I'm sure there is a reason for that. But here goes. I'm all about efficiency. I work many hours but I love to play in the mountains. Fortunately, the trails and the mountains are out my front door. My meetings take place on Skype and Gotomeeting for the most part, so I just have to dress from the shoulders up. I might be wearing yoga pants, or bike shorts below the screen, ready for a quick break to go mountain biking or trail running.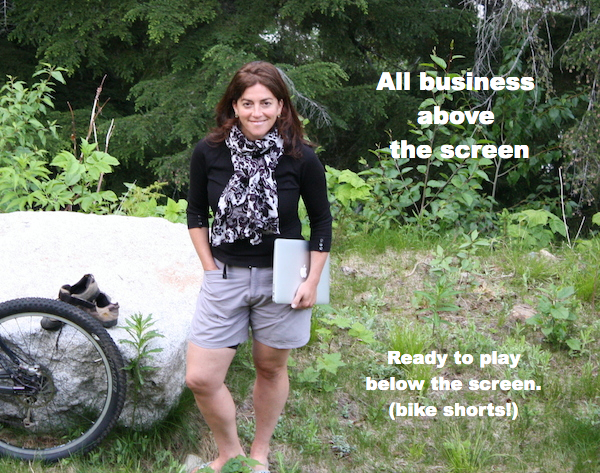 That's why I might have a nice sweater/scarf combination with makeup, earrings and hair done… paired with bike shorts (pictured here). Quick changeroo and I'm out the door. I schedule that time in my calendar. No one needs to know what it is. As far as they are concerned, "I have a meeting or an appointment." It's all about priorities, and if I don't get my downtime, my creative energy becomes sapped pretty quickly. Pro tip: Don't stand up during meetings. 🙂

Jill Wigal Van Nostran, @jillvan, Van Nostran Communications, Indianapolis
Years ago when I worked at an agency, my wardrobe was almost completely comprised of suits and business-casual wear. I had maybe just a few casual outfits.
That all changed when I went solo. I realized one day that my suits had (mostly) been replaced by hoodies and yoga pants…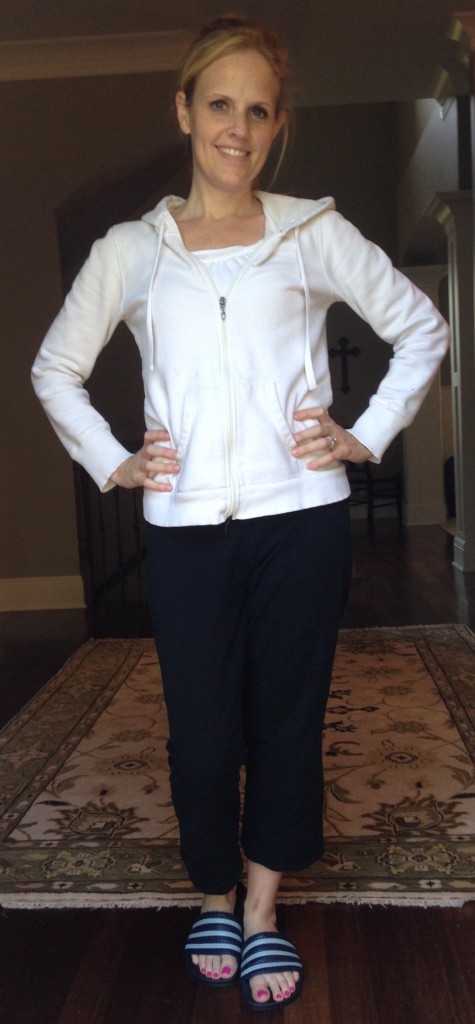 The hoodie. My version of the Power Suit.
…and my fabulous pumps had been replaced by my fabulous Adidas Slides.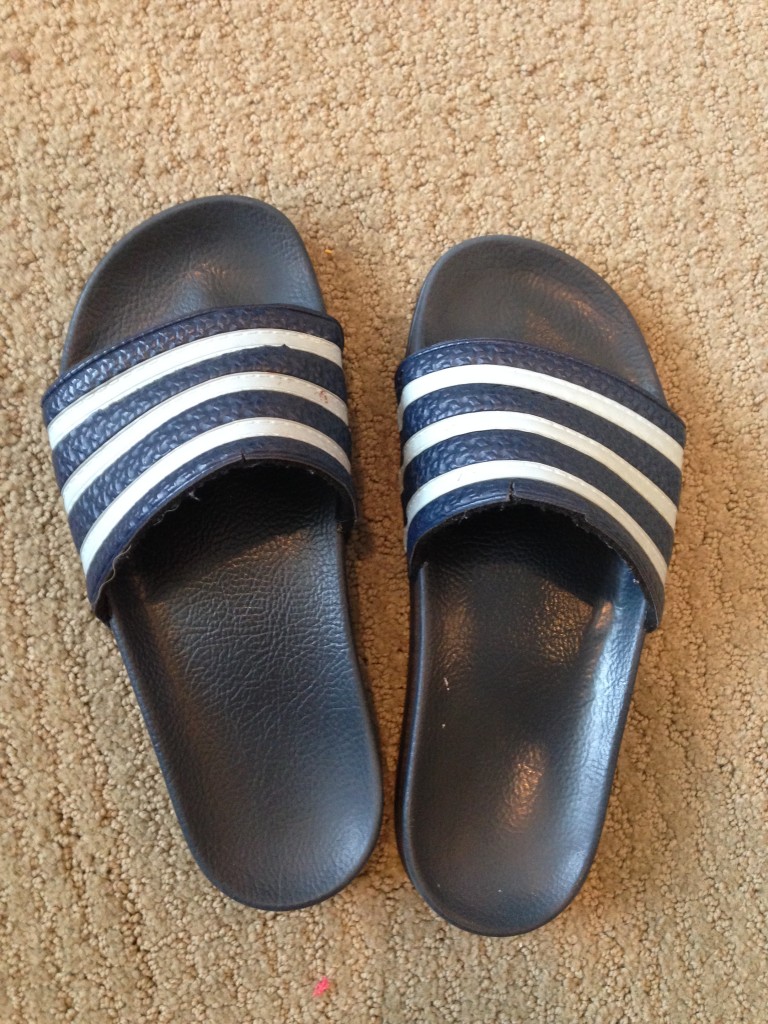 Who says only Manolo-wearing practitioners can do smart digital and comms strategy? I swear my Adidas Slides make me smarter. J
After all, no need for a power suit when your office is in your house, and you don't daily see clients. None of my clients are local. It's possible—if I allowed it—that I could go days without seeing another person besides my husband and kids.
Thankfully, I have lots of communication tools at my disposal, not just because I work in the tech industry, but because of their prevalence in all types of workplaces. I barely go 20 minutes without talking to a colleague or vendor or advising a client on their marketing or communications strategy.
But I'm happy to do all that in my hoodie and yoga pants—sometimes in makeup, sometimes not; sometimes hair coiffed, but mostly rocking the top knot—in the comfort of my own home office.
Lest you think I forever walk around looking like a complete scrub, I do break out the suits and business-casual wear every time I travel to meet a client in person. Or if I have lunch meeting, I'll dress up.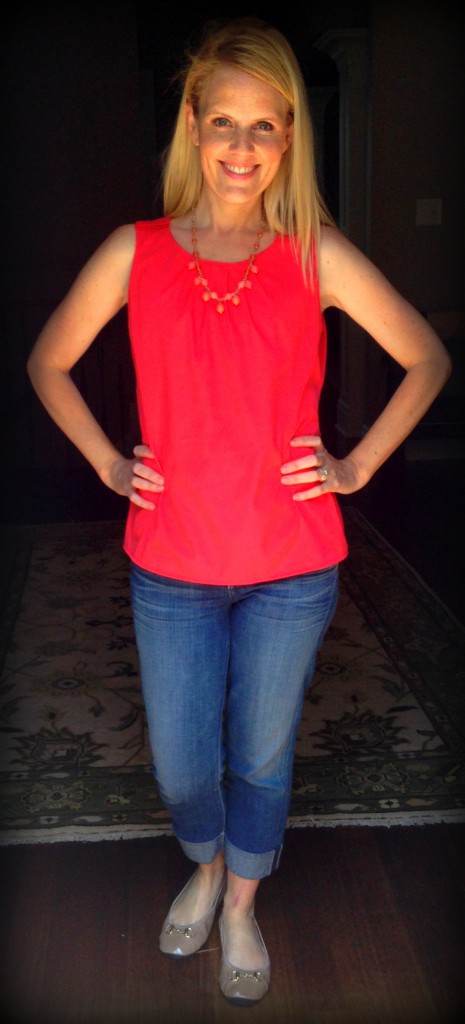 Here, I had a lunch meeting, so I put on my fave pair of capri jeans and paired it with a blouse and a necklace. It occurred to me that for office people, this is actually dressing down.
I just subscribe to the philosophy (or George Michael lyrics, if you please) "sometimes the clothes do not make a man." Nor do they make the solo practitioner. I'm quite content to help clients do great marketing and PR—all in my beloved hoodie and yoga pants. J
Karen Swim, @karenswim, Words for Hire, Akron
One of the many benefits of having your own business is the freedom to create your own work environment. I worked at home, when not traveling or in the field, for 10 years before starting my own business and always "dressed for work." On most days, no one sees me but I am not a fan of working in pajamas or sweats. I would feel weird having a phone meeting in PJs! For me, clothes put me in a work frame of mind and help me to be more productive. I'm sure we can blame this on my mother who instilled in me that you show up to work early so you get the chitchat out of the way and you dress appropriately. So if it seems rigid, blame my mother!
In the winter months, I am more casual and will wear jeans and layers, lots of layers! Moving from California to Michigan, winter is still tough for me. Most days I like to dress up jeans a bit with nice tops, blazers and cute high heeled boots but some days I'll have a little fun and even show off my alumni school spirit.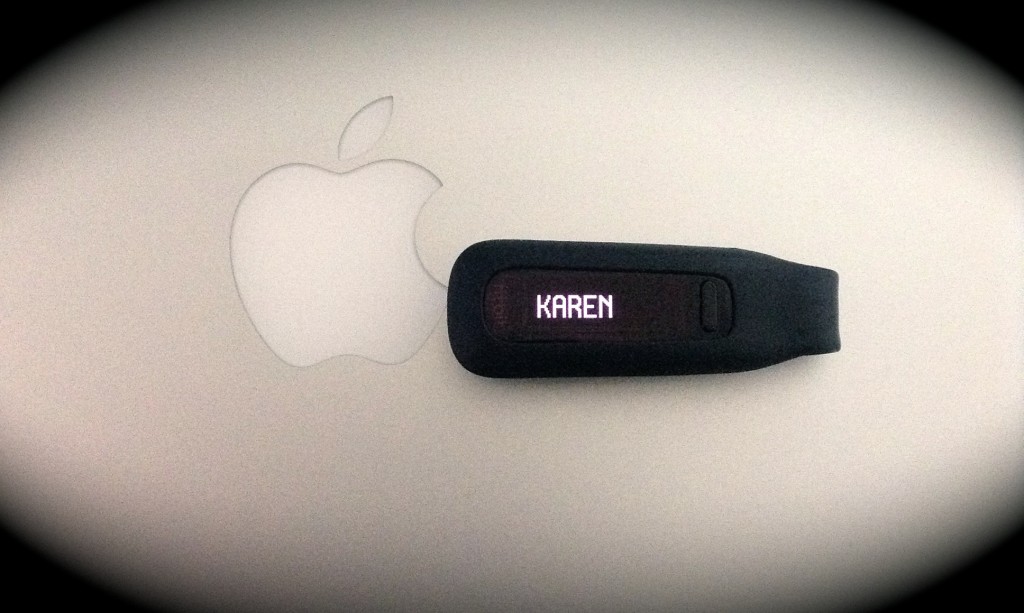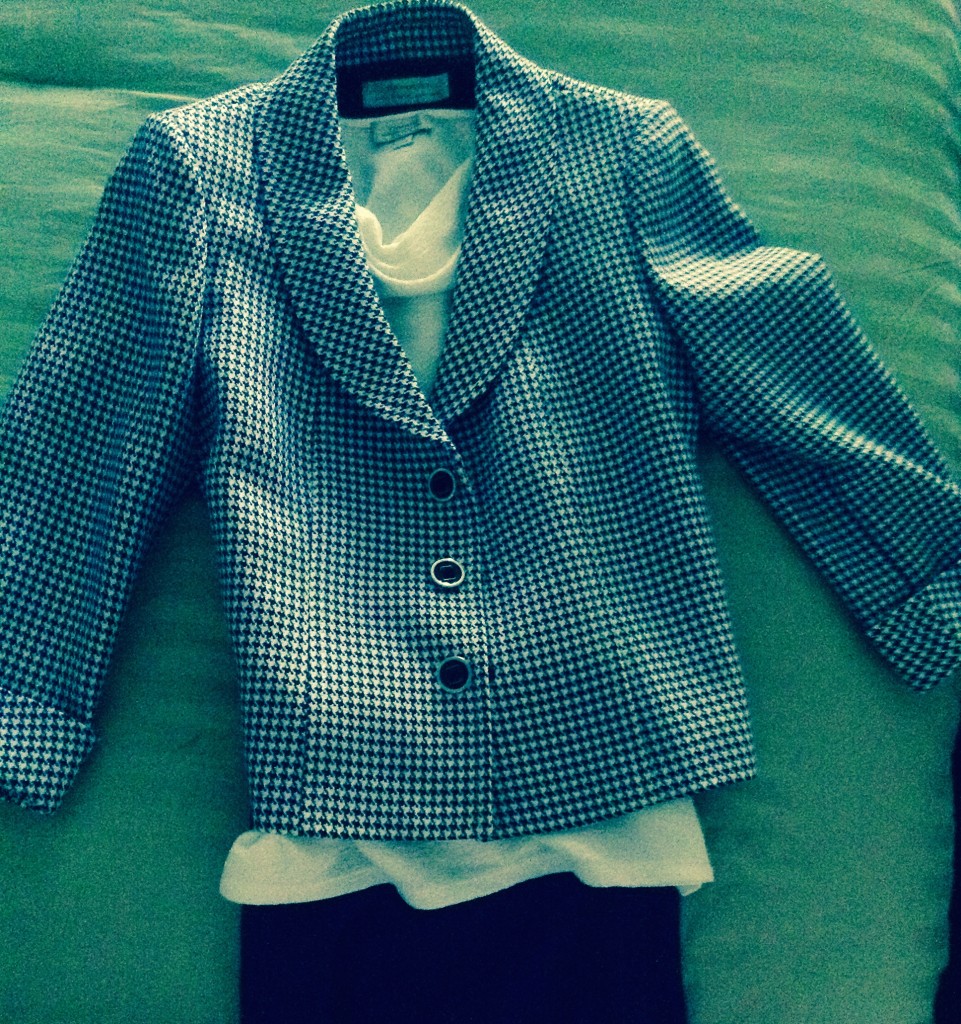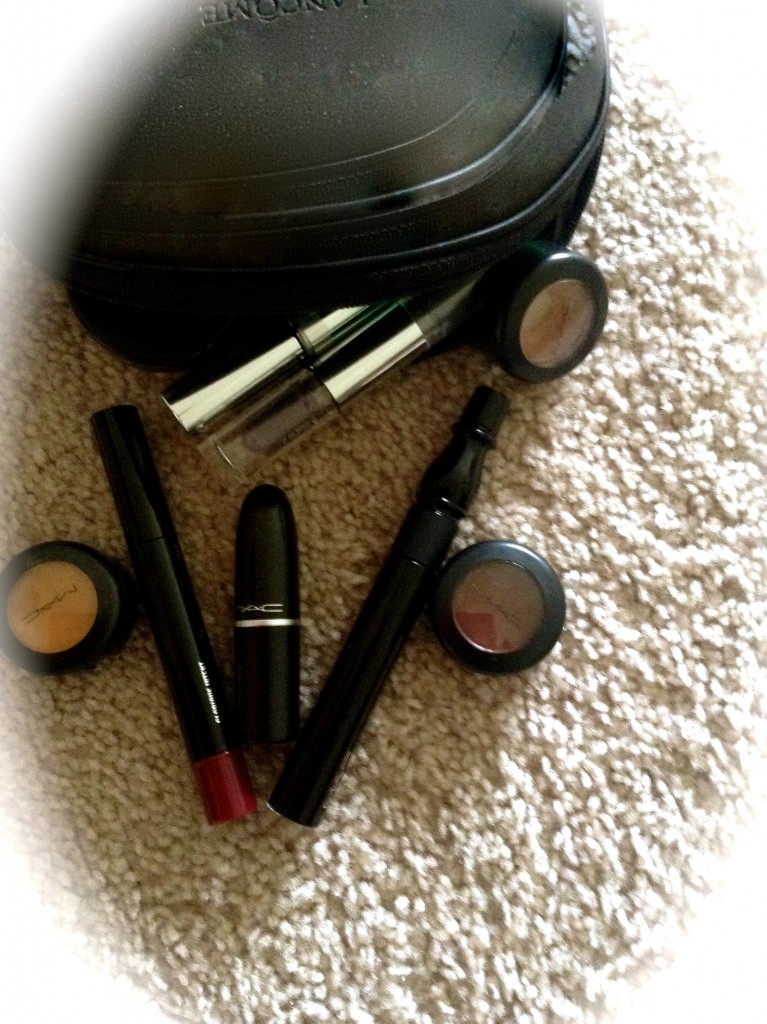 LuAnn Glowacz, @luannsaid, Word Cove, Austin
It's summer, I work from home, and I live in Austin, Texas. That combined: It's difficult to leave the flip flops, aviators and jean shorts in the closest. To be completely honest, I usually work in either my PJs or my workout clothes. Once I switched from mostly media relations to mostly executive ghost writing about two years ago, my days of leaving the house for work or to meet with the press have dwindled to very few and far between.  I'm also notorious for working barefoot, even before I worked from home (see the photo from my backyard—shorts, jean shirt and my one-and-only Stella & Dot splurge: a cuff bracelet).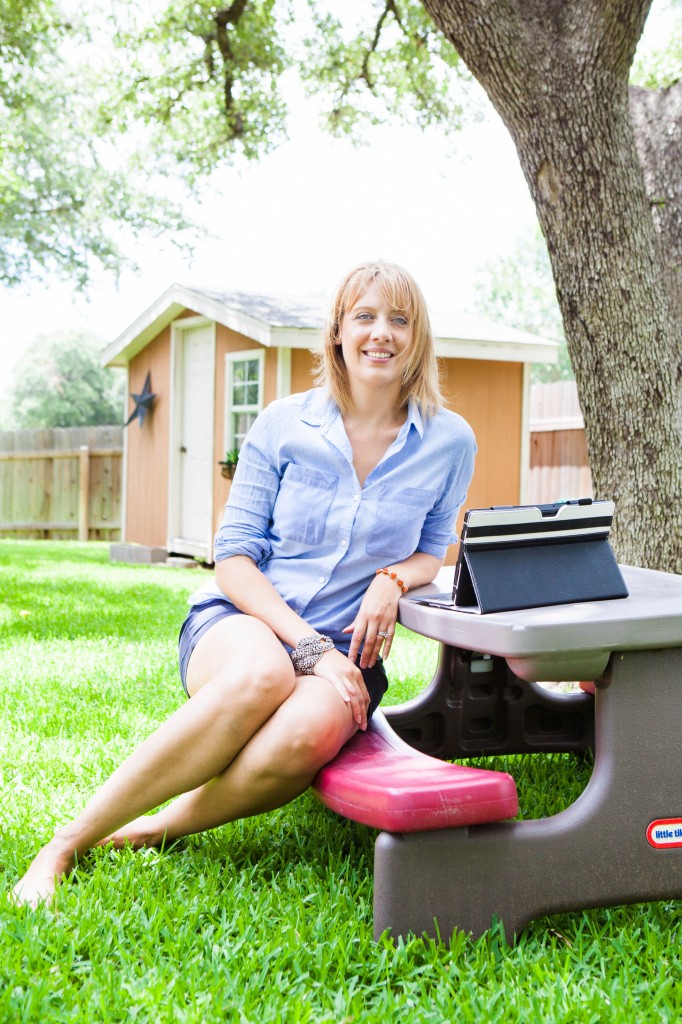 I try to schedule lunches and coffee meetings around my "standing" appointments—monthly client meetings, Freelance Austin, and networking events—to make the best use of my non-writing time. I'll often find myself with downtime between gigs on those days, so even my professional wardrobe needs to be comfortable and versatile enough for a few hours of coffeehouse working. Here, I had back-to-back lunch and coffee meetings and arrived dressed head to toe in my new favorite neutral: navy (the shirt is from Nordstrom Rack, the pants from Target, and the shoes are amazingly comfortable Anne Klein kitten heels. Oh, and the Louis Vuitton? It's a cherished gift from my mother-in-law. It actually fits my Windows Surface Pro, old-school notebook and regular purse junk…with room to spare.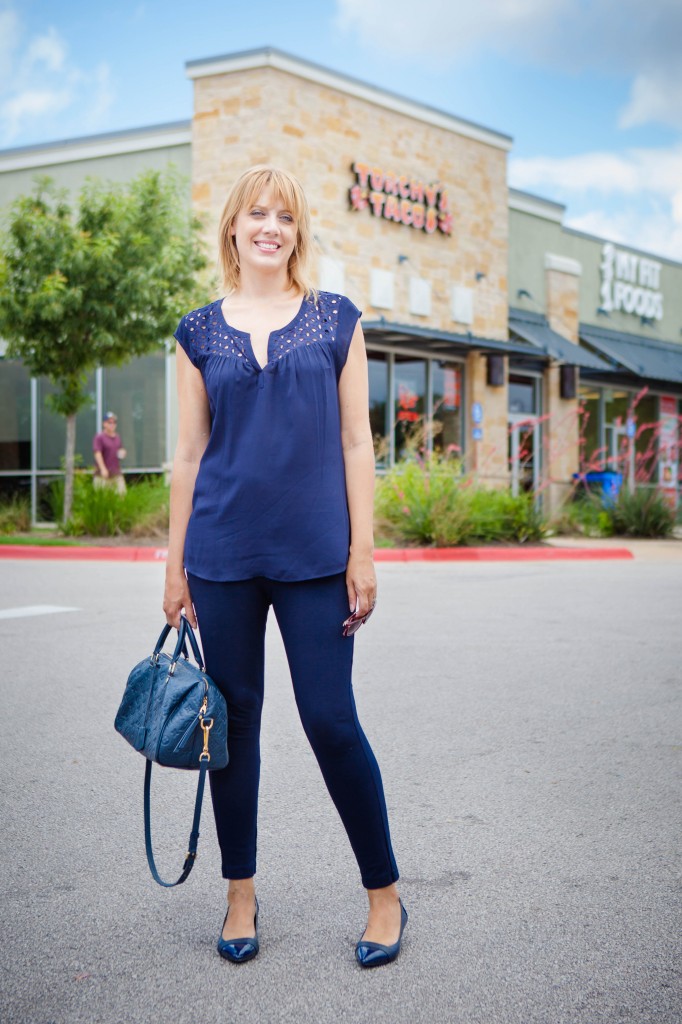 A few things about summer dressing for business in Austin: First, you won't see panty hose on any business woman (any time of year, actually). Even a skirt suit is worn with bare legs. Second (and this is gross, but it's important to point out), arm pit sweat gets really real, really quickly around here. Never attempt to wear a silk blouse in the middle of summer. By the time you arrive to your downtown lunch appointment from your car parked four blocks away, your pit stains will be as big as all hell and half of Texas.
Greg Brooks, @westthirdgroup, West Third Group, Las Vegas
So, here's the thing: I work alone.
Not just "no coworkers," but also: No chamber mixers. No PRSA luncheons. No annual confabs. And no clients so local that a lunch meeting doesn't trigger a day rate.
Heck, half of my clients have never met me face to face. And that's just fine.
All of this is… well, freeing when it comes to my work wardrobe.
The laundry pile splits two ways:
Clothes for winning the work and the occasional (shudder!) on-site meeting: If I'm in person, I'm in a suit. Not an unstructured suit; not a blazer-and-jeans junior creative's version of a suit. A by-God adult suit, custom made and probably in a small glen plaid pattern with a checked or striped shirt from TM Lewin or Charles Tyrwhitt. There will be cufflinks and a leather barrister satchel I picked up in Dublin many years ago.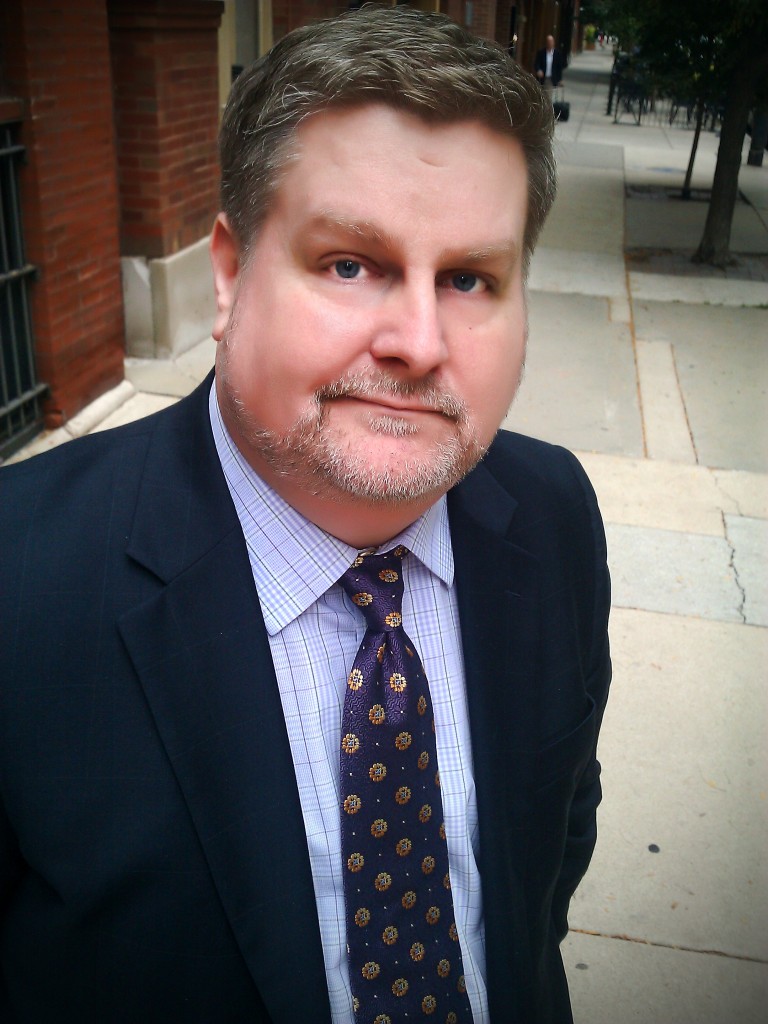 I might notch the suit down by ditching the tie, but no more than that. None of my clients are small orgs or edgy start-ups, and I'm typically hired by the CEO – looking like money reinforces their (frankly brilliant) decision to retain my services. You know this already, but: Shoes matter. Own good ones.
Clothes for doing the work: Two subsets here, pre-shower and post-shower. Because the day doesn't start with a shower.
Most mornings, barring illness or a poorly timed conference call, it starts with a hot dog and a Double Big Gulp of Diet Coke while I sort through email. Then I can worry about a shower.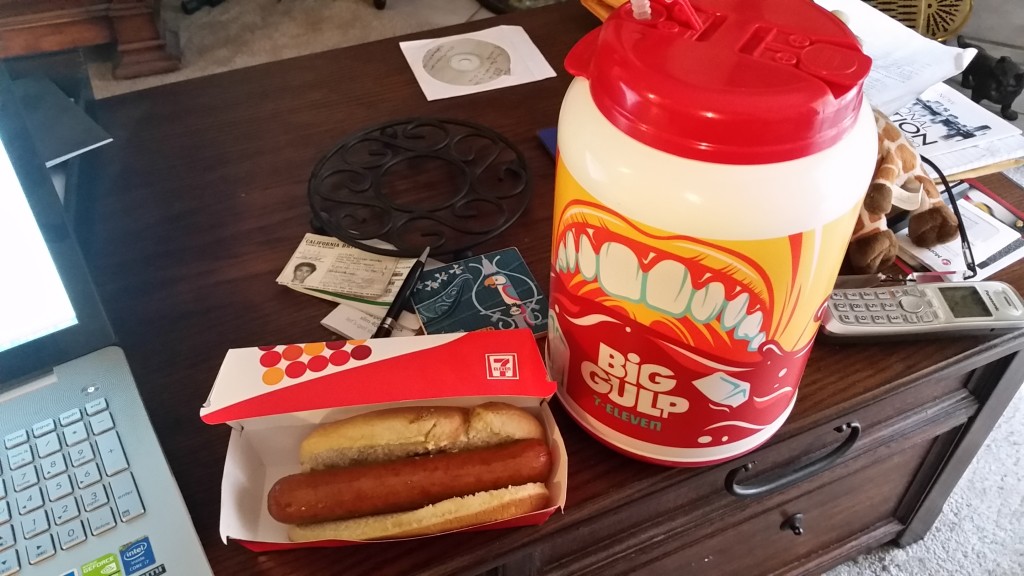 The minimart doesn't question whatever I slap on to go visit them; in turn, I do not question their health-inspection reports. We're lovers who don't talk about whoever is back at home.
Post hot dog, I'm probably in a Tommy Bahama silk camp shirt with a tropical-eyebleed pattern and paired with no-name khakis – maybe yesterday's no-name khakis. If I'm wearing socks, they're ridiculous. Which is why I don't wear them much.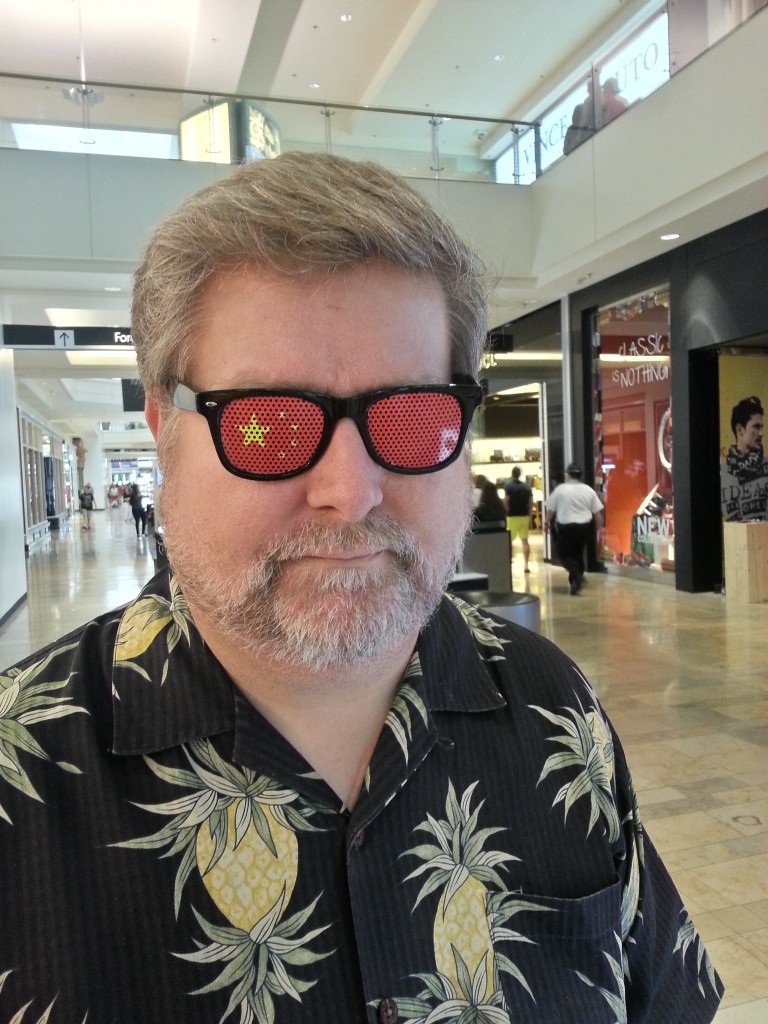 I live in Las Vegas, so the latter work ensemble doubles as a life outfit. Around here, you can go anywhere – from the most expensive show to the skeeviest dive bar ('Sup, Frankie's Tiki Room!) – in a tropical shirt.
My taste in clothes didn't play as well when I lived in small-town Missouri. That doesn't mean I changed anything.
Arik asked me to mention that I also have a smoking jacket. This is irrelevant except it was, along with a monocle, a gift from some PR colleagues who thought I needed both items. It adds an authoritative look to my driver's license photo and has become my go-to clothing item when work friends come to town for drinks.