By now, you've most likely seen Starbucks newest concoction: The Unicorn Frappuccino.
It's purple. It's pink. And, maybe most importantly to Starbucks, it's inherently Instagrammable–to the tune of 150,000+ pics on the platform so far using the #unicornfrappuccino hash tag–there are tens of thousands more using the #starbucks hash tag.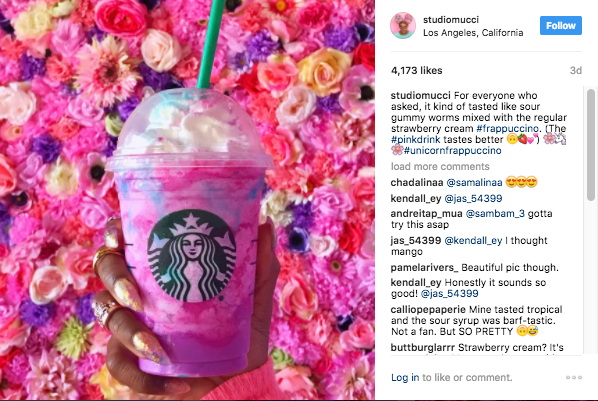 Except, according to most, it tastes like crap (at least, according to many).
But, for Starbucks, creating a new tasty drink most likely was not the MO.
According to a Starbucks spokesperson via The Guardian: "The look of the beverage was an important part of its creation, our inspiration came from the fun, spirited and colourful unicorn-themed food and drinks that have been trending in social media."
Read between the lines: This was a huge marketing play, pure and simple.
And, most of it was focused on what kind of drink would photograph well on Instagram (and Facebook, Snapchat and Instagram).
Why spend millions in marketing ad buy dollars when your target audience will market it for you? That was clearly the strategy here–and, judging from the social media stats we can see so far, it worked (not to mention the 20-person deep line I saw at Starbucks last Wed. when it was unveiled at 7 PM AT NIGHT!).
Meanwhile, Starbucks didn't seem to put a ton of marketing dollars into its promotion of the new drink:
One tweet (most likely with paid dollars behind it, but no way of knowing)
As rare as… a unicorn. The color-changing, flavor-changing #UnicornFrappuccino—here for a limited time at participating stores.✨ pic.twitter.com/TaIQrF8fac

— Starbucks Coffee (@Starbucks) April 19, 2017
One Facebook post (same thing):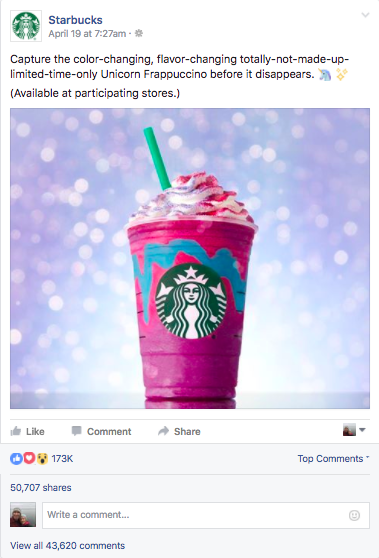 One Instagram post: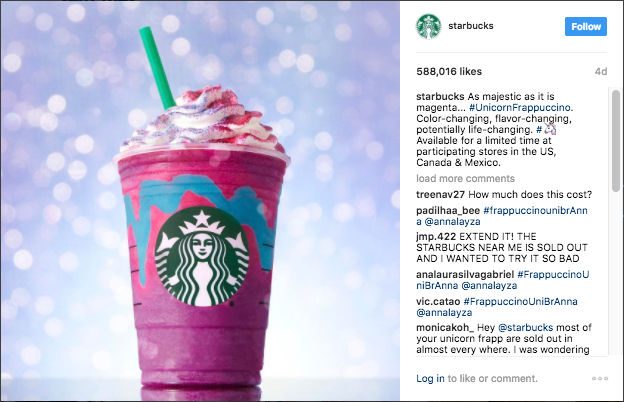 I didn't see a huge media blitz. I didn't see ads on TV or across the internet.
What I did see was virtually everybody on the internet talking about the drink and photographing it last week. Without much of any paid incentive to do it.
All because the drink photographed well on Instagram.
Starbucks is hardly alone in tapping into this trend.
Locally, right here in Minneapolis, Hi-Lo Diner is rumored to have made key decisions on the decor and appearance of their restaurant based on how people would photograph their food on Instagram (and their retro sign outside).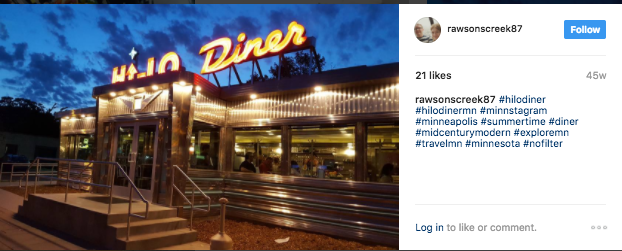 And, I'm sure they aren't the first, nor will they be the last, to take that approach.
I'm also thinking about coffee shops like Spyhouse and Annelace in Northeast Minneapolis–both of which have an inherent "Instagram-worthy" appeal to them.
Product and service design choices are now being made (in large part, in some cases) based on what photographs well on Instagram.
And I don't think this trend will be limited to coffee shops and restaurants.
I could see this also impacting companies and industries like the following:
Apparel (where it's already happening)
Organizational products (notebooks, bags)
Beer labels and packaging
Home and outdoor products
The list goes on. As companies become more data-focused and more aware of real-time consumer trends, thanks to social media, it will be interesting to see if this trend accelerates, or if it fizzles out, in the years ahead.