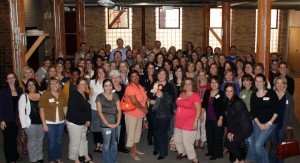 For the last few months, a significant amount of my "free time" has been tied up helping organize and plan the first-ever MN Blogger Conference. Finding a venue. Identifying speakers. Finding sponsors. Logistics. You name it, we did it. It was a labor of love. It was incredible. It was exhausting. It was exhilirating. All at the same time.
And it became a reality this past weekend at CoCo MSP in downtown St. Paul.
140-plus Minnesota bloggers gathered to connect and collectively get smarter about the blogosphere we all live in each day.
How did it go? Let's see what a number of others had to say about the event within 48 hours (as well as some other clips and links to content from the conference):
* Monika Melsha provides her perspective on the MN Blogger Conference
* The Uptake's clip of the opening keynote session at MN Blogger Conference featuring Nancy Lyons, James Lileks, Patrick Rhone and Teresa Boardman.
* Joel Carlson posted a number of photos from the event–thanks Joel!
* Bonnie Harris' slide deck from her "Blog your way to a book deal" session at the event.
* A number of sessions recorded here by the Uptake from the event include Julio Ojeda-Zapata's, Aaron Landry's and Matt Logelin's sessions.
* A few live podcasts from Albert Maruggi featuring Tony Saucier, the WordPress "think tank" and James Lileks.
I heard so many great stories, comments and anecdotes from people during the course of this event. Rick Mahn was inspired to start a photo blog after listening to Teresa Boardman. I heard a few other people talking about starting a new blog as a result of the event. That's what this conference was all about.
But, as an organizer I had a little different perspective (I had little time to sit in any of the sessions, unfortunately).
For me, there was another takeaway from this event that wasn't a best practice, tip or learning that one of our many, many talented speakers shared (although those were in great abundance, for sure). No, for me, it came down to one word: Relationships.
Let me give you a feel for what I'm talking about.
Without this event, I don't get a chance to work more closely with–and become much better friends with–the incredible Missy Berggren. In many ways, I know I've found a new friend that will probably be in my life for a long time.
Without this event, I probably don't get to know Katie Schutrop or Lindsey Verbeten or Judy Grundstrom or Suzi Magill a little better. All very smart women at different points in their careers and lives.
Without this event, I definitely would not have heard Matt Logelin's incredible story. If you don't know about Matt, check out his blog and his story–really, it is a powerful story.
Without this event, I probably don't meet Patrick Rhone, Aaron Landry, Teresa Boardman or Sasha Westin just to name a few.
Without this event, I don't have a reason to reach out to Julio Ojeda-Zapata as often as I have the last couple months. Julio was instrumental in helping us identify a number of speakers.
Without this event, I don't have the opportunity to meet and plan with Don Ball and Kyle Coolbroth at CoCo–two guys I have an immense amount of respect for in what they're doing in St. Paul.
Without this event, I don't meet people like Josh Braaten Patrick Garmoe and Bill Van Cleaf, three guys who willingly volunteered their time to help us set up and coordinate before, during and after the conference.
Without this event, I probably don't meet Kara McGuire, Kate Selner or Jeff Pesek in person for quite some time. Kara is someone I had wanted to meet for quite a while and Kate and Jeff were folks I had met for the first time–and hope to see again soon.
To me, and I'm sure many others based on what I heard Saturday, this event was much more about meeting new people, starting new relationships and connecting with other MN bloggers than just about anything else.
So, what new relationships did you start last weekend at the MN Blogger Conference (if you went). How will those shape your life going forward (think about Matt Logelin's story)?
If you didn't attend (or you're not in MN), what about the other bloggers in your state? Have you had an opportunity to meet them in person? If not, what are you waiting for? Make it happen–we did this last weekend and I can tell you, it was worth every minute.