This just in: media relations is getting tougher. Much, much tougher.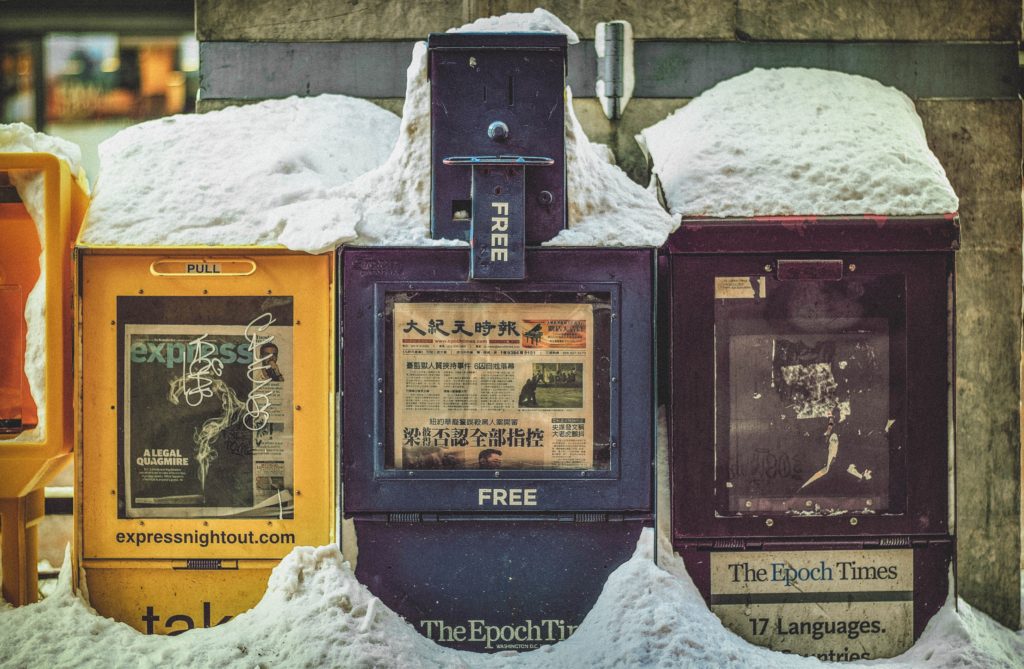 The stats back up the claim. Consider the following:
Demand for media attention is high: Most top-tier writers now receive 100, 250 or 500 pitches a week for 5 story spots.
Media is outnumbered: PR Pros now outnumber journalists by a factor of 6 to 1. This ratio has doubled in the last 10 years. What's more, employment prospects for PRs will expand even more to 282,600 by 2026 (up 9 percent from 2016) according to projections from the Labor Department. On the other hand, jobs for media types are forecasted to decline 9 percent to 45,900 over the same period.
PR pros say so themselves! A majority (68%) of PR professionals say media relations is getting harder or much harder.  This is up 17% from last year where 51% said media relations was getting harder.
One more stat to share: Only 5% of publishers want phone calls, according to recent surveys. The rest surveyed (95%!) were adamantly against using the phone! This isn't great news. Why? Because the name of the game in media relations is building trust. One big way many of us used to do that was via phone. After all, talking to a journalist on the phone is a much better way to build repoire than via email, text or social media. It just is. It's more personal. It's warmer. IT'S EASIER! Now, with just 5% of journalists saying they prefer the phone, that advantage has been taken off our plate, too.
I'm seeing this, anecdotally, with my clients, as well. It's tougher to get the media's attention that it was five years ago–for lots of reasons (in addition to those listed above). For one, the media are much busier than they were in the past. See this recent Jason DeRusha (anchor at WCCO-TV here in MSP) comment on my LinkedIn post on this same topic a few weeks ago for proof.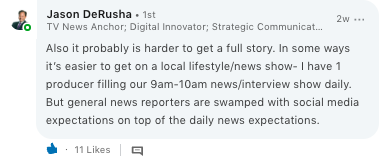 Second, newsrooms continue to shrink. I mentioned this above in one of the stats, but UHG's Ellen O'Brien sums it up well here: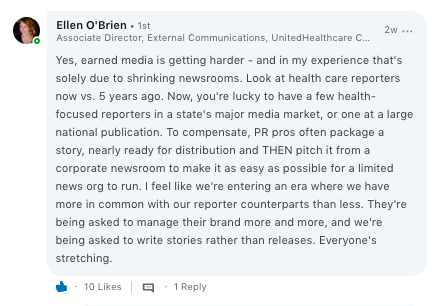 We're also seeing "pay for play" expand. Outlets like Forbes are almost entirely pay-for-play now. And, publications like Harvard Business Review are so much tougher to get into than just a few years ago. All these factors are figuring in.
So, the big question now: What do we do about this? Our clients and companies are still expecting media coverage. Media relations, as a practice, isn't going away. People still watch TV news and read the paper. This will continue.
Cutting to the chase: We need strategies to break-through and get the media's attention. How do we do that? A few ideas that have worked for me recently:
Subject lines are everything. Treat subject lines like you're a copywriter at a big ad agency and you have to write a killer headline for a new ad. That's how important they are in 2019. My pro tip: Write 10 subject lines for each pitch. And, make them short. No more than 10 words. Max.
Pitch early–literally! I've had better luck pitching early in the day vs. later in the day. Maybe it's because I'm getting in inboxes before they're cluttered. Maybe it's just dumb luck. I prefer to think it's the former.
Lean on trends, research and case studies. When it comes to building thought leadership for a client, these are the key themes I've seen work the best. Of course, there are always exceptions, but by and large, these work awfully well. Especially the research piece. And, if you do have research, don't be afraid to share a bigger chunk of it (or, ALL of it) with the media. They're so thirsty for interesting, thought-provoking research–and your client/company may not always have a great feel for what customers find interesting and what they don't.
Since I know so many great media relations experts (including a few former media members) in Minneapolis/St. Paul, I thought I'd ask a few of them what they suggest for tips to reach media in 2019:
Keegan Shoutz, PR, Best Buy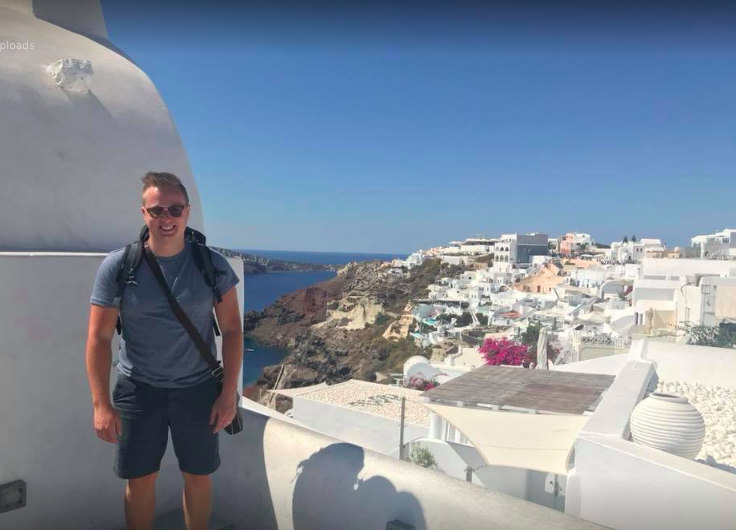 Focus on relationships. Cast a small net and build personal relationships that will last. Be genuine and honest. If you know something isn't a fit for them — don't send it. Reserve your communications with your key contacts for meaningful opportunities that will benefit them as well as you/your client/company. Consider offering them exclusives or a perspective you're not giving to any other contact. Lastly, communicate with them outside of the times you want them to run a story. 
Find a focus, if you can. Find an industry and corresponding set of reporters you can work with on an ongoing basis. It's easier to build meaningful relationships with reporters who can get to know you as a resource on a specific industry. Work to be known as a "go-to" for insight from a specific company or on a specific topic. 
Get face-to-face time. Look for opportunities to meet your contacts in person when you're not looking for something from them. Ask them meaningful questions. Show them you understand how their world works and that you have a bigger view outside of just what is happening with your client or company. Buy them coffee! Make their lives easier. 
Dan DeBaun, PR specialist, Life Time

Before joining the Life Time communications team I was a journalist for about five years across radio (WJON-St. Cloud) and print (The Minneapolis St. Paul Business Journal). One reason media relations can be challenging these days is that reporters are busier than ever (yes, it's true). Journalists these days aren't just journalists. They're also expected to manage social media, shoot photos and video, run blogs and network to maintain fresh sources. Oftentimes, PR pitches I received (even good pitches) would sometimes fall through the cracks, just because I was too busy with breaking news or other priorities.
The opportunity for PR pros today is to establish relationships with journalists and influencers. As a reporter, my favorite PR professionals were available and knowledgeable about their company/client and could offer me information, resources and connections when I needed them. To shamelessly self-promote: Life Time's communications team always stood out to me because they gave me access to interview executives and gave me timely news tips when they were ready to discuss them.
On top of this, there's been growth in corporate communications teams and fewer journalists. Recent reports say there are now six PR pros for every journalist (Editor's note: I'm not the only one who paid attention to this stat!). This makes it much more important for media pitching to be timely, relevant and customized.
Aimee Jordan, senior communications specialist, M Health Fairview
I have tried to maintain the same journalistic sensibilities I had when I was working as a journalist for 15 years. The hardest part is recognizing a good story when you see one, which often requires you to look beyond marketing campaigns and company initiatives. Then, pitch that story to the right reporters. Know their beats and what they're personally interested in. Write a killer pitch and then be fast and helpful throughout their reporting process. Also, be friendly and approachable! And honest! It's very much the same approach I took as a journalist: killer story ideas, strong pitches to editors, and fast, accurate reporting and writing. Be someone you would want to work with!
Lynn Melling, communications manager, Starkey Hearing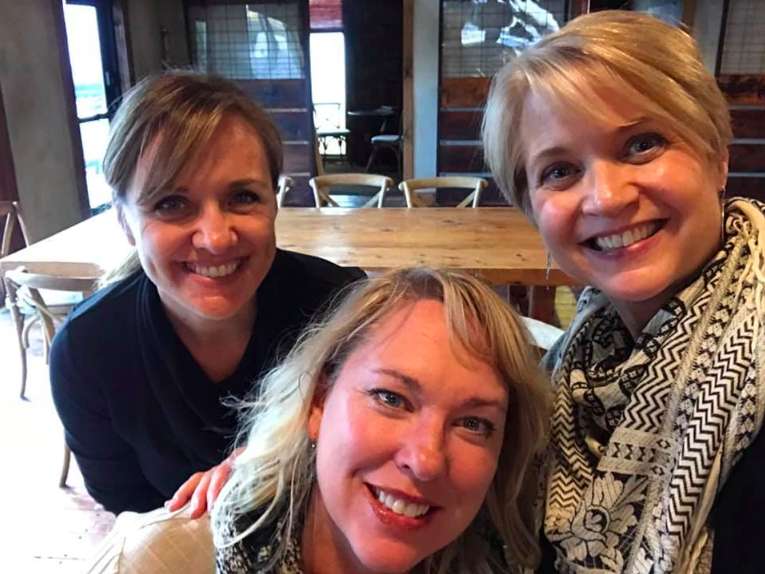 I think now, more than ever, you need to invest time in developing authentic relationships with individual journalists. Get to know them as human beings. Invite them to coffee and don't talk shop. Ask them about their kids and their recent vacation destination. Pretend you're a salesman trying to close a deal– because that's basically what you are. You're trying to sell a pitch. As a former reporter who received dozens of pitches a week, I often gave preferential treatment to pitches that came from people who didn't make me feel like I was a tool in their marketing plan. This takes time, but it pays off in the long run– big time.