This past weekend, I was in the car listening to one of my favorite tunes by Darius Rucker (I'm a big country guy in the Summer): "It Won't Be Like This For Long." It's a great song, and it really hits home if your a Father to a daughter. I mean, REALLY hits home.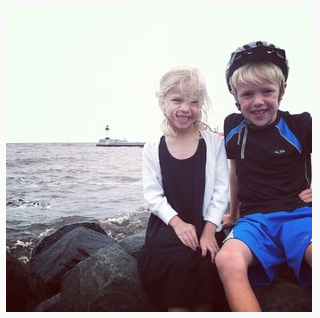 So much that I teared up a bit. For a guy who hardly ever cries, that's a substantial event. I'm rarely emotional. But something about that song, and the point I'm at in my life (I turn 40 next month), just hit a perfect chord.
In the song, Rucker sings about how these phases with his daughter won't last long. The first phase is getting up in the middle of the night with his daughter (check). The next? Dropping her off at preschool (check). Then, in the third phase (high school) he starts talking about how he's trying to hold onto the phases instead of hoping they'll pass quickly by.
Again, if you're a Dad or Mother, you can relate. And boy, did I relate.
For me, the moment highlighted something I know all too well: It won't be like this for long.
My son is 7–about to turn 8 this December. He'll be in second grade. It seems like he was just born a few years ago.
My daughter will turn 5 next week. She'll be going to kindergarten in four weeks. I could not love her more.
The last seven years have absolutely flown by. With kids, time is on a whole new continuum. But, I've tried to relish every minute.
In the song, Rucker talks about the late night's with his daughter when she was a baby. As painful as those were earlier (my wife did most of the heavy lifting, I'll admit), I tried to enjoy rocking her to sleep each night.
It won't be like this for long.
Rucker also talks about dropping his daughter off at daycare, his little darling clinging to his leg. I drop and pick up my daughter on some days, and I have to tell you, I love every second of it. We blast music in the car. Talk about our days. And I give her about 25 hugs before I leave her, waving to her down the hallway.
It won't be like this for long.
And now she's going to kindergarten this Fall. As Rucker says in the song, "soon you'll drop her off and she won't even know you're gone." That's what I'm dreading. And I know it's coming. With each passing minute, her and my son get older. More independent. And less reliant on me.
That's  good thing, I know. But it's also very sad–and the reality for all parents. I couldn't have enjoyed these first seven years more. I really have tried to be the "stop and smell the roses" kinda guy. I've caught myself many times thinking "life just doesn't get any better." But, as a business owner, I do get caught up in the race. I'm on my computer–a lot. And I know I need to get better at unplugging and spending more time with them.
It won't be like this for long.
What really matters for us all is the ones we love. Whether that's your parents, your husband or wife, your kids or your friends. That's what really defines us at the end of the day.
Our work affords us opportunity. Opportunity to spend time with the ones we love.
Many of us love our work–including me. I invest a lot of time and energy in my business. But, it doesn't hold a candle to my love for my family.
So, as you think about your work. And the stressors that go along with it, in the weeks ahead, remember what really matters. Remember those you love. And the precious time you get the opportunity to spend with them each and every day.
Because it won't be like this for long.