In case you missed it, KFC launched its own virtual influencer last week–a virtual Colonel Sanders–on Instagram. It's the brainchild of Weiden + Kennedy and the KFC folks and it seems to have a lot of people talking–including many on Twitter talking about how "hot" the virtual Sanders is!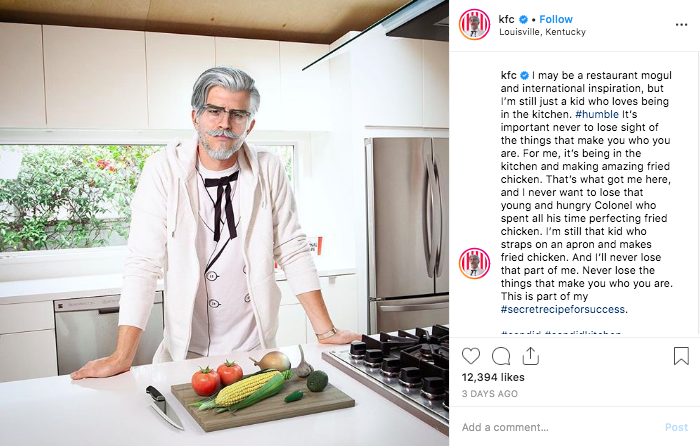 On one hand, this is a full-blown publicity stunt by KFC (and it seems to be working!).
On the other, this is a bit of a bet on a new, and pretty weird, trend: the introduction of virtual influencers for brands.
Yep, virtual influencers are a thing. To the tune of $125M. That's how much a company named Brud (yes, Brud) is worth after a recent round of financing. You've probably never heard of some of these virtual influencers, but Lil Miquela now has 1.5M followers on Instagram. Apparently, this is a trend worth monitoring!
And, that's exactly what KFC is doing here–and then some.
This move is very much in line with KFC's brand personality. Just look at how they position the virtual Sanders on Insta.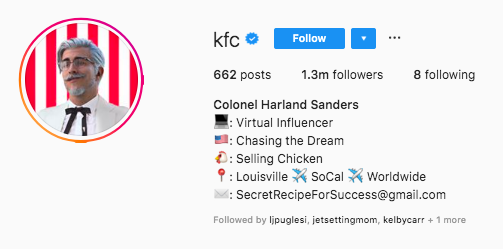 This also makes sense since it's only a limited-time thing. Virtual Sanders will only be on Insta until April 22, so enjoy him while you can! I also love the way KFC is using Virtual Sanders to poke fun at influencer culture. Just check out this post and the "aspirational" tone of the text.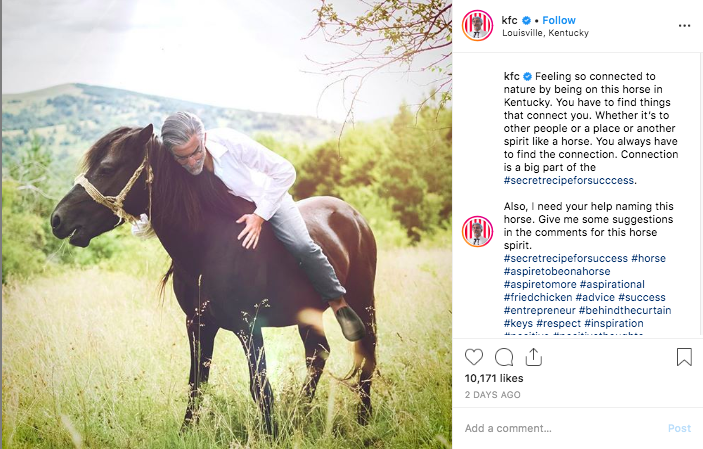 Of course, no influencer would be worth his salt if he didn't have brand partners. Enter Turbo Tax, Dr. Pepper and Old Spice. Below is one of the posts highlighting the partnership with Turbo Tax (note the #ad disclaimer right at the top–even virtual influencers need to disclose!).
Over the last few days, KFC has had all sorts of fun with this–including using some of the most popular features on Insta Stories.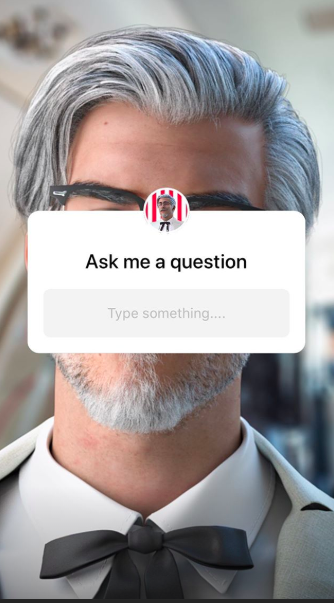 Promoting another of their brand partners here (Old Spice).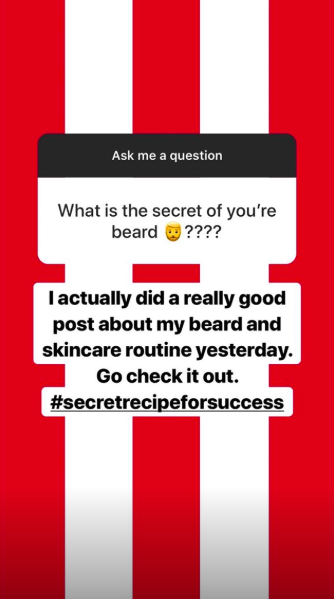 Promoting one of their most recent menus items here.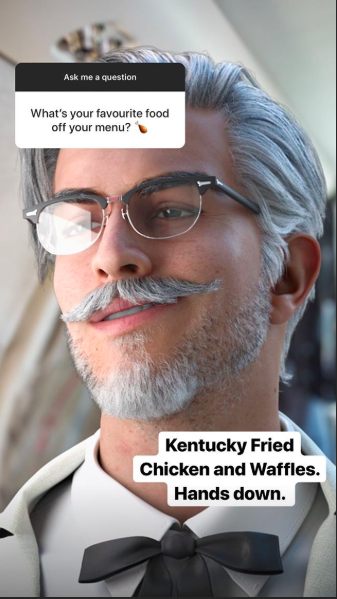 So far, overall, I think this is very well done by the KFC folks. The bigger, and more important question is this: Are virtual influencers a trend worth taking a peek at on the brand level?
For now, I think my answer would be: "let's see how this goes." So, I'm going to be following along with the Colonel closely over the next week. Might be worth it for you to do the same!