In case you missed it, a soft-serve ice cream entrepreneur in California made news recently. Yeah, instead of catering incessantly to influencers, he's basically thumbing his nose at them. In fact, he's going well beyond that. His recent Instagram post sums his approach up best: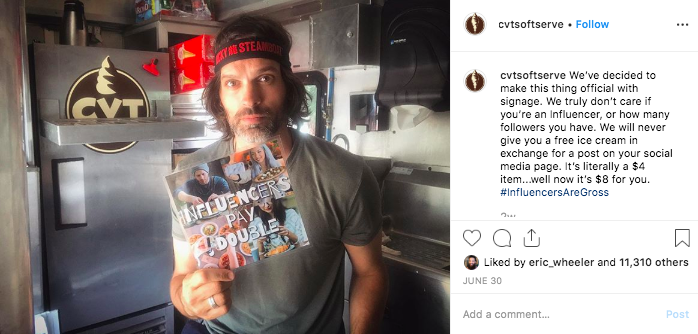 "We've decided to make this thing official with signage. We truly don't care if you're an Influencer, or how many followers you have. We will never give you a free ice cream in exchange for a post on your social media page. It's literally a $4 item…well now it's $8 for you. #InfluencersAreGross."
It made news on Fox earlier this month. And, anytime Nichhi (the owner) talks about it on his Insta page, it blows up. Needless to say, I think he's struck a nerve.
It's a bit of the same trend Kahlua's picking up on with its "Zero Likes" campaign that was unveiled just this week. And, it's not the first time Kahlua has taken this approach–it promoted its #BottomNine tool, too, to give followers the chance to curate their least-liked posts.
Almost like an "anti-influencer" movement.
Clearly, there's something here. And, I tend to think it's about to grow even more.
Recent reports claim influencers have seen their engagement numbers plummet recently. Engagement rates for sponsored posts fell to 2.4% in Q1 2019 from 4% three years earlier, while the rate for non-sponsored posts slid to 1.9% from 4.5% for the comparable periods.
And, recent news from Instagram itself tells us they're looking to get even MORE influencer posts in your feeds soon. Most (if not all) from influencers you don't even follow.
Where am I going with all this? For the first time in a while, the data (and my gut feeling) say we may be reaching a tipping point with influencer marketing.
I'm not predicting the demise of IM–far from it. That same study I mentioned earlier said engagement rates for influencers with at least 10,000 followers was steady at about 3.6%. And, influencers with 5,000 to 10,000 followers have an engagement rate of 6.3%. Best yet,  those with a following of 1,000 to 5,000 have the highest rate at 8.8%. So, one trend I definitely see in IM in the year ahead is much more focus on micro-influencers (which, I know, we've heard before, but bears repeating).
And yeah, I know surveys say the lion's share of companies are continuing to invest in IM (or investing even more in the year ahead!). However, that doesn't mean we're not reaching a tipping point. If anything, it makes me even more confident that we are! Saturation will (eventually, at least) lead to more companies pulling back on IM budgets. It's just a matter of time–I just happen to think you'd be wise to get ahead of this and pull back a bit now (and this, coming from a guy who specializes in this service offering!).
The smart companies will continue to leverage IM–but, they should be increasingly careful. Choose your influencers wisely. Use your influencers for much more than just Insta posts–think about ways to fold them into your organization, across the board (using them at employee events, for example). Lock influencers into year-to-multi-year contracts–make them feel a part of the organization instead of treating them like a tradeable commodity.
Yep, IM isn't going away anytime soon. But, I see pushback coming. You can get ahead of it, or fall prey to it in the coming year. Pursue at your own peril.