When you're one of the largest tax consulting/preparation companies in the country, there are certain events that come up year after year that marketers and communicators are challenged with promoting.
Like National Shred Day.
OK, so that's kinda a made up day (I couldn't find evidence online–save HRB's announcement–but maybe it is real given there's a day for everything!). But, H&R Block recently took this fairly boring event and made it pretty darn interesting by promoting and organizing "Tax Shred Live" on Facebook.
The premise? Invite two world-class shredders (Michael Angelo Batio and Bibi McGill) to play guitar via Facebook Live while shredding tax documents and learning more about what to shred and why.
C'mon–it sounds mildly interesting, right?
Well, more than 419,000 people agreed and tuned in to at least a few moments to watch the livestream last week.
The livestream also got more than 1,600 likes, 1,500 comments and 640 shares. Not bad for a made-up event!
But, beyond the basic awareness/engagement stats, I thought this execution was a particularly interesting way for a fairly traditional company to venture outside its brand and have a little fun–here's three reasons why:
H&R Block didn't take itself too seriously
How many times have we heard "we can't do that–it's not 'on brand.'" Do you honestly think an aging metal-head guitarist is "on brand" for H&R Block? Or, that the idea of two guitarists shredding for an hour-straight on Facebook was in the HRB marketing playbook? Of course not. But, that's what made it so fun. Block had some fun with this–OK, a LOT of fun with this. I wish we'd see more brands take this kind of approach and venture outside their brand playbook from time to time.
H&R Block as an entertainment brand?
OK, so maybe HRB isn't going to be the next MTV. But, the livestream was entertaining. After all, you had two world-class guitarists playing hot riffs for an hour straight. I watched most of it–it was pretty damn solid (and, to be honest, I had never heard of either guitarist). So, it captured people's attention–and that's where we're at with social media marketing. You want "thumb-stopping" content. You want to grab people's eyes and ears for maybe 30 seconds. This kind of content does that. And, since they did it on Facebook Live, it probably showed up in more feeds. After all, Facebook has been telling us for the last few months that it's live broadcasts get much more engagement garden-variety videos on the platform.
Education was still part of the focus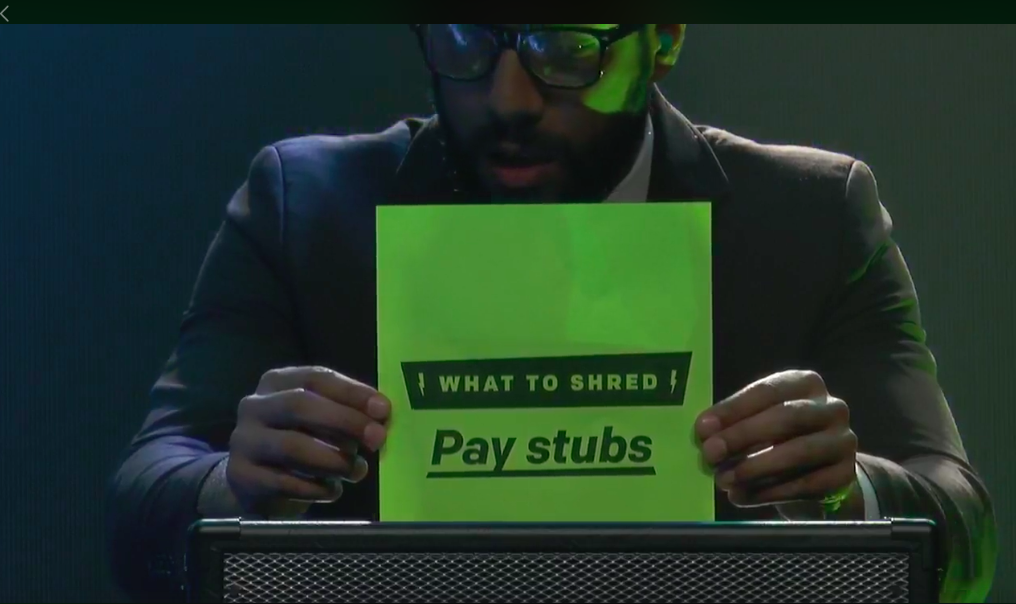 Sure, it was kinda stunty. And yes, it was entertaining. But, HRB also found interesting ways to make the event educational, which in many ways, was the whole point. The livestream featured the two guitarists, but it also included two other folks who may or may not have been HRB employees. These folks were the ones dancing and actually shredding tax documents during the show. But, here was the creative twist. Some of those documents were one-pagers with simple statements about shredding documents, with a few nods to the guitarists thrown in.
Get more mileage from your live video streams
Might seem obvious, but one smart thing HRB did was they took advantage of the livestream by repurposing the video in other content–like this post the next day:
I have no proof of this, but I'd be willing to bet the HRB folks also used (or will use) snippets of that video in employee communications, email marketing campaigns and on their web site in the days and weeks ahead. Just makes sense–if you're going to spend all that money orchestrating a huge live video event like this, you want to make that content work a little harder for you.
So, overall, was this a social media stunt designed to drive "engagement" or a brilliant promotional marketing move by HRB? I say probably somewhere in the middle–but I lean toward brilliant for this reason: HRB took a risk here. This isn't 'on brand' for them. This isn't typical for them. But, like I said above, it's the kind of content that captures peoples' attention on the social web in 2018. HRB knows this, and they used it to their advantage. Was it a huge social media marketing success? Only the HRB folks can tell you that.