Thinking back to the early days in my career, clients often had one request when it came to the media relations game: I want to be on Oprah.
Or, The Today Show.
Or, in The New York Times.

Those were the kinds of media outlets clients wanted to be in. Mainstream media outlets with monstrous, loyal followings.
Fast forward to 2019, and I keep hearing similar conversations.
I want to be in Forbes.
I want to be in the Wall Street Journal.
I want to be on The Today Show!
Meanwhile, as we all know, mainstream media consumption numbers are down. Way down. In fact, time spent with newspapers is now down to 11 minutes a day (while time with digital sits at 6 hours and 35 minutes).
So, why the continued, extra attention on these big MSM outlets? I believe a lot of it has to do with who's running the show (still, the Boomers). And, those people are still highly connected to MSM outlets like the ones mentioned above (they're largely the primary consumers!).
But, at at the same time, some new, up-and-coming and largely unheralded media outlets have emerged that should be getting big-time attention, but just don't seem to be getting the respect they deserve.
I'm talking about NextGen media outlets like Cheddar, Axios and Vice.
For those not familiar (not sure how this is possible), Cheddar is a "post-cable news, media, and entertainment company that broadcasts live on SlingTV, Hulu Live, YouTube TV, Philo, Twitter, Facebook Watch, Pluto, and Xumo." And yes, Cheddar is that media outlet that posts those crazy videos on LinkedIn (see below–robot gardens are a thing!).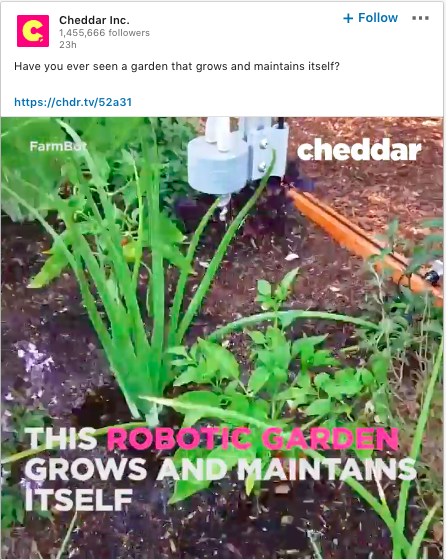 According to a recent article in Ad Age, "Cheddar produces 19 hours of live news a day and is available in 40 million homes on ad-supported services like Roku, Pluto TV, YouTube TV, Sling, Hulu Live and DirecTV Now, as well as 1,600 screens in public areas of 600 college campuses through its network CheddarU. The network sees more than 400 million video views a month and draws in a young millennial audience from ages 25 to 34. Cheddar conducts its live broadcasts from the floor of the New York Stock Exchange and has a live streaming partnership with Twitter." Its social distribution network isn't huge (just 238.9K on Twitter, 900K on Facebook and 720 on Insta), but then again it's heavily targeting the millennial generation which is more invested in platforms like Insta and even TikTok than Facebook and Twitter (for context, CBS News' Insta has just 631K followers).
Bottom line: Cheddar is sizable, and growing. Especially among the coveted Millennial and Gen Z audiences. If you're targeting those groups, I'm not sure how you can ignore it. Companies like Honeywell spin-off Resideo are realizing this–here's coverage of the new smart home on Cheddar last fall.
NextGen media outlets exist well outside mainstream media, too. In my client work, I've researched, pitched and worked with many NextGen outlets over the last few years.
Outlets like TalentCulture.
According to founder, Meghan Biro, TalentCulture is "a community of insightful practitioners, big thinkers and problem solvers" in the HR, recruiting and workplace space. It draws more than 60,000 visitors to its web site each month, has more than 18,000 email subscribers and averages more than 4,500 downloads per podcast. What's more, its audience is solid: 50% of readers have more than 20 years of experience. For context, BenefitsPro, one of the giants in the HR industry, draws more than 215,000 monthly visitors and has more than 29,000 email subscribers. So again, TC isn't the biggest, but it's definitely on the list and it's definitely read by a powerful audience (here's an example of a story I recently helped place on TalentCulture.)
So, are large MSM outlets like The New York Times still relevant and worth the time and effort? In some cases, yes. But, so are emerging outlets like Cheddar and TalentCulture All I'm saying is don't ignore these newer outlets just because they're new–in many cases, they may be targeting your key demographic!