Last week, in one of my client meetings, an interesting discussion came up–what social networks were surging and which were lagging? And, which were CHANGING?
Apparently, we weren't the only ones thinking about this. Matthew Kobach (director of social for the NYSE) led a similar discussion on Twitter (he's a must-follow right now, btw, if you're not already).
In terms of content consumption: Instagram live consumption has to be way up, whereas podcast consumption has to be way down

Any other content trends you've noticed or predict?

— Matthew Kobach (but going Fast) (@mkobach) March 21, 2020
Obviously, a lot has changed in the last 2 weeks–including how and when we use social networks. But, that usage can and should play a role in how you make your social media marketing plans during these weird, weird times.
Now, I don't have much scientific evidence or research to back up any of these claims just yet (just a few reports so far). After all, we're only a couple weeks into this crisis. But, I will share my two cents based on my observations so far and where I think things will head from here in terms of usage:
Usage up – Twitter
For the last few years, Twitter has been trending toward being an information platform. It's really no longer about engagement on Twitter–people are merely using it to get information. And, with the COVID-19 outbreak, Twitter has become the go-to resource for real-time information from journalists and scientists. My must-follows of the moment are Dave Pell, Matthew Kobach, Andy Slavitt But yeah, if my feed is any indication, Twitter use is way up.
Usage up – Twitch
WAY up, I'm guessing. After all, if you're a young man (ages 14-30), during this outbreak, you're either: binging the Office for the third time, or playing Call of Duty non-stop until your eyes bug out. And, if you're gaming, Twitch is your go-to communications platform. It was already a huge emerging social platform for brands–but now, in the coming months, it will be even bigger. If you're trying to reach young men right now, this is definitely a platform I would start exploring–fast.
Usage up – Instagram Stories
Probably no surprise here. Influencer marketing platform, Klear, came out with recent research that claims IG Stories usage is up 15% since the outbreak. That seems low based on what I'm seeing, but it's still a sizable surge.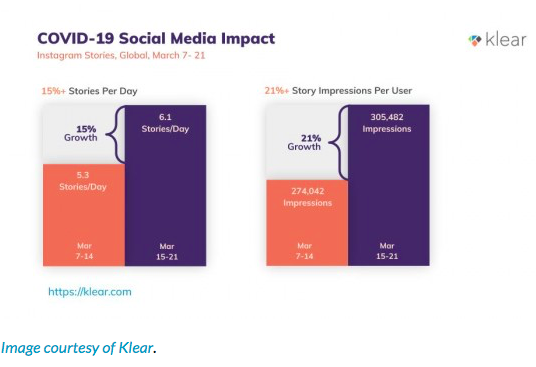 Usage changing – Facebook & Instagram
I say "changing" because people are certainly still using both platforms. In fact, we saw Facebook talk about having bandwidth issues last week (all we need is for social media to go down during this–can you imagine?!?!?). But, the way in which people use these two networks is changing. You're seeing more interactive content like challenges, workouts and webinar-like content via livestreams (all the concerts from home have been great!). Insta is no longer the place to live your best life–those days might be long gone. Similarly, Facebook's use seems to be changing, too. A colleague mentioned the other day that he's seen way more news shared on the platform than before. People are still posting photos and notes about their families here, but pretty tough to post all those vacation pics here when there are no vacations. A more newsy focus for Facebook is good–as long as that news is reliable and accurate.
Usage up – LinkedIn
Many workers across the U.S. are now working from home full-time for the immediate future. And, thousands of Americans have been laid off in the last week due to coronavirus quarantines. Those two factors lead me to believe we'll see an uptick in LinkedIn usage. Those working from home will find themselves with more free time than they previously had–no commute time, no longer lunches, no water cooler talk. Some of this downtime will most likely go to time spent on LinkedIn to check up on colleagues and friends in the workplace. On the other hand, it probably goes without saying, but those who just lost their jobs will be all over LinkedIn. After all, there are some industries and companies that are hiring during this outbreak (Amazon, of course, comes to mind).
Usage down – podcasting
The loss of the daily commute for the immediate future will probably impact podcasting the most. Sure, people are still taking walks and listening to podcasts. Sure, some people are mowing their lawns while listening to podcasts. But, according to the Infinite Dial Report in 2019, 52% of folks listened to a podcast while driving. That's going to hurt podcasts in the near-term. I would guess numbers would recover this summer a bit, but for now, I'm be betting podcast numbers are down a little (and apparently, I'm not alone in that thinking–many of the responses to Liz Sheets post earlier this week were in the "my podcast usage has decreased" bucket).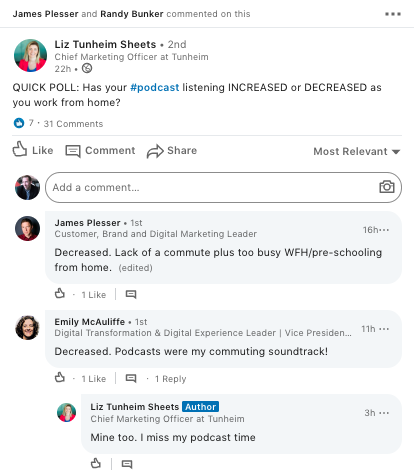 Usage up – Zoom
Much like Twitch, WAY up. Especially if you're targeting professional workers, educators or students. Zoom is quickly becoming the de facto video comms device during the outbreak. Sure, Zoom isn't technically a social network, but it does have many of the makings of one–social interaction, chat functionality, ability to break off into groups. In fact, Chipotle experimented with an interesting way to use Zoom last week. I bet we'll see other brands do something similar in the weeks ahead, as so many people are using this tool to communicate right now and familiarity with it is increasing exponentially by the day.
Usage up – TikTok
As if people weren't spending enough time on TikTok (recent reports tell us we're spending an average of 52 minutes per day on TikTok!). Usage numbers here have to be up (one recent report I saw claimed the video app saw an 18 percent increase in downloads, and was downloaded 2 million times between March 16 and 22). Especially considering you now have millions of young people ages 12-25 who either have no school, or online school, and suddenly have oodles of time on their hands. We're seeing uber-creative executions on TikTok, too. Not that TikTok isn't normally full of creative content, but we're seeing it used in new and interesting ways (both my kids are getting a lot of information about #coronavirus right now via TikTok, for example).
That's what I'm seeing for now. What about you? How do you see social networks changing during this very interesting, and scary, time?