Seven-plus months into this pandemic, we're all tired of working from home. But, as we stare down the barrel of quite possibly the roughest winter of our lives, there's little chance too many people in our industry are going back to the office before spring or summer 2021.
Given that backdrop, people are looking for different and creative ways to "work remotely." For some, that might mean spending a month in Phoenix or Palm Springs (something we're considering for January). For others, like my friend Chuck Grothaus, it's meant working from an RV for most of the summer!
What was once considered "crazy" (not my words), working from an RV is now a pretty viable option for many who have the family flexibility (read: this is much tougher with 2 small children!). I venture to guess some might even try is this winter and definitely next spring and summer as we all figure out how to ride this pandemic out.
So, I thought I'd ask Chuck some questions about what it's like to work remotely from an RV for months on end. It's a pretty interesting approach–and one that's had me pretty darn jealous all summer watching him from afar from his Instagram feed. And, it's even more interesting when you figure in the pandemic–how has he stayed safe? Are they finding places to park the RV with all the popularity of RV camping now? Let's hear what Chuck has to say about working from an RV during a pandemic.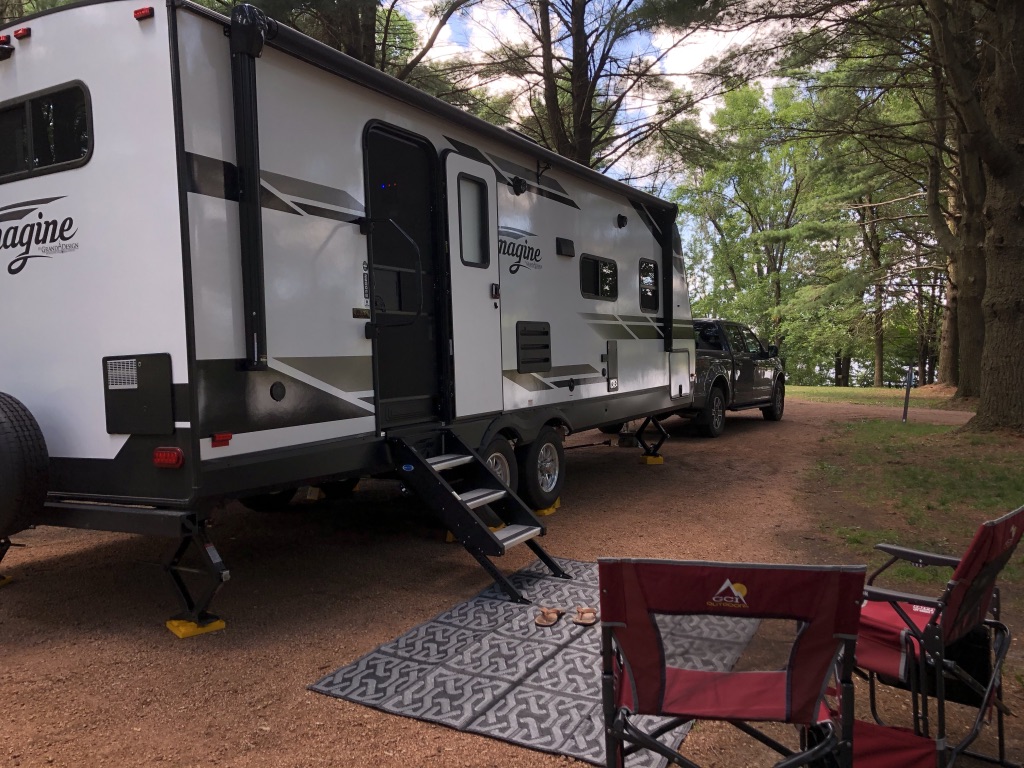 You're not new to working remotely from the road, but why have you chosen to spend so much time on the road the last six months during the pandemic?
We purchased our first RV well before the pandemic and experimented with working while traveling to make sure the lifestyle worked for us and also to ID and eliminate kinks – like connectivity, for example. We spent the month of February 2020 in Arizona and New Mexico, working and exploring in our free time. By the end of February, just as the pandemic entered the U.S., we rushed home thinking it would bring most travel to a halt. After three months at home, like most of us, by late May we were going crazy in our downtown Minneapolis condo and, honestly, felt we would be more safe from infection working from the RV in a remote site. We can be totally self-contained in our RV and still have the ability to hike trails (minus the city crowds).
What's been different between working from your RV pre-pandemic vs. during the last six months?
The most significant change has been the struggle to find places that aren't overcrowded. RV sales in May, June and July skyrocketed (one study says sales increased 300% in this period) resulting in packed campgrounds everywhere. Our #1 priority is setting up our rig in an area that isn't overrun with people but still has cellular connectivity so we can work. We put on a lot of miles finding locations that accommodated our needs. In pre-pandemic days, we could set up just about anywhere and then drive to the nearest local library to work (libraries offer some of the fastest wi-fi on the planet). Post-pandemic, libraries were closed or only offered drive-up services, so we had to become much more diligent in finding locations where cell service was reliable.
What's your day look like working from the RV? Take us through a typical one.
Our days working in the RV resemble our days working from our home office: Typical office hours, Zoom calls with clients, computer time. However, when we work remotely in the RV, we try to keep the calendar clear after 3 p.m. so we can explore trails, hike in the backcountry and get to know the nearby communities where we're staying.
What about your setup? You work with your wife in the RV–how does that work? Have you run into any challenges?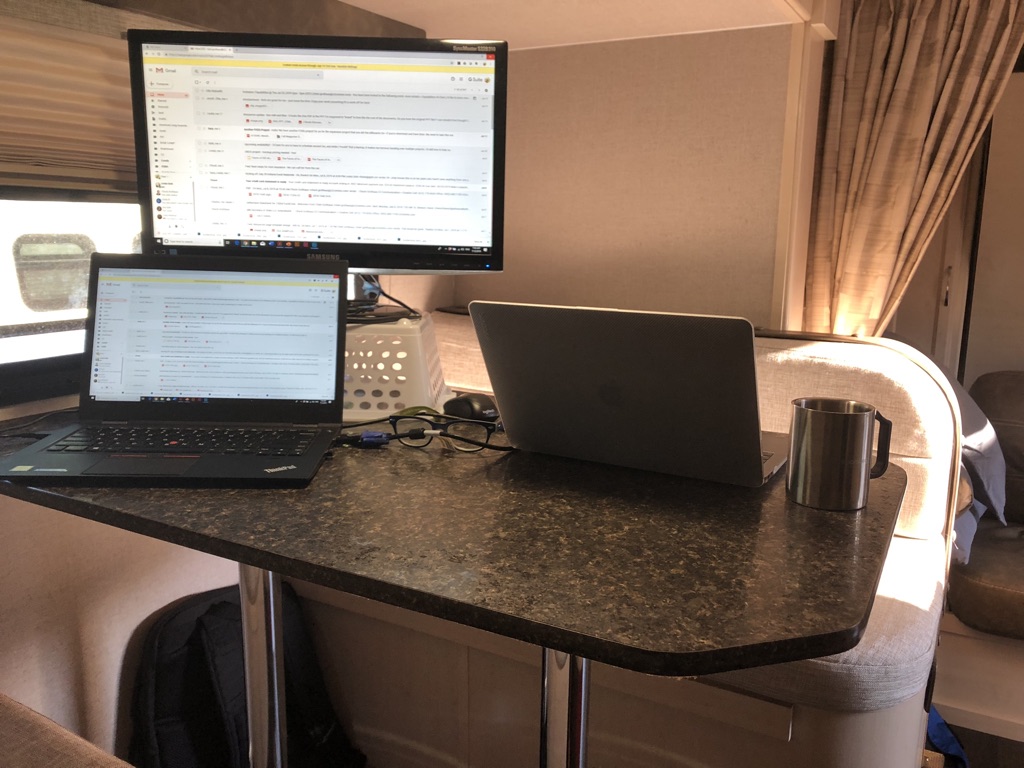 The only challenge is finding wi-fi or cell service that allows for Cheri to upload and download large graphic design files and lets me participate in bandwidth-sucking Zoom calls. Our set up includes devices that boost either wi-fi or cell service no matter where we are. We also have a mobile hotspot — a lifesaver when we need to use cellular. The RV has a dinette booth that we use as our workspace. On good weather days, we have a pop-up gazebo that allows us to work outside.
Do you plan your trips in advance? Or, do you kinda plan as you go?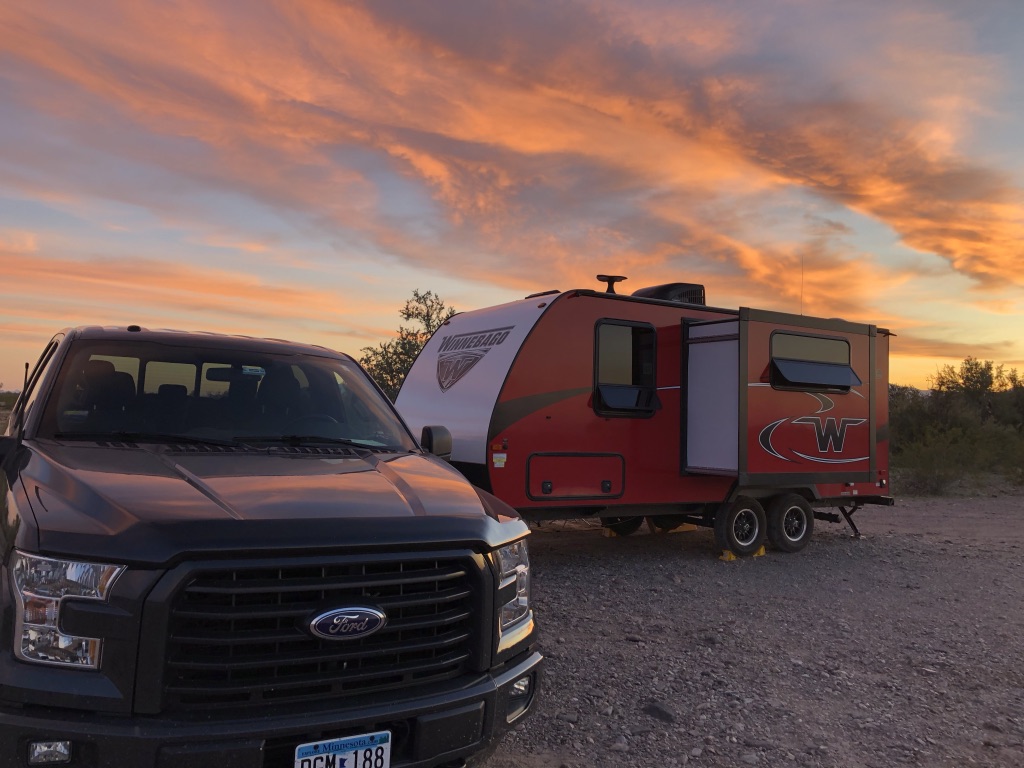 We do a little planning in advance – like, "What's our final destination and for how long." One of our hobbies is hiking the highest point in every state (we've done 18 high points so far) so we often plan our travel around that objective. But RV remote working requires a whole lot of flexibility as well. For example, on our road trip to Arizona last February, we stayed spontaneously in Las Cruces, New Mexico at a little mom and pop RV park. It offered great wi-fi and gave us a chance to de-winterize the RV. Typically we only stay for three days in one spot, then we move on to the next location.
How do your clients feel about you working remotely? Do they even care? Did they care pre-pandemic?
This hasn't been an issue for our clients. They are typically a little envious of the work/life that we lead. Oftentimes, the first question I get on conference calls is something like, "Where in the heck is Chuck this week?" And, they seem a little disappointed when I have to tell them that we're back at the home office.
I have to think some people might be considering this as we head into winter. Taking an RV to the southern states doesn't sound like such a bad idea right now! What tips and advice would you have for those people when it comes to working from the road?
Be flexible with plans.
Figure out your connectivity and tech needs well in advance – and test them to make sure they work for you.
If you hope to go south to Arizona or S. California and set up in an RV park with wi-fi, plan ahead. Most RV parks – and many state and county parks – are totally booked in the south from December through March. Also, when you set up in a packed RV park, the wi-fi is going to be terrible because everyone is on it.
If you're new to RV-ing, get a little practice driving/towing, setting up, dumping waste tanks and working from the RV before doing any major road trips.
You had some amazing adventures this summer–Colorado, Utah, North Shore. What were your favorite spots and why?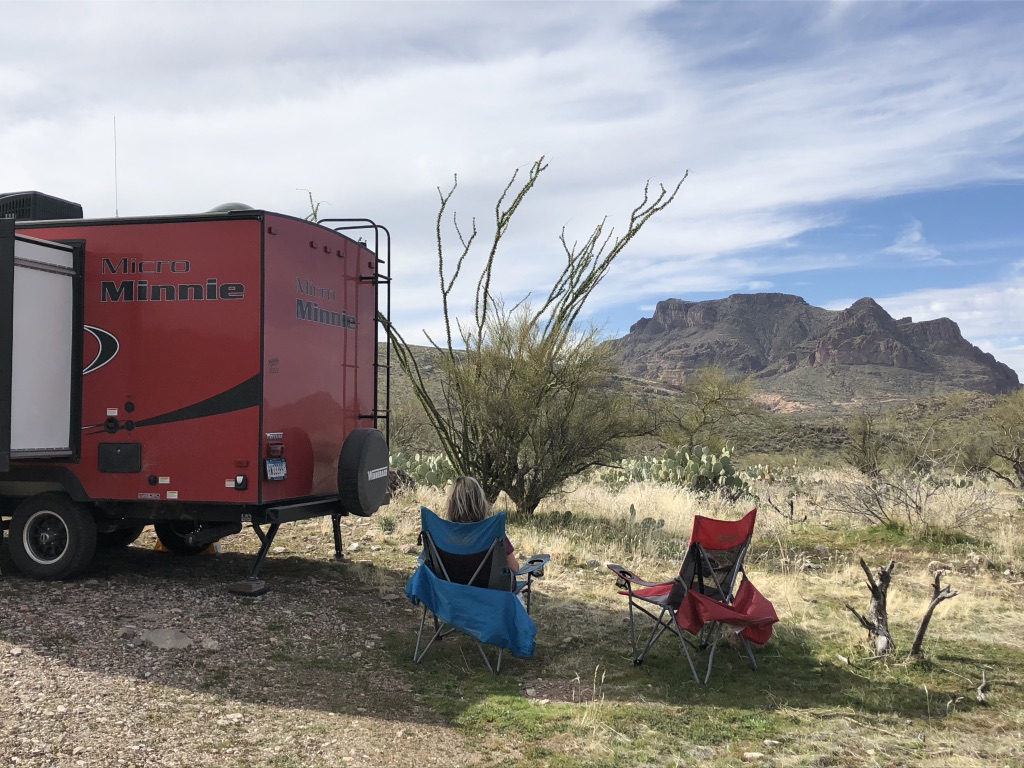 Our newest favorite spot is the Western Slope of Colorado. We spent a week there in September (Grand Junction, Grand Mesa, Ouray, and Black Canyon of the Gunnison National Park). The people there are friendly and the climate is similar to ours in Minnesota (although they get less snow and below freezing temps), Grand Junction is an emerging "Napa Valley of Colorado," and there are fewer tourists in the backcountry. When we backpacked in Grand Mesa, we had an entire US Forest Service campground to ourselves. We'll definitely return to this part of the U.S.
What kinds of spots do you look for when seeking a place to park at night? State/National Parks? RV campgrounds? Walmarts? 🙂
We search for county parks and campgrounds that get less use and aren't packed with RVs. National and state parks are top-of-the-list locations for most tourists/travelers. They're always crowded and connectivity is usually poor there. We've never had to stay in a Walmart or Cracker Barrel parking lot – or a rest area for that matter. There are several online groups that RVers use to find good locations. Campendium is super helpful because people can review campgrounds and RV parks, and note if cell service exists. We joined a group called Harvest Hosts as well. For an annual membership fee of $70, you can stay at more than 1,400 wineries, breweries, farms, museums and, yes, even golf courses, for FREE. Usually, the stay is limited to one or two nights and they typically don't provide water or electric hookups. But these venues take us off the beaten path. Definitely worth the membership fee.
Have you felt safe traveling so much–even in an RV? What precautions have you taken?
We do feel safe on the road. During the pandemic we take all the health and safety precautions – lots of hand-washing, hand sanitizer, avoiding public places and crowds. We've seen all levels of behavior on the road, but RVers tend to respect the importance of social distancing. Again, our RV lets us stay self-contained – we can cook, eat, sleep and have our own private bathroom. It really is a second home. I should add that we generally stay at home when coronavirus cases are spiking (like now). It would suck to be traveling and get sick with this terrible disease.
Where are you off to next, and when?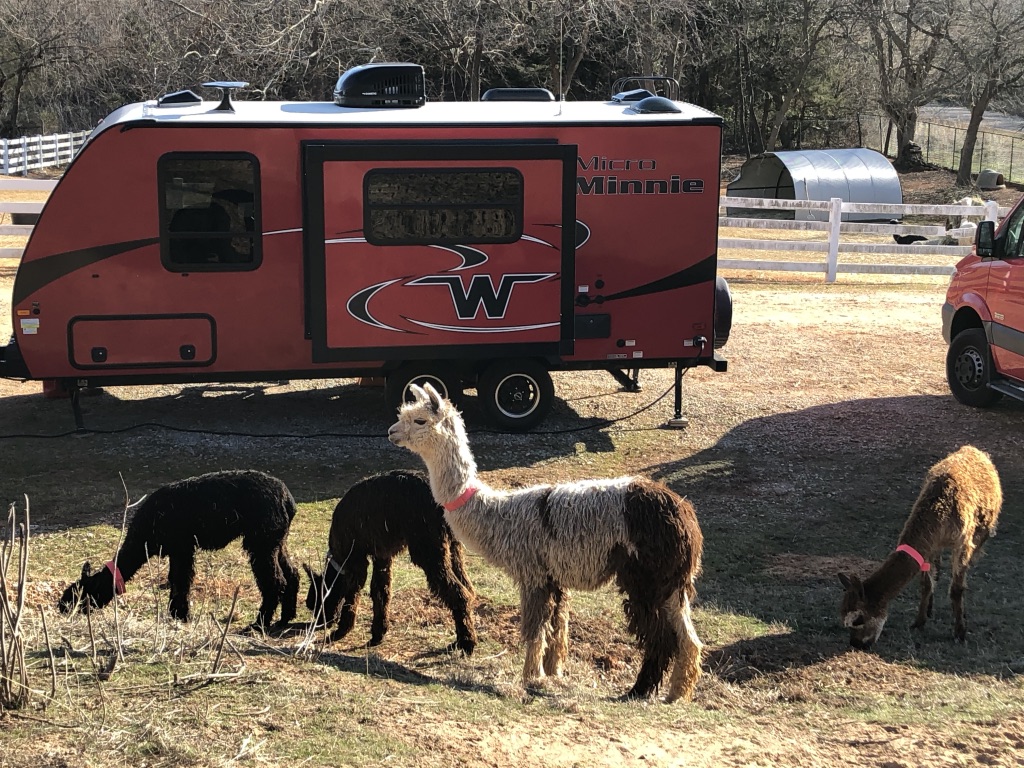 We have tentative plans to escape Minnesota in late January/early February in 2021. The hiking and biking in southeast Arizona (Tucson) is hard to beat in February.