I still remember my first blog post. It was Dec. 5, 2008. More than 11 years now. The title: Five ways to start fixing the health care industry. That post represented the start of my social media journey. A journey that would not only transform my professional trajectory–it would completely change my life.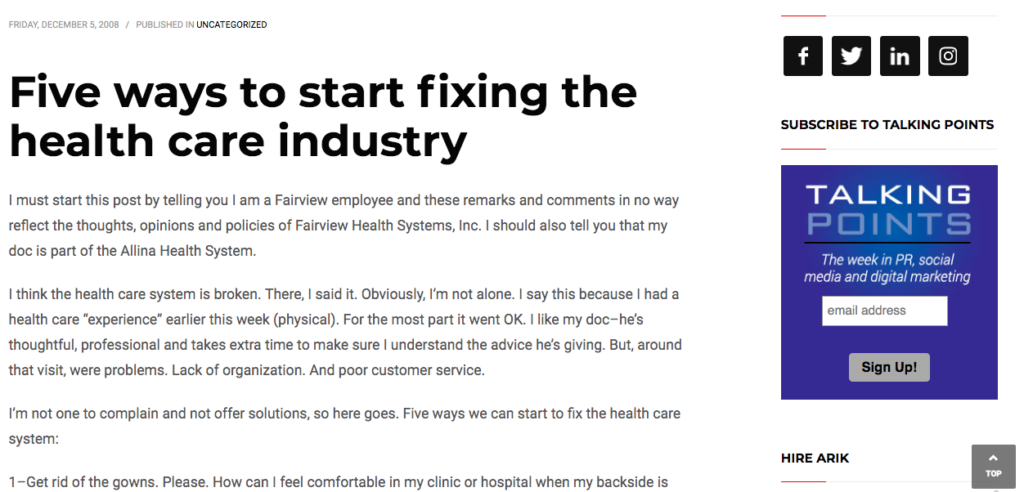 I started with a blog because at the time I was in a job that just wasn't challenging me. Wait, that might not be fair. I'll say it was a job I wasn't as interested in as I probably should have. Probably a bit of both, really. In the meantime, I wanted to write. Not about directives and priorities for a health care organization. But, about what interested ME. The blog was a spot for me to rant. A place for me to share opinions. It was a creative outlet. That's how it started. Just that. Nothing more.
From there, I quickly noticed this thing called Twitter blowing up. I don't recall why or when I started on Twitter (Frank Strong reminded me in 2016 that I started with the tweet below in 2007), but I do recall the transformative effect it had on me. It was the ultimate networking tool. And, to a person who loves to network, it was a God-send. I had the opportunity to talk with anyone, at anytime, on Twitter. It was–and in many ways, remains–the ultimate door opener. Early on, I remember connecting and following other PR bloggers–David Mullen, Shonali Burke, Kellye Crane, Danny Brown and Peter Shankman, just to name a few. I still remember the moment that Twitter light-bulb went on for me. I had written a post about how I thought Peter Shankman was a genius for giving away a series of gifts to people who were (unfortunately) working over the holidays. I remember sharing the post on Twitter, and Shankman retweeting it with some kind of comment. That was my social media "ground zero" moment. Everything changed for me after that.

I wrote list posts about all the people on Twitter in the PR/comms world here in the Twin Cities. I started my PR Rock Star series by featuring LeeAnn Rasachak and Sarah Ryder (now Reckard) at Sleep Number. I accelerated all my efforts. I blogged more often. I was on Twitter almost constantly. I participated in #journchat regularly (the other olds will remember Sarah Evans' Journchat!). I was a social media addict. But, it was really all relegated to two channels–my blog and Twitter. I met new people from all over the US. I organized a job search completely on Twitter for two friends–Scott Hepburn and Sonny Gill–that resulted in a meet-up at a then-famous social media conference called BlogPotomac. The combination of my blog + Twitter gave me the confidence to consider going out on my own as an independent consultant who could sell social media consulting to mid-sized and large companies.
This blog + Twitter momentum carried me from late 2008 through probably about 2011. Earlier than that, I knew all about Facebook, obviously. But, I had yet to spend much time on it. That changed in 2011. I was a bit late to the game, but I started participating more on the world's largest social network. I shared my blog posts there. I posted pics of my (then small) kids there. I didn't overdo it, but I showed up on Facebook more regularly.
Then, in 2012, I started posting pics on Instagram. It was a new social network devoted entirely to pics. I saw it as a way to practice my amateur (very amateur) photography (and experimenting with the filters!). More so, I enjoyed seeing my friends' pics. It was fun and light for me. I didn't see it as a business tool, but more as a way to stay connected with friends and share pics of my family and our vacations (which, to this day, is still how I use Instagram).
The combo of my blog, Twitter, Facebook and Insta was perking along until 2014, when I started kicking around the idea of producing a podcast. I knew of this guy named Kevin Hunt who was over at General Mills. I had heard of him earlier as he essentially started social media at Thomson Reuters (at least here in MSP). I thought he seemed like a smart guy and someone I'd like to know better, so I approached him about producing a show together. At one point, we even talked about roping Lisa Grimm into the mix, but ultimately settled on just the two of us. It was merely an experiment at first, but Kevin and I quickly realized we were having too much fun to give it up. We also quickly became friends once we realized we had more in common than we originally thought (i.e., we're both huge basketball fans). Five years later, we're now producing our 130th show and we have three annual sponsors of the show. An the Talking Points Podcast is the longest-running PR/corp comms podcast in Minnesota.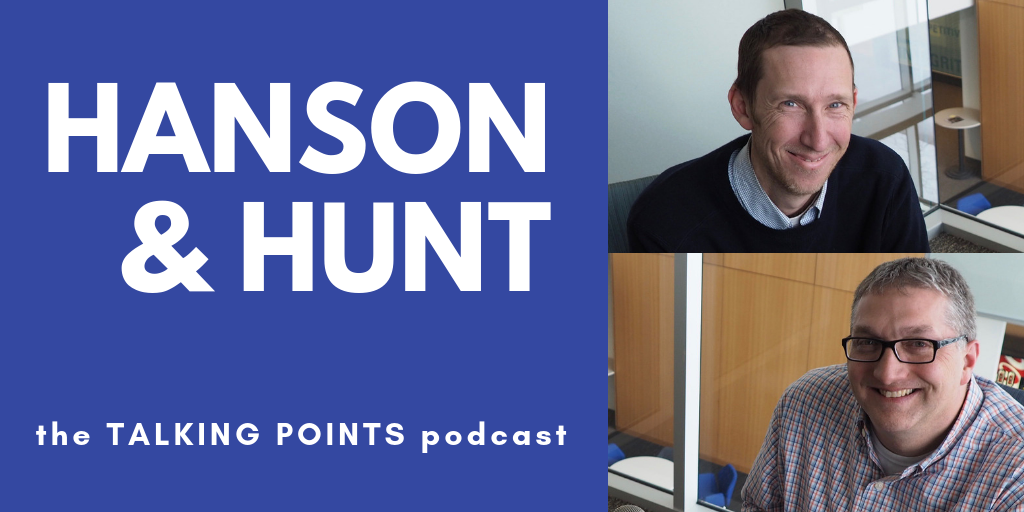 About that same time (2014/2015), I noticed the tenor on Twitter starting to shift. Not as many people were hanging out there. There was more talking "at" people and fewer conversations–which was what drew me to Twitter in the first place. I began spending less and less time there. And, I began spending more time on LinkedIn. Remember, this was when LinkedIn started positioning itself as more of a content platform and less of a jobs-only platform. I noticed–and so did many others. Spending more time there just made sense. My clients were there (PR/social folks working for larger orgs). I could share my blog content there, as well as other content I read on a weekly basis. And, just like Twitter early on, more "conversations" were happening there in the comment threads in posts. Starting in 2015, and with each subsequent year, I've spent more time on LinkedIn and less time on Twitter. In fact, in 2019, I spent very little time on Twitter. I check it once or twice a day, but I'd say I spend roughly 5-10 minutes a day there vs. 20-30 minutes (at least) on LinkedIn. Heading into 2020, LinkedIn is, without question, my primary social media platform.
To recap, my social media usage (in rank form) from 2008-2013:
1-Blog
2-Twitter
3-Facebook
4-Instagram
And, my social media usage from 2014-2019:
1-Blog
2-Podcast
3-LinkedIn
4-Instagram
How has your social media usage changed over the last 5-10 years? I'd be curious what your rank order looks like!