On The Gram, I follow a fellow solo consultant named Katie Miller.
Katie's a relatively new solo–been at it a couple years now. From all accounts, she's doing quite well. But, what really strikes me about Katie is her ability to work from anywhere in the world.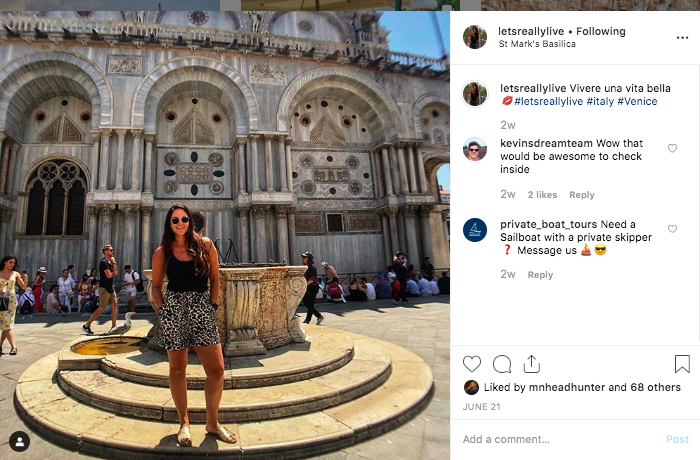 And when I say "anywhere in the world" I really mean ANYWHERE in the world!
Recently, she was traveling all across Europe with a few friends. Jumping into the Mediterrean in Italy. Exploring Croatia. All the while, somehow finding time to work and maintain her consultancy.
Needless to say, I (along with almost everyone else) was a little jealous.
Over on LinkedIn, I'm connected to another friend–Greg Swan. Greg leads social over at Fallon. Seems like a pretty sweet gig. He works on accounts like Arby's and H&R Block and works on forward-thinking activations like this.
He's also constantly presenting at big conferences. Attending SXSW every year since he was probably about 23 (Note: I have not attended SXSW ONCE in my career!). And, he seems to be working with some pretty smart and fun people at Fallon.
Again, I'm a bit jealous.
I, like many others, seem to routinely find myself in these situations–I have professional FOMO.
I'm more than happy (thrilled, would be the word) in how things have worked out for me. I've had a solo consultancy now for almost 10 years. I've worked with a long list of Fortune 500 clients. And, I've got to do it all my way, as Frank Sinatra would say.
Absolutely no regrets.
But, I still have a little FOMO from time to time.
And in those situations where I experience that professional FOMO, I try to rally back to three key ideas. These are ideas I believe everyone can use to manage their professional FOMO–because I'm quite sure I'm not the only one with professional FOMO.
Here's my approach–maybe this will help you; maybe not. Just thought I'd share.
Focus on your accomplishments–no one else's.
It's fairly easy to get caught up in a competition for the spotlight. Measuring yourself against your colleagues in terms of accomplishments. That could be titles. That could be awards. It could be a lot of things. It's also problematic. Just like the competition to "keep up with the Joneses" you're never going to win this battle. There will ALWAYS be someone who has a cooler job than you. That has a better title. That's won more awards. The key is to reflect and focus on your accomplishments, no matter the size or scope. For me, that's meant focusing on the fact that I've worked with more Fortune 500 clients in the last 10 years than most agencies do, instead of looking at cool projects other agencies are doing. For me, that's meant focusing on my blog, podcast and e-newsletter, not the fact that my agency colleagues are routinely winning awards left and right. And, it's also meant focusing on the fact that I'll start teaching at the University of St. Thomas in the fall–a life-long dream of mine; not lamenting the fact that many of my contemporaries are now VPs at big companies and agencies. By reflecting on YOUR accomplishments, you'll have a lot less FOMO.
Fully realize your life situation (me: 1 tween, 1 teenager, 1 dog)
Let's go back to Katie Miller again. I would love nothing more than to work from the Caribbean in the winter months. Katie has done this, and I'm quite certain she'll do it again this winter. So, so jealous. I've made absolutely no secret about how much I hate Minnesota winters. But, then I think about my life situation vs. Katie's. I have two kids in middle school/high school and a dog. To my knowledge, I don't believe Katie has either. That's a huge difference. And, it's something I try to remember often. Life situation matters–a lot. And you definitely have to factor that in if you're going to play the game of comparing yourself to others in a professional sense.
Zero in on your goals
I have a lot of FOMO of these folks who have started agencies in the last 10 years. Martha McCarthy and Emily Pritchard come to mind (The Social Lights). They've built an agency with legit clients. They have a North Loop office space. They have many employees. It's pretty impressive. I think "maybe I should have done that. Maybe I should have built something bigger than just me." Except here's the thing: That was never my goal. That was never what I wanted. My goal was relatively simple: To start a consultancy working with big companies in social media marketing and PR and to work with people I admire and like. And, for the last 10 years, I've been meeting and exceeding that goal. I've done what I wanted to do. Don't lose focus on what YOUR goals are. Resist the urge to measure yourself on other people's goals.