Each year, my wife and I have a "family summit." It's kinda this nerdy tradition where we have breakfast toward the beginning of the year and map out the year ahead. From a professional point of view. Personal. And financial.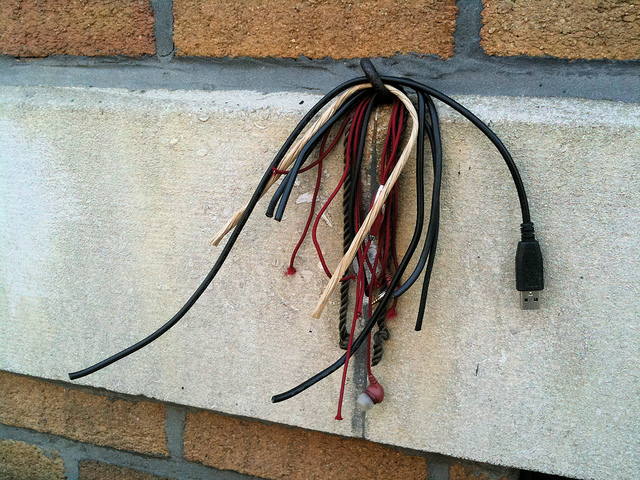 And each year, when we discuss finances, one of my areas of focus is "where can we cut?" Like any great financial mind (can you sense the sarcasm here?), I'm always looking for ways to cut–and for ways we can bring in additional income. And each year, one area that just continues to bug the crap out of me is our DISH bill. It recently almost hit $100 a month. Ridiculous. Especially for a family that watches 5-7 cable channels at most (me, mostly the sports channels and my wife mostly "E" and 1-2 other channels).
So, I've been thinking about "cutting the cord" (or DISH, in this case) for a couple years now. Not to mention, the move would force us to read more and do more family activities (plus, I don't want my kids to get hooked on watching too much TV).
This year, we finally pulled the trigger.
And, since I believe we'll most likely see more of this–not less–in the years ahead with the proliferation of online content (Netflix, Hulu, etc.), I thought I'd share exactly "how" we did it. Mostly because it's not a simple process at this point–and I don't consider myself an expert by any means. In fact, I've relied on advice from people like Julio Ojeda-Zapata, Meghan Wilker and Matt Storlie along the way (thanks, guys!).
Here's how we cut our "cable" cord:
Step #1 — We upgraded our TVs
We had one huge Sony tube TV in our basement, a 36-inch Sony tube TV on our main floor and a 32-inch in our bedroom. Got rid of all three (over the last year–in fact, the 36 inch is still in our family room; if you want it, it's yours!) and bought a 46-inch Panasonic Plasma TV for our basement. A 37-inch LG LCD for our main floor. And a nice, little 32-inch Panasonic LCD for our bedroom. All with HDMI hook-ups. HD ready.
Step #2 — We got the right devices
Next, we needed the right devices to access content. That meant buying two Apple TVs to access all the iTunes content we wanted. Specifically, I was after not only movies and TV shows via iTunes, but also Netflix. On Netflix I'm currently getting caught up with Friday Night Lights, Breaking Bad and Mad Men. And, my kids love their shows, too. Phineas & Ferb. Angelina Ballerina. Shall I go on?
We also bought a fairly cheap Samsung Blu-Ray player for the basement. My theory? We need at least one device that gives us access to Hulu content (different shows than Netflix). And, it gave us a Blu-Ray player, which is nice. It does make a difference on the 46-inch Panasonic in the basement.
Step #3 — We purchased and installed the right antennae
I can't take credit for this one. In fact, I got a little lucky. Since we live in the city, we had trouble getting a signal with an ordinary, indoor antennae. And, since I had no designs on getting on our roof and installing an antennae, I figured I'd have to hire that out. So, I posted a question on Facebook and former Minnesotan, Jared Roy helped me out with a tip. A couple weeks later, that installer was out sticking a powerful antennae on our roof. Best $100 I've spent in a while.
Step #4 — We figured out the right online content options to use
Our three primary sources of online content: iTunes, Netflix and Hulu. We're not heavily invested in Hulu just yet, but I plan to purchase the Hulu Plus pass so we can watch a few other network shows. We used to have all our movies for the kids on DVDs, but since they scratch so easily, I'm going to move all that to iTunes. So, we'll have all our movies digitally on our iMac. Forever. Or, until Apple goes belly up. We'll use Netflix largely for the TV shows–like I said above, Friday Night Lights, Breaking Bad and Mad Men for now. I also use it to stream music during the day while I'm working from home. The movies still are less than stellar on Netflix but I'm hoping that improves down the road. The rest of our movies, we watch by renting Redbox movies at $1.29 a pop. We probably average one a week, so we're looking at about $5 a month there. Grand total: About $20 a month for all our viewing content.
Step #5 — We started to think differently about our TV habits
The key to making this whole system work is changing your TV habits–or expectations. If you're a "water cooler" viewer, this system isn't for you. Sometimes, you don't get to watch shows/events live. You have to wait. And, you need to be OK with that. You also need to be OK with basically not watching sports. No ESPN. I rely on my ESPN app on my iPhone/iPad a lot for updates on scores now. You really just have to readjust your TV expectations–that's all.
How I saved $5,000
It doesn't take a math wizard to figure out how I saved $5,000 (or, in this case, how I *will* save $5,000 in the next five years). First, the costs:
Initial costs:
$100 – antennae
$100 – antennae installation
Monthly costs:
$7 – Netflix streaming fee (monthly)
$5 – Average spent on Redbox rentals per month
$7 – Hulu Plus subscription (still considering this, but will probably pull the trigger soon)
Total: $200 start-up cost; $19 a month ongoing cost
Previous total cost: $100 a month ongoing
Savings per month: $81
Savings per year: $972
Savings per 5 years: $4,860
Money we will most likely stick in our kids college savings now. Thanks DISH!
Photo courtesy of jasoneppink via FlickR Creative Commons