The most important election of our lifetimes (and some say, since 1908), is now less than 2 weeks away. And, if early voting trends continue, this could be the biggest voter turnout of our lives, too. As we've seen for the last few years, brands are increasingly getting involved in societal issues–racial injustics, climate change and women's rights, just to name a few.
Now, brands are increasingly also getting involved in pushing out another important message: voting.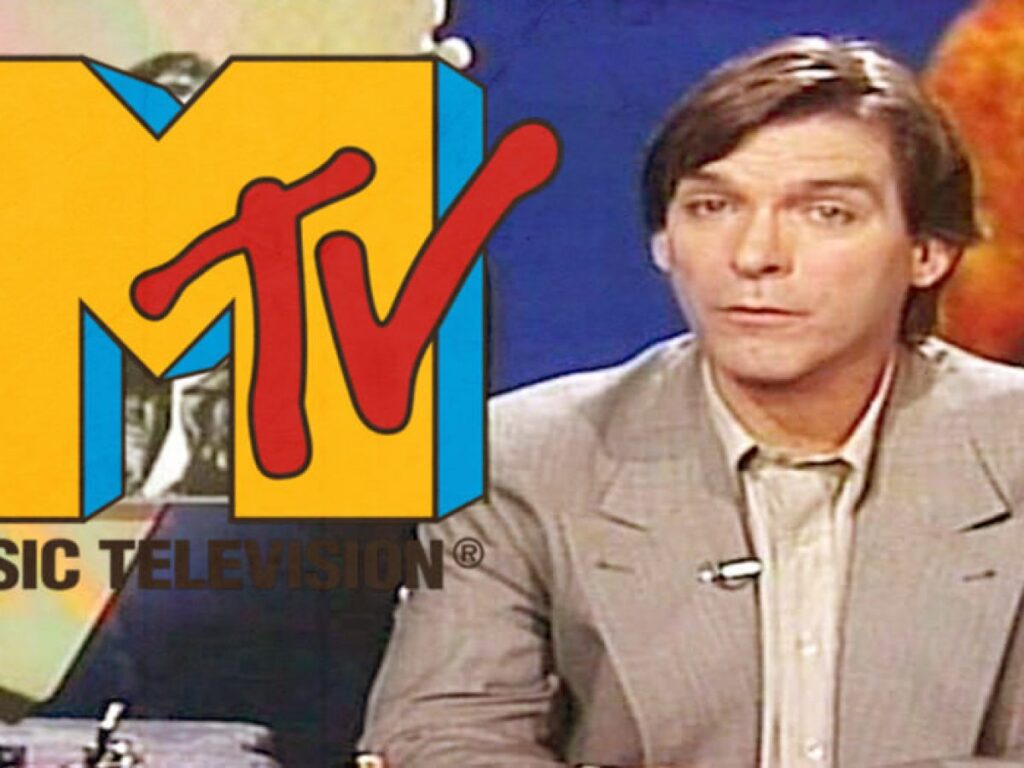 And, it's certainly not too late for brands to get involved.
Historically, brands haven't been all that involved in the "get out the vote" message. Sure, brands like MTV have ran campaigns like this in the past (I distinctly remember Kurt Loder on MTV News talking about this back in the late 80s). But, over the last 20 years? Not so much.
However, new research (like this Morning Consult report) show that brands stand to benefit by doing just that. The report claims that 29% of Americans are more apt to purchase from companies who are involved in get out the vote efforts. And, among Democrats, that number is much higher (45%).
So, there's definitely a business reason for some brands to get involved with voting efforts. Which is why you're starting to see so many brands taking this on.
Upon closer review, what's interesting is that the "Get out the Vote" messaging IS prevalent–but, predominantly among one sector of the business world: Retail. Specifically, fashion brands.
And, those messages are more likely to be shared on social platforms like Facebook and Instagram vs. LinkedIn (which I found interesting).
Here's a look at how some of the more forward-thinking brands in the U.S. are tackling this issue this fall.
Levis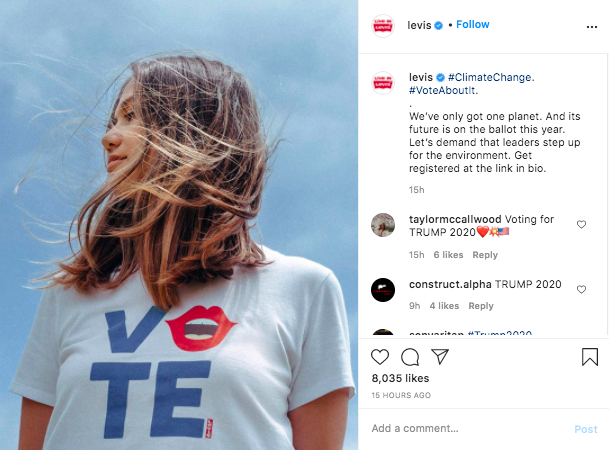 Levi's has been at the forefront of the voting push for years. In fact, I'd say they might have been the first brand that was out there making this push years ago. Nowadays, they've linked up voting efforts to #climatechange initiatives.
American Eagle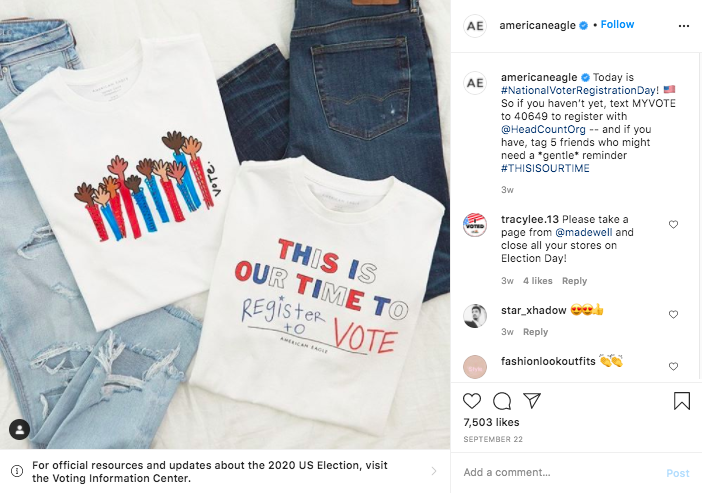 Like many fashion brands, AE features their voting apparel in their Insta posts. But, the tag 5 friends approach was something I didn't see from other brands.
Banana Republic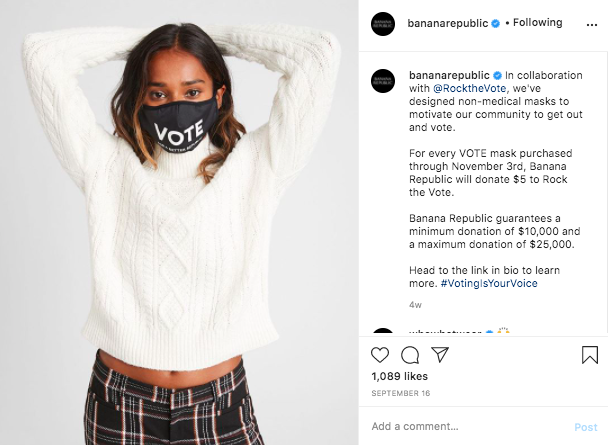 One other trend I noticed: Brands partnering with political groups like BR is doing here with "Rock the Vote." Smart move. And, it also allows them to add a philanthopic piece to this with the money they're donating.
Chipotle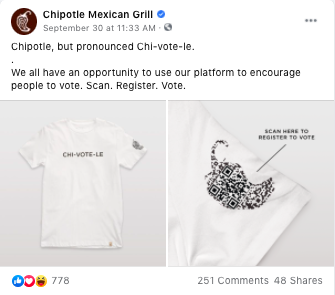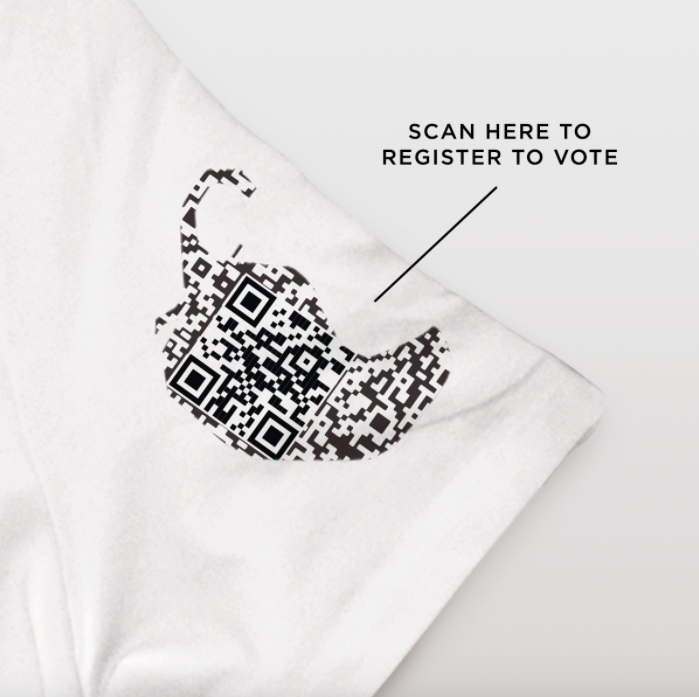 Leave it to Chipotle to come up with a clever way to enter the voting issue space. These t-shirts with a scannable QR code represent a very different way for them to play on this issue.
Amazon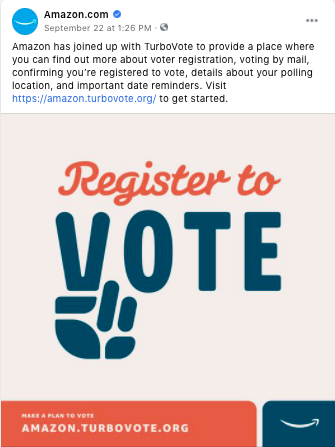 Like I said, I didn't see a ton of big companies sharing messages about getting out the vote. In fact, Amazon stood alone (so far) among the bigger retailers. And, much like BR, they're partnering with a political group (TurboVote.org) to get more people involved.
Eileen Fisher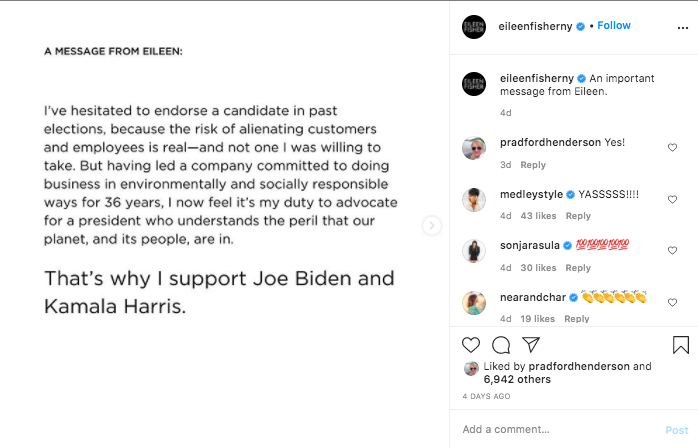 Easily the strongest stand of any brand I found online. Eileen Fisher was the only one to come out and fully endorse a candidate. Thought it was worth highlighting. Start of a new trend? Time will tell.
Patagonia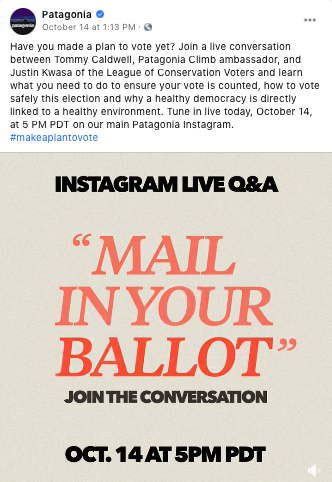 Instead of a garden-variety social post, Patagonia took it to the next level and created a Facebook Live event featuring one of its folks and a rep from the League of Conservation Voters. Great way to add more depth to an important conversation.
Crocs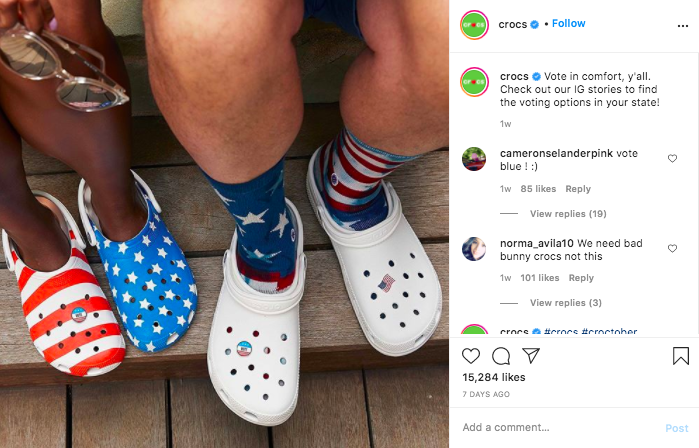 Live Nation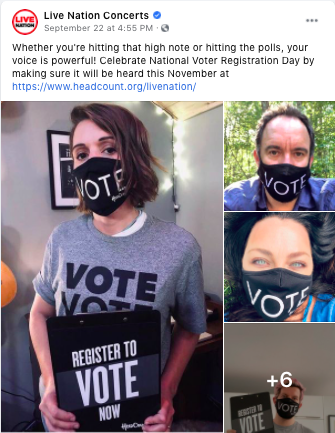 Like many brands featured here, Live Nation played off National Voter Registration Day in Sept. to highlight its efforts. And again, directing people to headcount.org. Also important to note: Featuring (what I'm guessing are) employees with masks on in visuals. Making a statement without even saying anything.
Unilever
A bit of a roundabout way to the goal here from Unilever. But, smartly taking a topic the organization has clearly put weight behind (hunger) and tying it to voting. Another potential trend I bet we'll see more of in the weeks (and years) ahead. A much easier entree for most companies into this space.