Today's guest post is courtesy of Tim Otis, supervisor-social media & PR at local integrated advertising agency, Gabriel deGrood Bendt (GdB). Tim's post highlights one of the many reasons I've enjoyed the HAPPO movement over the last week–the personal stories that have emerged. Enjoy.
When I was 7 years old, I ventured off in my house to find the game Pictionary so my family and I could play it. They told me it was somewhere. I searched and searched for what seemed like a lifetime (especially when you're that young).  After about 2 hours of no returned result, my family told me to stop, but I kept going.
This type of mentality came in handy 15 years later when I graduated from college with a B.A. in Communication. As a recent alum to a very small, private liberal arts college, I knew I was going to have to be persistent — and think smarter — to set myself apart from the big-league school competition. I went the extra mile; I didn't stop at a resume and cover letter.
I created grassroots tactics and targeted local PR agencies telling them a black ball was going to be rolling their way.  An e-mail definitely worth opening judging by the subject line. I created that black ball too. For two weeks, I researched another PR firm's top healthcare client and create a PR campaign, which I handed to them in person. That orange neon binder certainly stood out from the stack of resumes the firm received daily.
When you're persistent, you tend to think outside of the box. Your ambition gets the best of your mind at any time of day—usually leading to someone else's critique of you being "spacy." Nah- you're just thinking really hard, and that will have considerable payoff. You might not see the end result shaping up anytime soon, but that doesn't mean you should stop the search.  Most people, in their frustration of not finding a job, tend to think, "There are no jobs out there."  This is wrong and an exaggeration.  The book, "What Color is Your Parachute" definitely reiterates this point.
Consider your level of persistence when seeking out a PR job. Have you in one way, shape or form demonstrated your level of PR expertise by pitching the firm your abilities over the phone? Sounds like you'd be a shoe-in for that media relations position. Did you launch a status updates campaign on Facebook, having your most trusted PR colleagues and friends say you're great on their Facebook profiles, knowing that HR director is "friends" with them as well?  That may be a bit crazy, but it's always a good idea to try new things to differentiate yourself.  Does it show you're persistent? Hell yeah.
If you're still searching and searching for that PR job with no luck, use a little more persistence and smart thinking. I did happen to find that Pictionary game back when I was 7. I used a chair.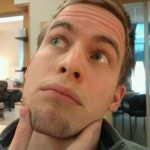 Tim Otis is the Supervisor of Social Media & PR for Gabriel deGrood Bendt (GdB) in downtown Minneapolis. Besides building company brands through the use of social media channels and traditional media relations practice, Tim enjoys helping young PR job seekers develop themselves professionally in the Twin Cities—based on his own experience in doing things right and doing things very wrong.