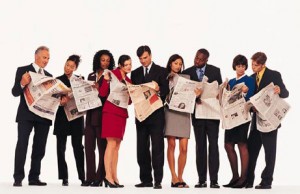 Do you have a friend or colleague who lost their job in the last six months? Unfortunately, chances are the answer to that question is "yes" for most folks. And typically, the response most folks have when they find out that friend or colleague lost their job: "Let me know if there's anything I can do to help."
Well, folks, I'm here to say there is something you can do. Very soon. Let me explain.
About a month ago, I received an email from an organization named TalentSeekr. A representative from the company was pitching me on ads to post on my blog. While the offer was intriguing, I passed for a variety of reasons (stay with me here). But a few days later, my friend David Mullen got me thinking again with this thoughtful post. Maybe those ads would actually help our fellow PR colleagues who were on the job hunt. Maybe I had acted hastily.
After giving it some additional thought, I decided to stick to my guns and pass on the ad offer. But, in re-thinking the proposition, I came up with an alternative idea (along with my friend, Valerie Simon).
What if we created a community-based "Help a PR Pro Out" Day?
An obvious play on HARO (big fan, by the way; hat tip to Mr. Shankman), Help a PR Pro Out Day will be a one-day event designed to help PR pros find jobs.
Like many of you, I've noticed a few more PR jobs opening up lately. In fact, I'm sure some of the agencies or organizations you work for or represent are probably looking right now. And, we all know there are many people (even a few friends) out there looking for a job right now. Why not take action and help by playing recruiter and connector for one day?
On Friday, February 19, from 10 am – 2 pm CT PR bloggers, agency leaders, and PR professionals from across the country will donate their time and talents to help fellow PR pros connect with employers as part of the first-ever "Help a PR Pro Out" day.
Are you a job seeker? Prepare a creative blog post, pitching yourself to prospective employers and share it via Twitter during the event on Feb. 19 using the hashtag #HAPPO. The HAPPO "market champions" (see below) will help by retweeting and connecting you with potential employers in your specific market (or markets you're willing to relocated to).
Are you an employer looking for talent? Follow the hashtag #HAPPO on Friday, Feb. 19 and share your openings. Market champions will do their best to connect you with talent they think matches your specific needs.
Are you a PR blogger/Twitter addict? Yes? Then share the #HAPPO tweets with your personal networks and lend your support to those in need. Help your market champion identify job seekers and pair them with potential employers. This is your chance to make a difference!
Of course, we realize not everyone looking for a job can do so publicly online. So, for those candidates who wish to be more discrete about their job search, please contact one of the local HAPPO champions who can help facilitate the appropriate introductions through the Twitter back channel or via good old-fashioned email.
I realize we don't have all the major markets covered in the list below, but please realize this is a volunteer event. We're all donating our time and efforts. And we all want to help. But, we also wanted to put some kind of definition around this event. If you're in one of the markets we didn't cover below, please don't let that stop you. Reach out to myself, Valerie Simon (my partner in crime) or any one of the market champions to see how you can help. This certainly isn't meant to be exclusive.
Below is a list of HAPPO champions. Over the next two weeks leading up to Feb. 19, these folks will be posting and tweeting about the event. Make sure to connect with them if you're a job seeker or an employer looking for PR talent. That will help us all connect the dots on Feb. 19.
There are also a number of other folks who will be supporting the event in different ways, including Sarah Evans, Dave Fleet, Allan Schoenberg, David Mullen, Shonali Burke, Rachel Kay and a few others.
If you're a job seeker, I hope you'll consider posting and participating. If you're an employer, I hope we can help you identify candidates for your openings. And, if you're a PR practitioner who's happy in your current role, please contact myself, Valerie Simon or one of the market champions to see how you can help.
You can find more information and ongoing updates leading up to the February 19 event at www.helpaprproout.com (we'll be updating this site much more next week).
I hope you'll consider getting involved in one way or another. Remember, this is your chance to make a difference. Jump on it.