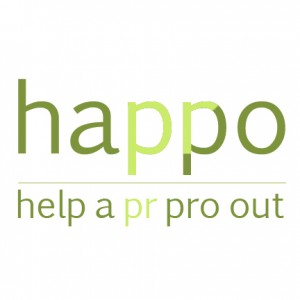 Take a moment. Think back to the spring semester of your senior year in college. Did you have an internship lined up? Maybe you had informational interviews in the works. Or, maybe you were even lucky enough to have a job waiting for you in May or June.
Whatever the case, one thing is certain: None of us did it alone.
None of us.
You're kidding yourself if you think otherwise.
But, no worries. Next Friday, April 30, you'll have a chance to return that favor and pay it forward during the second Help a PR Pro Out (HAPPO) Day.
This second event (the first event was held on Feb. 19) will focus squarely on college seniors and recent college graduates. The hope? That collectively, PR professionals across the country can come together to help make connections, build relationships and point students and recent grads in the right direction toward potential job opportunities.
The event will be held from 12-2 p.m. ET on April 30 on Twitter using the #happo hash tag. Just as we did with the first event, we're encouraging college seniors and recent grads to develop a creative post that answers one simple question: Why should I hire you? Local champions and other PR professionals will then share your posts and attempt to connect you with others who can help.
Remember, the idea behind HAPPO isn't to serve as an online job board. In fact, we think about it as the anti-online job board. Yeah, our ultimate goal is to find people jobs. But, let's be perfectly honest. That just doesn't happen overnight.
The job search takes time. We're just hoping we can help people build momentum and spur creativity in their search.
So, what can you do to help?
Job seekers: Develop a post that answers the "Why would I hire you?" question. Or, better yet, ask a friend, colleague, professor or mentor to post about you. Whatever the case, create a post and tweet it to your local champion and @helpaprproout using the #happo hash tag on April 30. And, don't be afraid to reach out to your local champion next week. They're there to help. Take advantage of that opportunity.
PR pros/PR bloggers: Make a post next week sharing news of this event. Help us spread the word so we can help as many college senior and recent grads as possible. And, help promote students and recent grads on HAPPO Day next Friday. Like I said at the outset, this is your chance to make a difference. Pay it forward.
Employers: Got a job for an entry-level pro? Reach out to your local champion. Don't have a local champion? Send me or Valerie Simon a note at arik.hanson@gmail.com or valeriesimon@gmail.com. Obviously, we need your help the most!
Look for more information about HAPPO Day–Round Two next week on the HAPPO blog. And look for some wonderful stories and posts from our champions next week, as well. We're really looking forward to helping students and recent grads make meaningful connections and build momentum toward what we hope will be one of the most exciting times in their lives.