Last week in class where I teach as an adjunct at the University of St. Thomas, we discussed a case study. Folgers is trying to remake its brand a bit by ditching its iconic "Best part of waking up" jingle in favor of a famous Joan Jett song, "Bad Reputation."
The campaign's centerpiece, of course, is a 60-second ad that will run across broadcast TV and streaming services. The ad itself is interesting. On one hand, if you look at who's represented in the ad, it is targeting a younger, and more diverse audience. And the nod to New Orleans (where Folgers is produced) is nice.
However, if Folgers is targeting a younger demo, I have a couple key questions:
1 – How many 25-year-olds know who Joan Jett is? When I brought this up in class, the only reason they had heard that song at all was because it was in Shrek. And, most had never heard of Joan Jett. So, while the song's title is appropriate, I'm not sure it resonates with a younger, more diverse crowd.
2 – If you want to reach a younger audience, shouldn't the campaign have a MUCH stronger digital and social activation piece?
What am I talking about?
Here was the tweet they led with for the campaign:
In case you were still sleeping on us, consider this your wake up call. #DamnRightItsFolgers pic.twitter.com/for3Z5MVoI

— Folgers (@Folgers) January 31, 2022
And here was the other tweet:
A big thank you to our incredible hometown of New Orleans, Louisiana for hosting our shoot. Unrivaled community, crew and coffee. ⚜️ pic.twitter.com/QOlGc2ZEVs

— Folgers (@Folgers) January 30, 2022
Over on Insta, where they would surely reach that coveted younger audience, this is what they posted: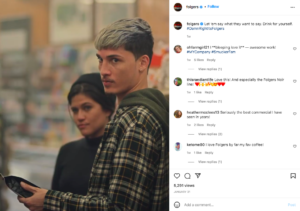 The full 60-second video. And, they didn't exactly use language and prose that connects with a younger audience.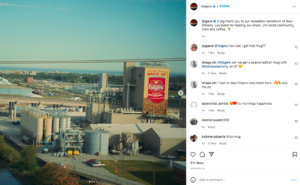 Over on TikTok, THE channel to connect with a younger audience, we find….a barely functional account. Worse yet, we find they're merely posting the ads and content they posted on Instagram, Twitter and Facebook.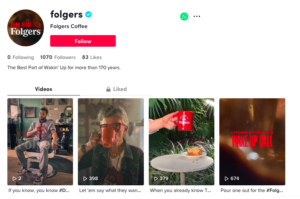 My point? This kind of "social activation" has become commonplace for brands like Folgers. The centerpiece of the campaign continues to be the "creative" (in this case, a 60-second TV commercial), while social gets short shrift. Oh, who am I kidding? In most cases, social is nothing more than an afterthought. Certainly, that appears to be the case here.
And this seems to be a big ad agency issue. I've seen it too many times to believe otherwise. In this case, behemoth Publicis is the AOR and was responsible for this campaign. And agencies like that are led by creatives–writers and art directors who cut their teeth in the hardcore ad world, NOT in social or digital marketing.
So, educated guess on what usually happens: The egos of the creatives get fed and social gets nothing more than a very small look in terms of activation (even though, in this case, a younger audience was the target!).
How else do you explain the activation you see here with Folgers? THIS was how they plan to connect with a younger, more diverse demographic?
There are so many directions Folgers and Publicis could have taken this campaign. Here are just a few ideas off the top of my head they could have considered:
1 – If you're going to target a younger audience, why not attempt a TikTok influencer activation? Wouldn't that make sense? Why not rope in a few influencers and ask them to help re-invent the brand WITH you!
2 – Given the popularity of the whipped coffee that went viral on TikTok in 2020, why not play to recipes created by those same influencers above?
3 – For Insta, since the Folgers mugs seem to be getting so much attention, why not double-down on that in some way? A giveaway? Have some fun with different slogans on the mug? So many ways they could have went here instead of using overly staged visuals with people drinking coffee (how boring is that?).
Bottom line: Creative agencies need to get over themselves and focus A LOT more on the digital/social executions for campaigns. I've talked about so many campaigns in class the last 3 years and the number led by ad agencies where the social/digital execution is spot on is embarrassingly low. As an industry, we need to do better. Our clients deserve it.