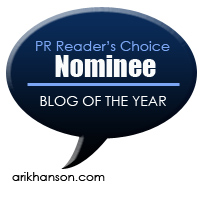 If you're like me, you read blogs as a way to keep up on trends, learn new skills and connect with brilliant minds across the country. But, as I've followed these blogs and gotten to know many of the authors behind the posts, I've been surprised by the lack of recognition many of these folks–and their blogs–get. 
Oh sure, there's the Ad Age list and a handful others, but there's a lack of formal recognition from our peers.
What about YOU? The folks who read these blogs each day. The folks who are committed members of the PR/social medial blogging community. The folks who are adding to the discussions in the comments day in and day out. Are your voices captured anywhere?
As far as I can tell–they're aren't. So, I'm proposing we rectify that situation post haste.
Introducing the first annual PR "Reader's Choice" Blog Awards.
We'll start with four different categories:
* Best up-and-coming PR blog (blogging less than a year)
* Most educational PR blog
* Most thought-provoking PR blog
* PR Blog of the Year
As a first step in this process, I need your help. If you have a nominee for one of the categories above, please do one of the following:
* Send me a note at arik.hanson@gmail.com
* DM me via Twitter (@arikhanson)
* Leave a comment below
You'll have a week to submit nominees. As of midnight next Monday, May 25, I'll add up the submissions. The top 5 in each category will then be nominees and official voting will begin May 26 via SurveyMonkey.
So, please send me a note with your favorite blogs and submissions and help me recognize the truly fantastic PR blogs we all read each day!