Today's guest post comes from a good friend of mine, Tony Saucier, director of social media at Life Time Fitness. Really good topic–this won't be the last time we talk about this development.
There's this moment about halfway into Wall-E, when you realize the movie is about more than just a lovable little robot wandering an empty planet. Turns out Wall-E is all alone on Earth because the humans abandoned it for a mega spaceship – the Axiom – where robots attend to their every human need. Robot hover chairs chauffeur them around the ship, while robot news channels provide news updates and weather reports. The robots even serve them meals through straws! As a result, the humans are overweight, muscle-less and totally complacent to remain on the spaceship forever. Kind of seems like Facebook wants to be the mega spaceship.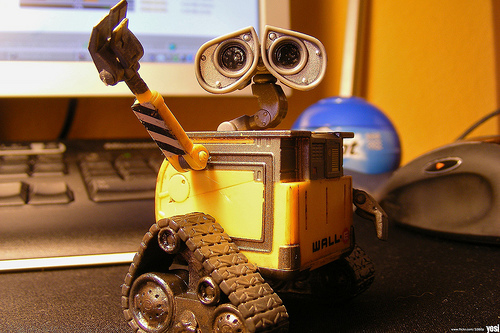 This week's news – Facebook announced early Wednesday that they will now be serving articles from 9 selected publishers direct to newsfeeds – no need to wait 8 whole seconds for the article to load on another website! Initial partners include the New York Times, NatGeo and BuzzFeed, and like everything Facebook does, the goal is to provide more reasons for you to never leave their platform. Facebook wants to be ubiquitous with your entire web experience, but to use another analogy; they're out to build the web's version of the Hotel California.
Remember back in 2010 when Zuck announced the launch of Facebook email (which wasn't really email)? This ambitious project hoped to roll together instant messages, SMS, DMs and channel them all through an @facebook.com email address. One messaging platform to rule them all, yada, yada, yada… Sure, the project was shuttered 3 years later, but Facebook had already planted a flag for their goal to replace user activities with other FB-ready solutions. Just between July 2014 and March 2015, Facebook launched Save, Rooms and Scrapbook – three features that took aim at bookmarking sites, chat rooms and cloud-based photo archive sites. Have a favorite online thing you like to do? Facebook has a robot service for it!
But lets say users are generally okay with ceding more time to Facebook, it's worth noting that 'instant articles' also will significantly alter the dynamic with the world of journalism. Facebook has moved from being a news conduit to a news publisher – they now have a controlling stake in what gets shown to readers. Sure, sure, you'll still be able to find the same articles on NY Times for now, but what about two years down the road if (when) the NYT starts to see the majority of its traffic coming from Facebook? It's not unreasonable to think their operations executives might ask, "Why are we paying to own and operate a website? Facebook will just do that for us." (More robots, please.) If that scenario feels a little unnerving, it's with good reason; should Facebook become the publisher of the New York Times, editorial autonomy could go out the window. Remember – Facebook is the company that chooses which updates you get to see from friends and which ones it wants to hide.
So what does this mean for brands and agencies? Let's start with the obvious – Facebook isn't going anywhere and your related marketing efforts probably aren't going anywhere either. Quote whatever study you like about the exodus of Millennials, but the sheer magnitude of users logging in each month means the F-word is likely to remain part of your online marketing strategy in the near future. Beyond that, a couple of takeaways seem apparent:
You can't get away from paid content.As Facebook creates more features to make the newsfeed more engaging, they'll also continue to create barriers for your brand or company's organic reach. I'm not a paid media expert, though I've seen solid reach and click-throughs with the right audiences when I've invested in targeted media buys.
Continue pushing your brand to think beyond social content. As social marketers, it's easy to get in the trap of thinking content is the most important aspect of our jobs – that's how we get Likes, after all! Although content is core to our efforts to entertain or educate our communities, we need to stay focused on improving the experiences and technology that will give our fans a reason to leave Facebook.
Also, if you haven't started yet, it's time to build some robots.
photo credit: Namaste Flickr! via photopin (license)