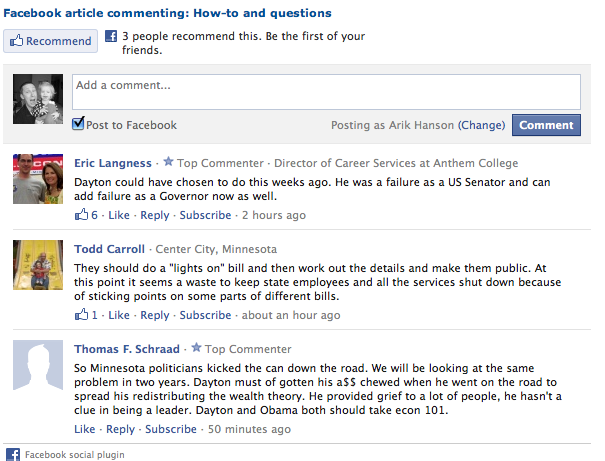 If you've ever read a mainstream media outlet online, you know one thing's for certain: You're going to get a healthy dose of extreme remarks and opinions in the comment section of the article.
Why? Because most mainstream media outlets don't use comment platforms that demand you use your real identity.
So, we see a lot of comments from people like "youngs79", "RF6700" and "jstanthrbr." All sound like credible voices to me, right?
That game changed–at least here in Minnesota–recently when the St. Paul Pioneer Press decided to start using Facebook comments as its comment platform of choice.
Big deal, you say? What's the difference? Plenty. Let's lay out the upside to the Pioneer Press, and its readers:
Weeding out the extremists
What's the one thing Facebook will never let you do? Pretend your someone else. One of the core beliefs of Facebook Nation (and Zuckerberg) is the notion that you are one person online–no matter where you go. You can't use a fake name. You can't pretend to be the dobbleganger4452. You are you. And, thanks to that authenticity, your comments are represented as coming from you–not an anonymous user. Don't think that impacts what people say online? Better think again.
Ability to follow conversations better
With Facebook Comments, you have the opportunity to subscribe to comment streams with a simple click which allows you to follow threads you're interested in. Nice add.

Credibility matters
Another downfall of comment systems with anonymous users–not only can I not tell who's who, I don't know who's a credible source of information on a particular topic. With Facebook Comments, we get a little closer to that thanks to the "Like" button. You'll notice some comments have more likes than others–nice social signal that determines credibility, whether we like it or not (not perfect, of course). I also like the fact that with Facebook, we can now see where people work in their comments, and in some cases, their title (see title/place of work next to "Aquella Moore's" name below). More signals and signs of credibility–all of which determine whether or not I'll read the comment, and how much weight I'll give to it as I process the information.

Increased awareness for the media outlet
Obviously, one of the bigger advantages of Facebook Comments is the ability to post the comments to your personal Facebook wall as well. So, now instead of those comments merely living on the "walled off" Pioneer Press Web site, they can (with a simple click of a checkbox) seep into Facebook news feeds–where 700 million people live daily, mind you. Don't think that's adding some visibility for the online version of the paper? Think again (would love to hear/see the stats/results the Pioneer Press is seeing as a result of this approach).
Hidden benefit: Brands can post, too
Not so important for the everyman, but for those of us in the digital marketing and PR world, this is huge. If you're a Facebook business page admin, you have the ability to post as the brand in the comment stream on the Pioneer Press (see example below from my account and just a few of the brands I currently and have worked with). Why does this matter? Say you're manufacturer. A story is posted about the fact that some of your components may be recalled. It sparks a firestorm of comments. How valuable would it be to chime in to the comment stream amidst the rumors and speculation and correct facts on the fly–clearly, as a representative from the brand as identified by your avatar? Great new communications tool for brands.

All that said, some folks aren't exactly enamored with the Pioneer Press' decision to go with Facebook Comments, citing privacy issues with the social network (see a comment from one reader in this post from the Pioneer Press' Julio Ojeda-Zapata's Your Tech Weblog). This isn't surprising, given Zuckerberg's history in this area. But, as I've outlined above, I tend to think the pros vastly outweigh the cons when it comes to privacy vs. identity authetication in the comments sections of mainstream media sites.
What about you? Is Facebook Comments a game-changer for mainstream media online portals? And, more importantly for most of us, for the clients we represent?