A few weeks ago I received an email from Anuj Agarwal, founder of something called Feedspot.
Yeah, don't feel bad. I had to look it up, too.
Apparently, he was emailing to let me know I was on a list of the top 30 communications blogs on the web.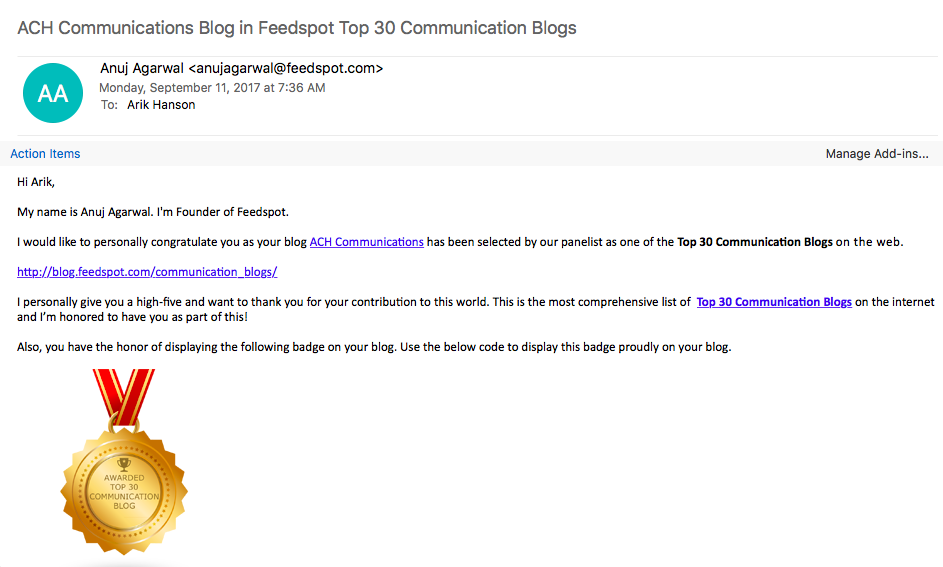 He shared his congratulations with me and a badge I could display on my blog (people still do this?).
Overall, it was a well-written email and I was flattered to receive it. And, although I refrained from talking about it online (until now, I guess), it felt good to be recognized, no matter the list.
But, I did refrain from sharing it. I felt a little weird about it since it wasn't a huge, well-known list. I mean, we're not talking Forbes, HBR or even Mashable here.
Why did I resist? First and foremost, because of my insecurities–no doubt. But, also because of the culture that now exists on the web. People routinely chide people that share lists they show up on. We see it all the time. Even when it's somewhat self-depricating, you can almost see the virtual eye-rolling. Hell, I've GIVEN the virtual eye-rolling before!
And that's a shame. Because everyone wants to be recognized. It's a basic human need.
See, this has never made sense to me. We talk about recognition at work as a huge need for employees. We need to recognize this group of employees for their hard work on this initiative. We need to thank these people publicly during the CEO's speech given all the hard work they put in over the last year. Recognition is a key HR and communications strategy within almost every company.
Yet, when it comes to the social web, we chide and tease people who share the lists they might show up on.
Why?
My take: Partly, this is probably a marketing/PR/social media industry deal. With so much chest-thumping out there, it's hard not to tire of the culture we've created over the years with all these lists.
But, another part of it is flat-out envy and jealousy. And the fact that those doing the most teasing simply refuse to acknowledge the fact that everyone wants to be recognized. Even them.
Now, does that mean I want a steady stream of tweets from the social media author du jour telling me how many lists he's made? No. But, it does mean I think most people shouldn't feel badly about touting a list they made. People like Rebecca Morris Hoeft below, who was recently recognized along with many other Twin Cities marketers on this list: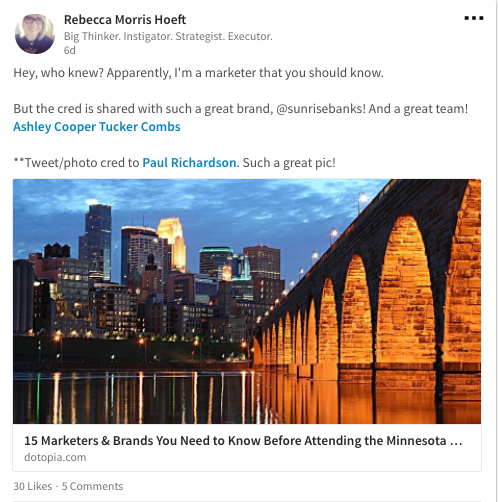 Let's all just admit this simple truth to ourselves: We all want to be recognized.
There–don't you feel better?