Trust in everything is plummeting. Except my company's CEO.
That's the message from the 21st edition of the Edelman Trust Barometer (side note: They've been producing this thing for 21 years?!?! Man, I feel old).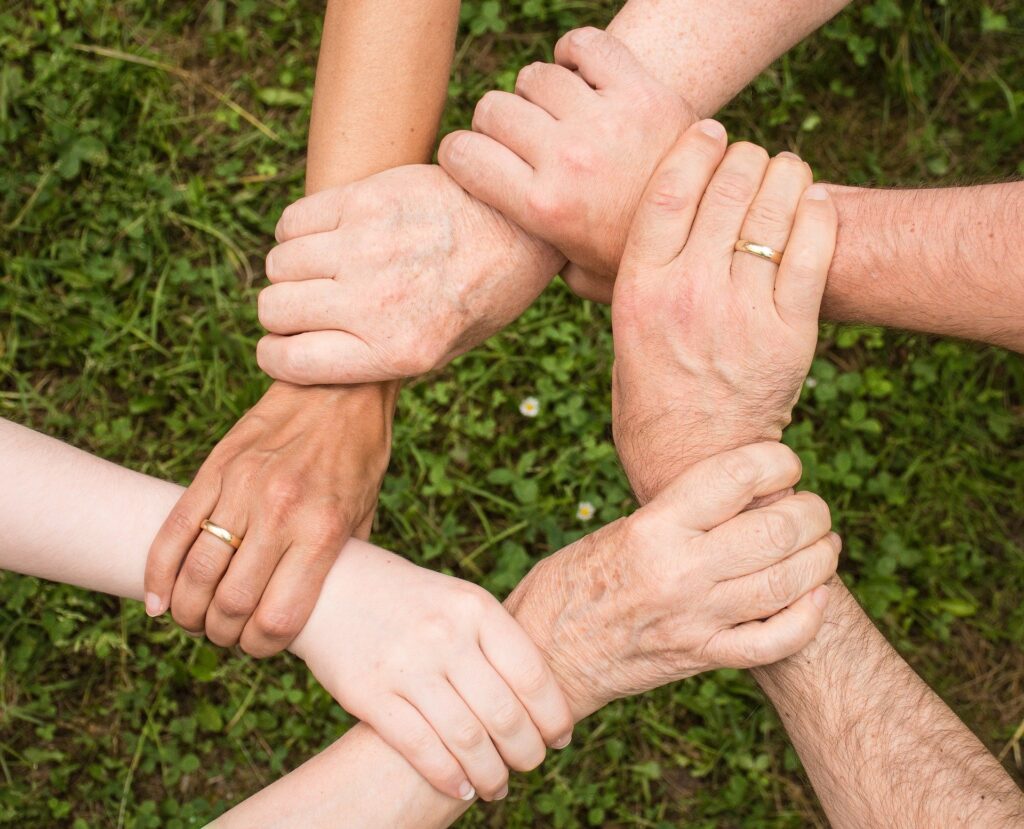 While the continued loss of trust in government, NGOs and media is definitely concerning–and not great for communicators. The rise in trust for "my local employer" and "my employer's CEO" could result in huge wins for your organization in 2021–with the right steps.
As I read over the Trust Barometer last weekend, I couldn't help but come back to one key tactic that more communicators could be pushing: Get your CEO out in front on social media–specifically LinkedIn and/or your corporate blog.
Let's let the data do the talking, shall we?
Data Point #1 – Business now most trusted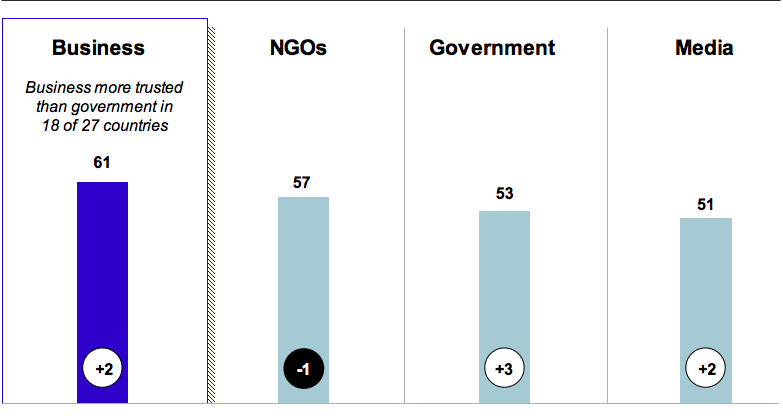 Not by a wide margin, mind you. But this is significant. And, what's more, as you can see, it's not just in the US. Businesses are more trusted in most companies around the world.
Data Point #2: Trust highest in "my local employer"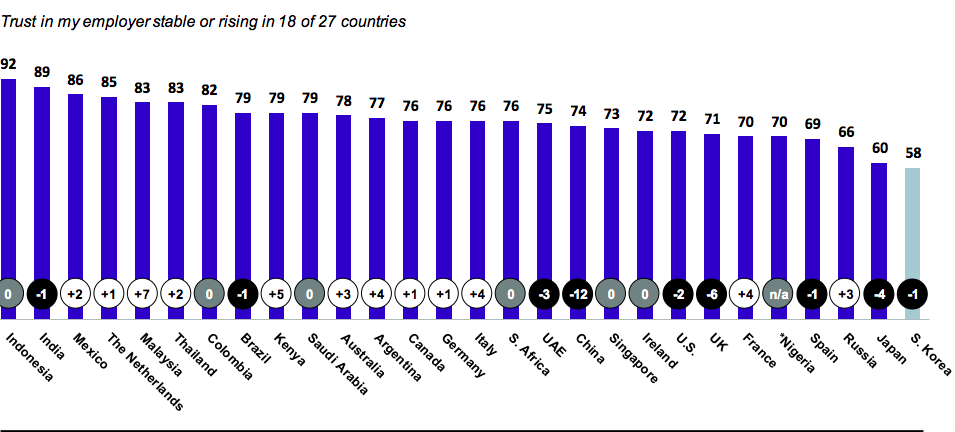 Sure, trust in "my employer" was down in the US this year (-2), but at 72%, it's still highest among all sources. And again, still highest for most companies around the world.
Data Point #3 – Trust higher in my local CEO than everyone but scientists

Not only is trust highest in local employers, it's also highest in local CEOs. And, unlike every other position on this list, trust in local CEOs did NOT go down in 2020.
Data Point #4 – "My CEO" trusted most by both Biden and Trump supporters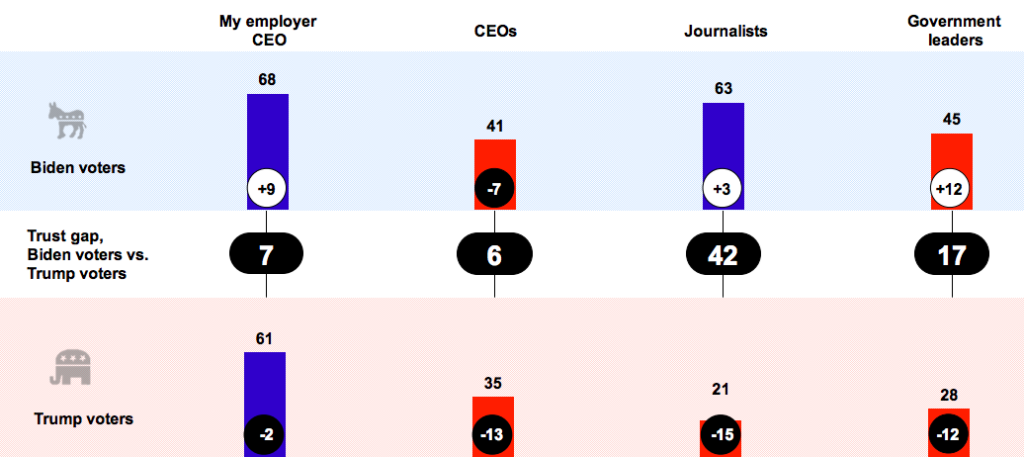 Key point here: Local CEOs are most trusted not just among Democrats–but among folks of all political stripes.
Data Point#5 – "Employer media" most believable
Content from employers appears to be the most trusted source of content. Actually a little surprised "National Government" is #2 on this list, but the fact that employer-based media is #1 is huge for communicators.
Data Point #6 – CEOs should take the lead

We've seen this in other surverys over the last couple years, but Edelman also found, quite demonstrably, that people want CEOs to speak up and tackle societal issues.
Data Point #7 – I expect CEOs to speak out about issues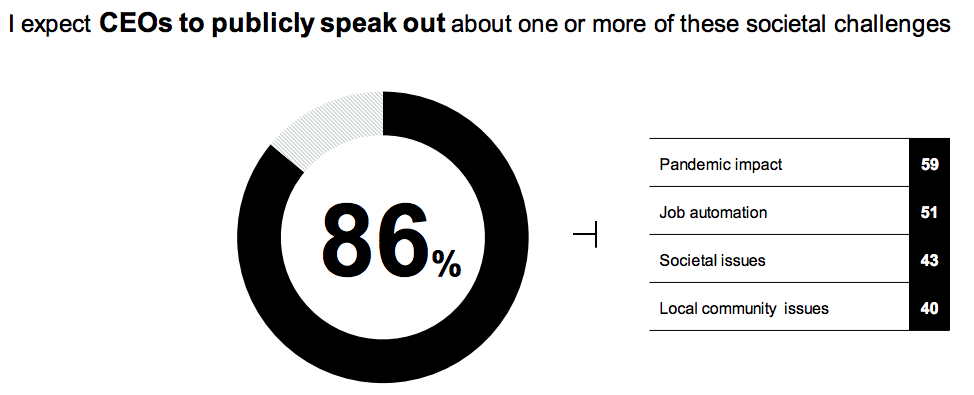 Again, people are looking for leadership from their local CEO. On COVID, societal issues and local community issues.
These data points paint a pretty clear picture: Employees trust their CEOs more than anyone else and they want to hear a lot more from them.
So, what opportunities do we have as communicators in the year ahead? Although most were doing their best to get CEOs out in front of employee audiences a lot in 2020, I see some clear opportunities in the New Year:
Opportunity #1 – Polish your CEO's LinkedIn profile and make a plan
Table stakes for 2021. No question. It's time. If your CEO doesn't have a functioning LinkedIn profile, it's high time to get on that. And, if it's incomplete, time to polish it up! But, more importantly, start to make a plan for how your CEO can start effectively showing up on the platform. Start with getting them in the habit of using the tool–even just 5-10 minutes a day will make a difference. Then, get them engaging. Liking and commenting on employee content is a good place to start (see #3 below). Finally, make a plan for what they will post about on LinkedIn. What are your content pillars? And remember, you don't want to repurpose internal messages here directly–LinkedIn requires a different kind of message and content.
Opportunity #2 – Get your CEO out in front of employees more regularly
Here's where a post on LinkedIn every week can make a big difference. No, LinkedIn hasn't historically been considered an employee comms channel–but it should definitely be a complimentary channel! I know most communicators have probably been doing this in 2020, but I'd also ratchet up CEO visibility in 2021. More Town Hall meetings (virtually, to start). More email communications (without inundating people). More videos. When I worked on the corporate side earlier in my career, the one thing we always heard from employees was: We want to hear more from our CEO. It was always #1. I can't imagine that's changed in light of the year we just had. And, the stats above from Edelman confirm that.
Opportunity #3 – Look for ways to humanize your CEO
In 2020, a lot of CEOs became more active on LinkedIn, which is awesome. Many of us have been lobbying for this to happen for years! It took a pandemic to make it a reality. But, I saw one key mistake made by many CEOs in 2020 on LinkedIn–they still felt too stiff. Too corporate. Not approachable. I'd suggest doing the opposite–making your CEO more human. Softer. More approachable. That's what employees want. They don't want a robot leader–they want a strong, but empathetic leader they can relate to. So, give them that. Help your CEO weave in messages that display her personality more. Add in personal stories that connect with employees. For far too long, CEOs have shied away from opening up about who they are as people–those days are long gone in 2021.
Opportunity #4 – More visibility doesn't have to mean more content
Case in point: Take a page from H&R Block's CEO, Jeff Jones, and help your CEO comment and like employee content on LinkedIn more. XX makes a habit out of this, commenting on employee posts weekly. And, I have to believe that's intentional–and that it's making a big impact. Couldn't you sit down with your CEO and coach them through this process? Help them understand how to identify employee-generated posts on LinkedIn, and come up with appropriate responses. In reality, this could take as little as 10-15 minutes per week. Again, with a huge impact. Think about being a store manager at Walmart and having Doug McMillon comment on your LinkedIn post? If you don't think that would make a big difference in employee morale and positivity, you haven't worked in communications long enough!