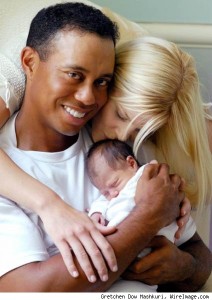 Unless you've been living under a rock the last few days, you know all about Tiger Woods' entanglement with the Florida State Patrol. While the jury's still out on what really happened early that morning (we may never know), the situation brought up a bigger issue for me: Does Tiger need a brand refresh?
It sounds crazy, I know. Especially coming from a long-time, big-time fan. I mean, I've been a Tiger fan going all the way back to his three U.S. Amateur wins. Only golf geeks (like me) knew him then. We've watched him grow, mature and dominate. And, we watched his fan-dom, and legend, grow with each tournament he's won.
But even before this latest incident I've been thinking a lot about Tiger's "brand", how it has evolved and what it has come to represent.
Adam Kmiec made an interesting point the other day as we debated the merits of Tiger's approach around his recent situation: "Do you really see Nike dropping him for releasing a "cold" online statement? Not a chance. His brand is fine."
Adam was referring to my statement that Tiger could stand to "warm up" his image a little issuing fewer online statements.
Adam makes a good point. Nike's not dropping Tiger Woods. But, that doesn't mean the most famous sports star on the planet couldn't use a little shakeup in the brand department.
For most, Tiger's brand represents one thing, and one thing only: winning. The guy's drive, passion and determination are unparralled. We haven't seen anything like him since Michael Jordan. For most, "buying Tiger" means you're a winner. You're successful. You're a champ.
But, what happens if, or when, Woods stops winning. Then what? Stew on that one for a moment.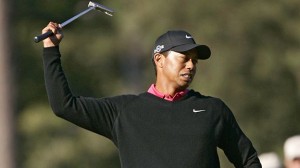 There's also the matter of his on-the-course behavior. Don't think for a second people are overlooking that. Parents with small children (like me) watch him throw clubs, shout obsceneties and hiss at cameramen during the course of his rounds. And we turn to our children and say, "Never, ever, ever do that on a golf course. You don't want to be like Tiger Woods if it means acting like that. I don't care how many tournaments you win."
What do you think that's doing for his brand? I can tell you, it's definitely not "enhancing" it.
Finally, there's his fierce commitment to protecting his privacy. One thing Tiger's recent situation has brought to light for many is how insanely private he really is. Think about it. What do we really know about Tiger? Sure, most know he was on Letterman at age 3, endorses Nike and a host of other brands, and is without question the best golfer on the planet. But, what do you know about Tiger the person? Not much, I'm guessing. That's not surprising. He doesn't let a lot of people in.
Given all this, I'll ask again: Does Tiger Woods need a brand refresh?
If I were advising Mr. Woods, I'd give him the following counsel:
* Clean it up on the course. We get it. You're competitive. We know you want to win more than you want your first-born to complete his college education, but for God's sake clean it up. No more swearing. No more club throwing. No more staring down cameramen. Pattern your behavior after the greats–Palmer, Jones, Watson. More than anything, golf is about respect. You have a whole slew of young Tiger fans–and young golfers–coming up now. Fans who will someday soon have disposable income to spend on the products and services you endorse. Win them over by acting like a gentleman on the course–not a horse's behind.
* Break down the walls. For me, the most memorable Tiger moments are when he's showed true emotion. The victory at the British after his Dad died (he cried in Steve's arms), the elation he showed at the U.S. Open last year after making birdie on the 18th to tie Rocco Mediate for the lead, and the reaction after maybe the best shot of his career at Augusta a few years back with the chip-in on 16. These are all unforgettable moments. And yeah, his golf skill had a lot to do with it. But, his emotion played into "the moment", too. People want to be fans of stars and athletes they can relate to. You need look no further than Taylor Swift to know that's true. I'd advise Tiger to open up, talk about his life, his interests, what drives him, what excites him. By opening up and letting his fans in–even just a little bit–you'd start to see a whole new Tiger brand emerge. Just ask Stewart Cink (1.1 million followers and counting) what kind of reaction he's got to letting fans in a little closer.
* Get back to being a person. As the winner of 14 majors and 71 PGA Tour events, sometimes Tiger can come off as more robot than human. Just ask his fellow PGA Tour players. They often say that exact thing about Mr. Greatest-Of-All-Time. Now, some of that is just Tiger's personality, but some of it is his desire to be exceedingly intimidating on the course. I'm not saying he changes that–it's what makes him nearly invincable on the course. I'm talking about his off-the-course persona. Why not take advantage of opportunities to interact with your fans? He has some opportunities. What about a "Beat Tiger" tour with EA Sports and TW 2010? I'm not talking about the virtual event they hosted earlier this year. I'm talking about a live event with Mr. Woods in person. I mean, who wouldn't want to go toe-to-toe with Eldrick with the chance–just the chance–you could beat him in that game and proclaim to your grandchildren that you "beat Tiger Woods in golf." Or, why not play up his involvement in the First Tee Foundation more. It's a tremendous organization and one that does wonderful things for younger golfers. I might encourage him to take on more First Tee public appearances as a chance to interact and teach–first-hand–the next round of golfers in our country.
Let's get one thing straight. I'm still a huge Tiger fan. But, I'm concerned about him. Mostly because he's such a big influencer and ambassador for the game of golf around the world–and to millions of kids (including mine). That kind of role and power comes with a pretty big responsibility. And I think it means he has to rethink the way he behaves and positions himself on the course and in the marketplace.
What do you think? Am I crazy? Way off-base? I'd love to debate this one.